DALLAS (FWAA) – The Tulane University Green Wave football team has been named the winner of the 2005 Courage Award, which is presented by the Football Writers Association of America and the FedEx Orange Bowl.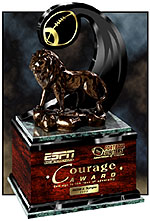 The Green Wave, displaced before the 2005 season because of Hurricane Katrina, will wind up playing 11 games in 11 different stadiums. Tulane, 2-8, will conclude a very trying 2005 season on Saturday in a Conference USA game at Southern Mississippi.
"It's difficult to imagine any team enduring all the physical and emotional adjustments Tulane has endured since August," said FWAA president Alan Schmadtke. "Yet players went to class, practiced and competed week after week and coaches put in all their customary long hours of preparation. I know there haven't been as many wins as the Green Wave wanted this year. But across Conference USA and the country, Coach Scelfo's program made more of an impact on anyone who watched Tulane play than even the Green Wave coaches and players may realize."
The Tulane football team actually was evacuated to Jackson, Miss., a few days before the 2005 season opener was to be played at Southern Mississippi in Hattiesburg on Sept. 4 and was later postponed to the end of the season. After a few days in Jackson, the team moved to Dallas and eventually to Louisiana Tech University in Ruston, La. It has remained headquartered there through the 2005 season.
"Everyone in the collegiate athletics community had Tulane University, as well as other Gulf coast institutions, in their hearts and prayers this summer," said Orange Bowl Committee CEO Keith R. Tribble. "We are proud that the Football Writers Association of America chose to honor the entire Green Wave football program with its annual Courage Award. Playing in as many stadiums as games this season, Tulane had a tremendous challenge that far outweighs wins and losses. Every player, coach and administrator on that team is a winner by our measurement."
The Tulane football team will receive a beautiful trophy with a bronzed lion as the focal point. The Courage Award will be presented to the team in January or February when it is expected to return to New Orleans.
"This is a great award for our football team," said Tulane coach Chris Scelfo. "Though our wins and losses are not where we wanted them to be, to have 100 people see this season through is a great testament to their character. Hopefully it will give people in the Gulf Coast region the strength to keep believing and to put their lives back together."
The Courage Award was created by FWAA member Gene Wojciechowski, senior writer for ESPN The Magazine. A select group of writers from the FWAA votes on the award. The requirements for nomination include displaying some sort of courageous act, on or off the field including, overcoming an injury or physical handicap, preventing a disaster and living through a lifetime of hardships.
The first winner in 2002 was Toledo's William Bratton, who was diagnosed with a blood disorder (a combination of sickle-cell and thalassemia) when he was eight years old. He endured a life of chronic and debilitating pain. The average life expectancy of African Americans afflicted with this disease is the mid 40s. Despite the disorder, Bratton was the starting tailback for the Rockets during the 2002 season until he suffered a fractured ankle in late October.
In 2003, San Jose State punt returner Neil Parry, a former walk-on, won the Courage Award after suffering an almost certain career-ending injury. Parry had part of his right leg amputated following a severe break during a game against UTEP in 2000. The leg became infected, requiring surgery. After several surgeries and setbacks, Parry made his return to the field during a game against Nevada in the 2003 season with the help of a specially fitted prosthetic device. The University of Memphis' Haracio Colen, a defensive tackle, became the third person to win the award in 2004.
Colen, at the age of 15, witnessed a horrifying accident when his father, Eddie, was instantly killed and his mother, Joyce, fatally injured, in a car accident. Through his remaining high school years, Colen struggled with his own psychological damage. With the help of two aunts who picked up their belongings from Louisiana and Texas and moved to Arkansas, Colen was shepherded through the ordeal and received an opportunity to play college football at Memphis.
Tulane's football team followed in the great tradition of the award in overcoming hardship and tragedy in the New Orleans area. Some the players lost all of their belongings and their homes or apartments because of Katrina. And much of the Tulane campus and athletic facilities suffered water and other structural damage because of the hurricane. "I want to thank the Football Writer's Association and the Orange Bowl for recognizing our football team with this year's Courage Award," said Tulane athletic director Rick Dickson.
"At the beginning of this season, we asked all of our teams to carry the torch for Tulane University and the City of New Orleans this semester, and they have done so with resilience and perseverance. This team has accomplished a feat that no other group of student-athletes has undertaken in the history of intercollegiate athletics, and more importantly, served as a beacon of pride and a symbol of hope for a university and a community that was left inoperable due to the largest natural disaster in our nation's history. It will likely be recorded as the greatest victory of their lifetimes. Hats off to these remarkable young people!"
The Football Writers Association of America, a non-profit organization founded in 1941, consists of more than 900 men and women across North America who cover college football for a living. The membership includes journalists, broadcasters and publicists, as well as key executives in all the areas that involve the game. The FWAA works to govern areas that include game day operations, major awards, a national poll and its annual All-America team.
For more information about the FWAA Courage Award, contact Executive Director Steve Richardson (972-713-6198, tiger@fwaa.com).
The Orange Bowl Committee is a not-for-profit, 317-member, all-volunteer organization that exists as a self-sustaining, independent organization supporting and producing activities and events which enhance the image, economy, and culture of South Florida. Among the OBC core events are the Orange Bowl Festival, FedEx Orange Bowl and World-Class Halftime Show, the MetroPCS Orange Bowl Basketball Classic, the Orange Bowl PATCH Beach Bash presented by the City of Hollywood, the Miller-Lite Orange Bowl Tailgate Party, Boston Market Orange Bowl Youth Football Championships and the Orange Bowl Cheer & Dance Championships.
For more information regarding the 2005-06 Orange Bowl Festival and its year-round schedule of events and promotions, go to the OBC website at orangebowl.org, the official site for all Orange Bowl Committee news, tickets, and apparel.
Related link:
• FedEx Orange Bowl Courage Award