DALLAS (FWAA) – The Football Writers Assocation of America is teaming with the FedEx Orange Bowl to present the 2005 FWAA Courage Award to a worthy candidate in college football. The winner of the fourth annual award is expected to be announced in November.
Past winners of the Courage Award are Toledo running back William Bratton (2002), San Jose State returner Neil Parry (2003) and Memphis lineman Haracio Colen (2004).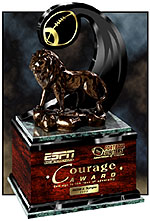 The first three Courage Awards were sponsored by ESPN The Magazine before the Orange Bowl became the sponsor this fall.
Candidates must display a courageous action on or off the field, overcome an injury or physical handicap, prevent a disaster or live through a lifetime of hardship. Below are candidates for the 2005 award, which honors someone in college football on any level who shows great courage in the face of adversity.
• Chris Carlisle, USC strength coach: He learned he had Hodgkin's Disease in December 2000, began radiation treatments in Tennessee (where he was still the Volunteers' associate strength and conditioning coach) and was hired by USC in February 2001. He kept his illness a secret except to Trojan head coach Pete Carroll while continuing treatments in Tennessee and at USC/Norris Comprehensive Cancer Center and Hospital. Doctors told him in the summer of 2001 that the cancer was in remission. He informed the USC players of his ordeal at the start of fall 2001 camp.
• Lance Everson, Houston linebacker: Was a non-qualifier out of high school in 2001, so he paid his own way to UH-Downtown, which is a separate campus from the University of Houston. He overcame a broken jaw during the spring of 2004 and the subsequent loss of 30 pounds and still was able to start the season opener against Rice later that fall. This past spring he suffered a devastating injury to his knee that required surgery, but he has rehabilitated his knee to the point that the doctors, trainers and coaches feel he can contribute this fall, maybe around late October.
• Victor Harris, Virginia Tech cornerback: Suffered third-degree burns on the day Tech coach Frank Beamer was coming to his house for a recruiting visit. He has small scars on his face, skin grafts on his hip and, of course, that marred right forearm. His left forearm really tells the story. There lies the tattooed image of his mother's face. Ten days after Beamer's visit, five days after Harris committed to the Hokies, Maritza Harris died. She fainted at home on Christmas Day and passed away at the hospital. She was 43.
• Lamar Herron, Oregon State free safety: His mother died of cancer in April 2001 and his father died of a heart attack seven months later. He was the man of the house at age 12 with his father away. Herron took care of his ailing mother and younger sister before his mother died. At 16, Lamar lived out of a suitcase, moving in first with a teammate, then a Natomas assistant coach, and finally with Joe Daniels, a rival coach in the same conference who now is the head coach at Natomas. But he overcame all of this and played at Oregon State in 2004.
• Ray Lamb, Temple defensive back: Completed a miraculous comeback last season when he was in the starting lineup versus Florida A&M on Sept. 18. Lamb suffered a torn anterior cruciate ligament in his right knee just five months earlier during the Cherry & White spring game on April 24, 2004. Initially, a doctor's prognosis placed Lamb's return for summer 2005 after Lamb underwent surgery on May 20. His hard work and dedication gradually moved-up his return date and he started six games.
• Wali Lundy, Virginia running back: Wali Lundy, the youngest of four brothers, grew up without parents. When he was three, his father died at age 30 from a stroke, while his mother passed away from breast cancer just three years later. Wali and his brothers were raised by their grandparents. In addition to all the passings, Lundy had health problems as a youngster. At age four, he was rushed to the hospital with appendicitis and endured emergency surgery. As an eighth grader, Lundy had another surgery for an intestinal block in his bowels, one that would save his life. He has focused on school work and football.
• Thomas Parker, Florida Atlantic wide receiver: Parker was part of the initial recruiting class at Florida Atlantic. His career was rapidly developing until he stopped one summer night to help a stranded motorcyclist. While helping, he was hit by an on coming car. His jaw and elbow were broken. He returned to the field a year later, not able to fully extend his arm, but has worked very hard. In the spring of 2005 his mother passed away and he was forced to withdraw from school to help take care of his family. He returned this summer and has worked all summer and preseason, not knowing whether the NCAA would grant him a sixth season. That came through just five days before the first game.
• Deljuan Robinson, Mississippi State defensive lineman: Robinson, who originally signed with MSU in 2002, did not enroll that fall because of open heart surgery in August 2002. He joined the Bulldogs for the opening of the 2003 season, but had tragedy strike once again. Robinson's brother, Jerrell, was killed in an (Continued from page 1) automobile accident. Despite those setbacks, Robinson played in 11 of the Bulldogs' 12 games during the 2003 season.
• Brandon Rollins, Arkansas State defensive end: He was academically ineligible and sat out the 2002 season and was continuing his workouts in the weight room when tragedy struck. Brandon was in a dorms at ASU on the third floor preparing to take the elevator downstairs to wash his laundry. The doors opened without the elevator being there and Brandon plummeted three flights down the elevator shaft, shattering his body. His left side was decimated by the fall. Doctors advised Brandon to turn his back on football. He sat out 2003 but played last fall and is listed as a second-string left end this fall.
• Mike Tepper, California offensive lineman: Sustained broken fibula and torn ankle ligaments when he stepped in front of a car to protect a female Cal volleyball player who was being harassed by men in the car. The car ran over Tepper on purpose, and two men were arrested.
• Tulane Green Wave: Completely uprooted from its New Orleans campus because of the destruction of Hurricane Katrina, the Tulane team has been a vagabond group, which first had to relocate to Jackson, Miss., then Dallas and finally Ruston, La., where the team has headquartered at Louisiana Tech during the entire first semester. Tulane has played home games at various sites around the state of Louisiana and one game in Alabama, Many of the players are without homes back in New Orleans and had the emotional turmoil of fearing for their friends and relatives' safety at the onset of their evacuation. Yet all the players, some of whom had only the clothes on their backs when they left New Orleans, have endured and focused on football.
The Football Writers Association of America, a non-profit organization founded in 1941, consists of more than 900 men and women across North America who cover college football for a living. The membership includes journalists, broadcasters and publicists, as well as key executives in all the areas that involve the game. The FWAA works to govern areas that include game day operations, major awards, a national poll and its annual All-America team.
For more information about the FWAA Courage Award, contact Executive Director Steve Richardson (972-713-6198, tiger@fwaa.com).
Related link:
• FedEx Orange Bowl Courage Award