DALLAS (FWAA) – The University of Memphis' Haracio Colen is the third winner of the ESPN The Magazine Courage Award, as voted by members of the Football Writers Association of America.
He will be presented the trophy during the FWAA awards breakfast Tuesday, Jan. 4, in Fort Lauderdale, Fla.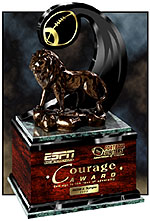 Colen, a 6-3, 286-pound sophomore defensive tackle, witnessed a horrifying accident in early September of 1999. Colen, 15 years old at the time, was en route to watch an Arkansas-Pine Bluff football game when his father, Eddie, was instantly killed and his mother, Joyce, fatally injured.
His parents' pickup truck, traveling in front of him and another friend in a car, blew a tire and spun out of control.
His father was crushed. His mother was sent through the windshield and died of internal injuries a month later.
The tragic accident could have spelled the end to a promising football career. The night before the accident, which changed Colen's life forever, he had played in his first game for Russellville (Ark.) High School and recorded 17 tackles.
Through his remaining high school years, Colen struggled with his own psychological damage. With the help of two aunts who picked up their belongings from Louisiana and Texas and moved to Arkansas, Colen was shepherded through the ordeal by his family and received an opportunity to play college football at Memphis.
"I've had a whole lot of people wrap me up in their arms," Colen told the Memphis Commercial Appeal. "How can I let them down?"
The Courage Award was created by ESPN The Magazine senior writer Gene Wojciechowski, an FWAA member. A select group of writers from the FWAA vote on the award. The requirements include displaying a courageous act, on or off the field, including overcoming an injury or physical handicap, preventing a disaster or living through a lifetime of hardship.
The first winner of the award, in 2002, was Toledo's William Bratton, who was diagnosed with a blood disorder (a combination of sickle-cell and thalassemia) when he was eight years old. He has endured a life of chronic and debilitating pain. The average life expectancy of African-Americans afflicted with this disease is the mid 40s.
In spite of the disorder, Bratton was the starting tailback for the Rockets during the 2002 season until he suffered a fractured ankle in late October.
In 2003, San Jose State's Neil Parry, a former walk-on, won the Courage Award after suffering an almost certain career-ending injury.
Parry had part of his right leg amputated following a severe break during a game against UTEP in 2000. The leg became infected, requiring surgery. After several surgeries and setbacks, Parry made his return to the field during a game against Nevada in the 2003 season with the help of a specially fitted prosthetic device.
Related link:
• FedEx Orange Bowl Courage Award