INDIANAPOLIS (USBWA) – The U.S. Basketball Writers Association has selected 15 standout players for its 2022-23 Oscar Robertson Trophy Late Season Watch List. Members of the association's board of directors chose the players that will be considered as contenders for the National Player of the Year.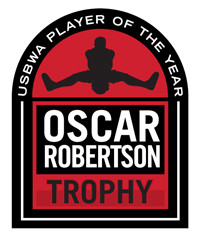 The roster of players vying for the iconic Oscar Robertson Trophy is headlined by Kentucky forward Oscar Tshiebwe, last year's winner and one of three USBWA All-Americans from a season ago. Gonzaga forward Drew Timme, a two-time All-America choice, is back from last year's second-team list along with Indiana forward Trayce Jackson-Davis, who earned third-team honors in the 2020-21 season. Upperclassmen occupy 14 of the 15 spots.
The 2023 Oscar Robertson Trophy is to be presented by its namesake at the NCAA Final Four in Houston. A formal presentation will follow at the annual USBWA Awards Luncheon hosted by the Missouri Athletic Club in St. Louis.
Tshiebwe seeks to become only the seventh player to earn multiple USBWA national player of the year awards and the first to repeat since Virginia center Ralph Sampson three-peated from 1981-83. The senior was the most recent Oscar Robertson Trophy National Player of the Week after averaging 23.5 points and 10.5 rebounds with an 87.0 percent field goal average for the week of Feb. 26.
Purdue big man Zach Edey is currently the nation's leading rebounder at 12.9 per game and is also tied for the national lead in double-doubles with 22. Considered one of the top defenders in the nation, Edey's 66 blocks are 11th nationally at 2.4 per game. He also averages 22.3 points and 1.5 assists per game while shooting over 60.0 percent from the field and nearly 75.0 percent from the free throw line.
Prolific scorer Antoine Davis, a guard at Detroit Mercy, leads the country at 28.4 points per game buoyed by his nation-leading 4.84 treys per game. Davis was the award's national player of the week for the week of Jan. 24 and is knocking on the door of the NCAA's all-time scoring record held by LSU's Pete Maravich, a two-time USBWA national player of the year.
Earlier this week, Timme earned the West Coast Conference's Player of the Year honor for the second straight season, sharing it with Santa Clara's Brandin Podziemski. Timme leads the WCC averaging 21.2 points per game and his 2,158 career points are 39 shy of Gonzaga's career school record entering this week's games.
The Big Ten leads all conferences with four selections. In addition to Edey, Penn State guard Jalen Pickett is the only player in the country averaging at least 18 points (18.5), seven rebounds (7.3) and six assists (6.8) per game. Pickett and Indiana's Jackson-Davis are the only two Big Ten players that are in the top 10 of the conference in points, rebounds and assists. Iowa, which claimed the 2021 Oscar Robertson Trophy winner in Luka Garza, has another contender in forward Kris Murray, one of two players to average at least 20 points, 8.0 rebounds with 50 or more 3-pointers this season. Murray surpassed 500 points this season last Saturday.
From the Pac-12 are Arizona forward Azuolas Tubelis and UCLA guard/forward Jaime Jaquez Jr. Tubelis, the USBWA National Player of the Week on Feb. 7, leads the Pac-12 in scoring (19.6) and rebounding (9.1) and is second in double-doubles (11). Only six other players in Pac-12 history have led the league in scoring and rebounding in the same season – the last to do it came in the 2005-06 season.
Memphis' Kendric Davis earned the USBWA National Player of the Week on Jan. 28, the Tigers' and the AAC's first player to ever garner the weekly honor. Davis has been the AAC's Player of the Week six times this season. Also from the American is Houston guard Marcus Sasser, top-ranked Cougars' leading scorer at 16.9 ppg who needs only seven more 3-pointers to set the school career record.
Kansas guard Jalen Wilson, who just led the Jayhawks to another regular-season Big 12 title this week, leads that league in points (19.6), rebounds (8.4) and double-doubles (9). Point guard Tyler Kolek of Marquette, which earlier this week won its first Big East regular-season title since the 2012-13 season, is among the national leaders in assists per game (7.8, 2nd) and assist-to-turnover ratio (3.23, 6th) and leads the Big East in five categories. He has won the Big East's Player of the Week twice this season.
The ACC is represented by North Carolina forward/center Armando Bacot, that league's only player listing in the top five in scoring (16.5, 4th), rebounding (10.8, 1st) and field goal percentage (.553, 4th). Bacot also leads the ACC in offensive rebounds – his 4.36 offensive boards per game are currently a single-season UNC record – and double-doubles.
The only freshman on the list is Alabama guard Brandon Miller, the lone Division I player this season to score 570 points, grab 230 rebounds and make 85 three-pointers. He is 61 points away from tying the Crimson Tide's freshman scoring record.
Following is the complete Oscar Robertson Trophy Late Season Watch List
F/C Armando Bacot, North Carolina (6-11, 235, Sr., Richmond, Va.)
G Antoine Davis, Detroit Mercy (6-1, 165, Gr., Birmingham, Ala.)
G Kendric Davis, Memphis (6-0, 177, Sr., Houston, Texas)
C Zach Edey, Purdue (7-4, 305, Jr. Toronto, Ontario)
F Trayce Jackson-Davis, Indiana (6-9, 245, Jr., Greenwood, Ind.)
G/F Jaime Jaquez Jr., UCLA (6-7, 225, Sr., Camarillo, Calif.)
G Tyler Kolek, Marquette (6-3, 190, Jr., Cumberland, R.I.)
F Brandon Miller, Alabama (6-9, 200, Fr., Antioch, Tenn.)
F Kris Murray, Iowa (6-8, 220, Jr., Cedar Rapids, Iowa)
G Jalen Pickett, Penn State (6-4, 209, Sr., Rochester, N.Y.)
G Marcus Sasser, Houston (6-2, 195, Sr., Dallas, Texas)
F Drew Timme, Gonzaga (6-10, 235, Sr., Richardson, Texas)
F Oscar Tshiebwe, Kentucky (6-9, 260, Sr., Lubumbashi, Congo)
F Azuolas Tubelis, Arizona (6-11, 245, Jr., Vilnius, Lithuania)
F Jalen Wilson, Kansas (6-8, 225, Jr., Denton, Texas)
Since the 1958-59 season, the USBWA has named a National Player of the Year. In 1998, the award was named in honor of the University of Cincinnati Hall of Famer and two-time USBWA Player of the Year Oscar Robertson. It is the nation's oldest award and the only one named after a former player.
The U.S. Basketball Writers Association was formed in 1956 at the urging of then-NCAA Executive Director Walter Byers. With some 900 members worldwide, it is one of the most influential organizations in college basketball. It has selected an All-America team since the 1956-57 season. For more information on the USBWA and the Oscar Robertson Trophy, contact executive director Malcolm Moran at 814-574-1485.
Selections by conference: Big Ten 4; American Athletic 2, Pac-12 2; SEC 2, ACC 1; Big East 1; Big 12 1; Horizon League 1, West Coast 1.