INDIANAPOLIS (USBWA) – Representing all of her peers across college basketball who have struggled with mental health, Little Rock's Angelique Francis is the winner of the 2023 Pat Summitt Most Courageous Award. Francis has been open about the issues she has faced, helping create a dialogue about the challenges shared by many other athletes. Francis will be honored at the upcoming Women's Final Four in Dallas.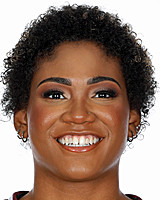 Angelique has said, "Basketball saved my life," but by bravely sharing her story of fortitude, self-belief and vulnerability, she is touching many others' lives in a positive way. As a child in the Dallas-Forth Worth metro area, she endured years of childhood mental and physical abuse and struggled through the process of emotionally healing from those wounds.
Through sports and supportive mentors and coaches, she found an outlet. As a 15-year-old, Angelique began a foundation called ALF – which stands for Angelique Lizette Francis – to help youth dealing with abuse. She delivers motivational speeches to local schools and also appeared at the Save AR Students Rally Focused on Preventing Substance Misuse, speaking on the steps of the state capitol alongside Governor Asa Hutchinson.
On the basketball court, the 5-11 senior forward from Irving, Texas, averages eight points per game and 6.2 rebounds per game while shooting a team-best 53 percent. Her leadership has not only guided Little Rock to first place in the Ohio Valley Conference standings, but the Trojans have already clinched at least a share of the OVC regular season title and No. 1 seed in the OVC Tournament with two games still to play. Thanks to Francis' tenacious post play, Little Rock is fourth nationally in scoring defense by holding opponents to just 52 points per game and has held four different teams to less than 40 points in a game this season.
"It is truly an honor and blessing to receive this award, one that is named after an icon," Francis said in a statement. "I hope that my journey helps to inspire others to never give up and to keep pushing because you have a purpose in life. I want to thank my family for all the love and support, as well as my coaching staff, teammates and everyone who has believed in my vision. Thank you to the USBWA for this amazing opportunity. And for anyone out there that ever has doubts, know that you are valued and loved."
The Pat Summitt Most Courageous Award has been presented by the USBWA since 2012, when the award's legendary namesake was honored as she battled early-onset dementia. Summitt won 1,098 games and eight national championships in her 42 seasons as a college coach. She passed away in 2016.
The USBWA has presented a Most Courageous Award since the 1977-78 season to recognize a player, coach, team, official or administrator who has demonstrated extraordinary courage reflecting honor on amateur basketball. In 2012, the USBWA expanded the program to designate a recipient from both men's and women's college basketball. In 2021, the men's Most Courageous Award was named in honor of Perry Wallace, the SEC's first Black athlete to play a full four-year career in any sport. This season's men's winner will be unveiled tomorrow.
The U.S. Basketball Writers Association was formed in 1956 at the urging of then-NCAA Executive Director Walter Byers. With some 900 members worldwide, it is one of the most influential organizations in college basketball. It has selected an All-America team since the 1956-57 season. For more information on the USBWA and its award programs, contact executive director Malcolm Moran at 814-574-1485.
Related link:
• Basketball saved my life from the Little Rock official website