INDIANAPOLIS (USBWA) – In his fourth decade as a college basketball sports-information director, Florida State's Chuck Walsh has been named the U.S. Basketball Writers Association's Katha Quinn Award winner for 2023. He will be presented the award at the Men's Final Four in Houston.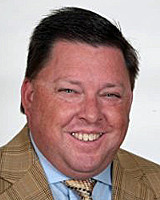 Walsh has been the primary men's basketball contact at Florida State since 2000 and was named Deputy Director of Sports Information in 2009. Before that, he spent 12 years as the men's basketball SID at Maryland, his alma mater. In both places, he has been the model of the proactive publicist, reaching out to writers across the ACC with story ideas and overseeing access to two very successful, quotable and different head coaches in Gary Williams and Leonard Hamilton.
During the summer of 2020, as the USBWA and CoSIDA (now College Sports Communicators) held discussions on media protocols during the COVID-19 pandemic ahead of the 2020-21 basketball season, Walsh played a key role in negotiating and reinforcing policies supported by the USBWA to retain as much access and availability given the health and safety concerns.
"Chuck's a throwback who sees his role as facilitating access to his program instead of managing or restricting it," said USBWA president Luke DeCock, a sports columnist at The (Raleigh, NC) News & Observer. "He's not only dedicated to his players and coaches but to connecting journalists with his program. He still pitches ideas to writers and cares deeply about those relationships. Everyone knows Florida State is a football school at heart, but you'd never know it talking to Chuck, who makes sure the basketball team gets the attention it deserves."
The award is presented by the USBWA in memory of Katha Quinn, sports information director at St. John's University who supervised basketball media services during the 1987 Pan American Games despite a diagnosis of liver cancer. Quinn died at the age of 34, more than two years after the diagnosis. The award is given to recognize those in college basketball who have rendered a special service to the USBWA and sportswriters who cover college basketball.
The U.S. Basketball Writers Association was formed in 1956 at the urging of then-NCAA Executive Director Walter Byers. With some 900 members worldwide, it is one of the most influential organizations in college basketball. It has selected an All-America team since the 1956-57 season. For more information on the USBWA and its award programs, contact executive director Malcolm Moran at 814-574-1485.
ALL-TIME KATHA QUINN AWARD WINNERS
1988 Katha Quinn, St. John's University
1991 Marvin "Skeeter" Francis, Atlantic Coast Conference
1992 Tom Frericks, University of Dayton
1993 Roger Valdiserri, University of Notre Dame
1994 Marvin "Swede" Johnson, Coors Brewing Co.
1995 George Raveling, Washington State/USC
1996 Rick Brewer, University of North Carolina
1997 Craig Miller and Amy Early, USA Basketball
1998 Al Shrier, Temple University
1999 Bill Hancock, NCAA
2000 Tim Tolokan, University of Connecticut
2001 Mike Tranghese, Big East Conference
2002 Mark Asher, Washington Post
2003 Jack Watkins, Missouri Valley Conference
2004 Jim Marchiony, NCAA
2005 Steve Kirschner, University of North Carolina
2006 Wayne Duke, Big Ten Conference
2007 Joe Mitch, U.S. Basketball Writers Association
2008 Josh Krulewitz and Mike Soltys, ESPN
2009 John Paquette, Big East Conference
2010 Chris Fallon, National Invitation Tournament
2011 Oliver Pierce, Gonzaga University
2012 Kenny Klein, University of Louisville
2013 Greg Shaheen, NCAA
2014 Brian Morrison, Atlantic Coast Conference
2015 Tom Jernstedt, NCAA
2016 David Worlock, NCAA
2017 Bernie Cafarelli, American Athletic Conference
2018 Joe Castiglione, University of Oklahoma
2019 Mike Sheridan, Villanova University
2020 Jim Haney, NABC
2021 Doug Vance, University of Kansas, CoSIDA
2022 Bill Behrns, Loyola University
2023 Chuck Walsh, Florida State University