Complete Best Writing Contest results
Kevin Armstrong, writing for the Newark Star-Ledger, headlined the winners of the U.S. Basketball Writers Association's annual best writing contest. The contest, open to all USBWA members, recognizes the top five entries in each of five categories. The winners will be given plaques and cash prizes at the men's and women's Final Fours at the end of this season.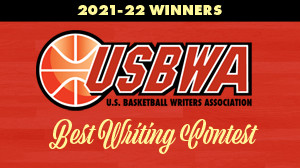 The veteran East Coast scribe won in the Enterprise category for his piece in advance of St. Peter's surprise run the the Sweet 16, called by the judge, "A revealing St. Peter's narrative — the background of a story that suddenly, and surprisingly, found itself in college basketball's foreground."
On top of that, Armstrong had two second-place finishes in the Moderate-Length Feature and Game/Spot News categories. His run is almost as magical as that of the team he covered, St. Peter's.
Mike Sielski's 50-year retrospective on Immaculata's NAIA women's championship for the Philadelphia Inquirer took home the top prize fo moderate-length feature, "The details drive this story about Immaculate Heart of Mary's three consecutive women's basketball championships," said the judge.
Matt Fortuna of The Athletic won in the Game/Spot News category for his story on Jim Boeheim and his sons at Syracuse. "The curtain drops on 'Boeheim and sons' at Syracuse. Duke wins, but the story is in the other locker room. For a writer, a tricky dance and a textbook example of how to dance it," according to the judge. Fortuna's column on March Madness juxtaposed with college football's postseason earned third place.
Brendan Quinn provided The Athletic's other win in the Column category, capturing Phil Martelli's return to the bench at Michigan, stepping in for suspended Juwan Howard to beat Michigan State.
In all, The Athletic joined ESPN.com with five recognized entries.
John Gasaway provided ESPN.com with its category winner, a magazine feature on Mike Krzyzewski's 1980 season at Duke. "Everyone knows the end of the story. This is the beginning. This Mike Krzyzewski story stands out in both subject and technique. A series of interview excerpts shows what it was like in 1980, the year that Krzyzewski took over the Duke program," commented the judge.
Two other writers had multiple stories recogized among the Top 5 in their respective categories: Adam Jardy of the Columbus Dispatch and M.A. Voepel of ESPN.com.
In all, four entries covering Duke, the retirement of Mike Krzyzewski and the coaching transition were lauded.
In addition, two writers from school official websites earned recognition: Harry Minium from Old Dominion and Kane McGuire from Louisiana Tech.