INDIANAPOLIS (USBWA) – Seven repeat selections including four from the first team and three three-time members headline the 2021-22 U.S. Basketball Writers Association Women's All-America Team. There are 13 different schools represented on the 15-woman team with top-ranked and No. 1 overall NCAA Tournament seed South Carolina and Stanford each boasting two selections.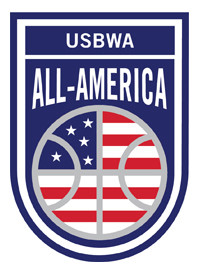 Six different conferences are represented on a team the USBWA composed into three units for a fourth consecutive season. There are six seniors on the team – three on the first team – to go with five juniors, two sophomores, a freshman and a graduate student.
The USBWA has named a women's All-America Team since the 1987-88 season. Since the 2017-18 season, the USBWA has expanded the team to honor 15 players on three teams, regardless of position. The All-America Team is selected by the USBWA board after voting from the entire membership and the honor is based on performance during the regular season and conference tournaments.
Rhyne Howard of Kentucky, coming off a highlight series of games at the SEC Tournament, tops off the team as a now three-time All-America first-teamer after earning the USBWA's Freshman of the Year Award in the 2018-19 season. Iowa guard Caitlin Clark, last year's national Co-Freshman of the Year, is back as a first-team selection. South Carolina forward Aliya Boston matches Howard with a third consecutive All-American season and her second straight year on the first team. Michigan junior forward Naz Hillmon also returns to the first team and NaLyssa Smith of Baylor improved her status this year to the first team after a second-team spot last season.
Howard helped Kentucky win the SEC Tournament for the first time in 40 years as the tourney's Most Valuable Player after scoring 88 points in four games. She helped shock top-ranked South Carolina in the tournament semifinals with 18 points and four rebounds, and that came on the heels of a season-high 32-point effort in a quarterfinal upset of No. 6 LSU. Howard's 272 career three-pointers are a school record.
Clark, a 6-foot guard from West Des Moines, Iowa, leads the nation in assists per game (7.9), total assists (236), points per game (27.4), total points (821), free throws made (189), triple-doubles (5) and 30-point games (11). She registered five triple-doubles this season and is one of 10 women's players (15 times) to register back-to-back triple doubles in their careers. She became the fastest Division I player (men's or women's) to reach 1,500 career points over the last 20 seasons, reaching the feat this season in her 56th career game.
Boston, a 6-5 junior forward from St. Thomas in the U.S. Virgin Islands, matches Howard with a third All-America selection and set an SEC record for consecutive double-doubles – currently with 24 heading into the NCAA Tournament. She was the SEC's Player of the Year and its Defensive Player of the Year for a third time and her 2.65 blocks per game are 10th nationally and her 8.2 defensive rebounds are seventh.
Hillmon, a 6-2 senior forward from Cleveland, Ohio and a repeat first-teamer, is averaging 21.0 points, 9.4 rebounds and 2.2 assists in 33.2 minutes per game. She has tallied 14 double-doubles to become the all-time leader at Michigan and is its first member of the 2,000-point, 1,000-rebound club and second in career scoring with 2,097 points. She was named to the All-Big Ten first team and All-Defensive team after earning four Big Ten Player of the Week awards the season.
Smith, a 6-4 senior forward from Converse, Texas, was the unanimous Big 12 Player of the Year and a member of the All-Big 12 defensive team. Smith is currently eighth nationally in both points per game (22.3) and rebounds per game (11.7) and stands fifth in the country with 21 double-doubles, the fifth-best total in Big 12 history and second all-time at Baylor. The Bears have now had a USBWA All-America selection in 10 of the last 11 seasons.
Elissa Cunane, a 6-5 senior center from Summerfield, N.C., is also a three-time All-American and returns to the second team. A consensus First Team All-ACC honoree for the third season in a row, Cunane leads NCSU in scoring (13.8) and rebounding (7.7) while shooting 52.6 percent from the field. She was the ACC Tournament MVP for a second time last week and is the only center in the country who is shooting 50-plus percent overall, 40-plus percent (.448) from three-point range and 80-plus percent (.828) from the free throw line.
The top scorer on the second team is Ayoke Lee of Kansas State. Lee, a 6-6 junior center from Byron, Minn., is fourth in the nation and the Big 12 leader in scoring average (22.6 ppg), leads the Big 12 and is second in the nation in total points (679) and leads the nation in field goals (279). Lee is the only player in the nation to average 20 or more points, 10 or more rebounds and 3-or-more blocks. Her highlight game was an NCAA Division I record 61 points against Oklahoma on Jan. 23 and had a Big 12-high eight games with 30-or-more points.
Ashley Joens of Iowa State, a 6-1 senior guard/forward from Iowa City, Iowa, stood out in the Big 12 as well and moves to the second team as a repeat selection. She leads the Cyclones, who set program records for regular season wins (25) and conference wins (14), with 20.0 points per game and 9.2 boards per game. Joens is shooting a career-best 37.2 percent from three-point range with a career-best 77 triples this season. She is ISU's top career scorer with 2,261 career points, holding Iowa State's top mark in the record book. She is also fourth in school history with 1,025 career rebounds.
Haley Jones leads off Stanford's pair of members with a second-team nod after earning Honorable Mention last year. The 6-1 junior guard from Santa Cruz, Calif., was the coaches' Pac-12 Player of the Year honoree and earned a second All-Pac-12 mention. She was the Pac-12 Tournament MVP and averages 13.1 ppg and 7.9 rpg. She was the Final Four Most Outstanding Player on last season's national title team.
The last spot on the second team goes to the unit's only freshman, Aneesah Morrow. The 6-1 forward from Chicago is DePaul's first USBWA All-American and leads the nation in double-doubles, rebounds, rebounds per game and offensive rebounds per game and was the unanimous All-Big East First Team selection as well as its Freshman of the Year. She broke 11 conference records this season including most rebounds in a game with 27 at Seton Hall. Morrow was the first player to ever win five USBWA National Freshman of Week honors.
Cameron Brink is Stanford's other All-American. The 6-4 sophomore forward from Beaverton, Ore., averages 13.6 ppg and 8.0 rpg and earned the media's choice as Pac-12 Player of the Year. She was also on the Pac-12 All-Defensive Team and made the Pac-12's All-Tournament team for a second time.
A first-team All-SEC selection, Destanni Henderson of South Carolina is a newcomer to the team after posting double figures 15 times in 28 games thus far. The 5-7 senior guard is South Carolina's top three-point shooter at 40.6 percent and averages 11.3 points per game while staying among the SEC leaders in assists per game (4.3).
Elizabeth Kitley of Virginia Tech earned the ACC's Player of the Year and Kay Yow Scholar Athlete of the Year as one of just three Division I players to average 17.3 points, 9.9 rebounds, 2.45 blocks and shoot 54.8 percent from the floor. The 6-6 junior center from Summerfield, N.C., had 15 double-doubles to lead the ACC, and her 12 games of 20-plus points were tops as well. The ACC All-Defensive Team member had four-or-more blocks in nine games.
Khayla Pointer is LSU's first All-America selection since Sylvia Fowles in 2008. The 5-7 graduate guard from Marietta, Ga., is on the SEC First Team as LSU's first player, men's or women's, to post 1,500 points, 500 assists and 500 rebounds in a career. She is averaging 19.0 points (second in the SEC), 6.5 rebounds (No. 18 in SEC) and 5.2 assists (No. 2 in SEC) per game.
Maddy Siegrist made a little history as not only Villanova's first USBWA All-American but also the first to earn the Big East's Player of the Year nod. In 25 games, the 6-1 junior forward from Poughkeepsie, N.Y., averaged a league-best 25.9 points per game and 9.5 rebounds per contest, while shooting 49.8 percent from the field, including 35.9 percent from three-point range. In conference games, she set a new league record for points per game at 27.9.
Six other standout players received honorable mention from the USBWA: Shakira Austin, Ole Miss; Kierstan Bell, FGCU; Grace Berger, Indiana; Veronica Burton, Northwestern; Angel Reese, Maryland; Christyn Williams, UConn.
Following is the complete 2021-22 USBWA Women's All-America Team:
2021-22 USBWA WOMEN'S ALL-AMERICA TEAM
Pos.
First Team
Ht.
Yr.
Hometown
F
Aliyah Boston, South Carolina
6-5
Jr.
St. Thomas, U.S.V.I.
G
Caitlin Clark, Iowa
6-0
So.
West Des Moines, Iowa
F
Naz Hillmon, Michigan
6-2
Sr.
Cleveland, Ohio
G
Rhyne Howard, Kentucky
6-2
Sr.
Cleveland, Tenn.
F
NaLyssa Smith, Baylor
6-4
Sr.
Converse, Texas
Pos.
Second Team
Ht.
Yr.
Hometown
C
Elissa Cunane, N.C. State
6-5
Sr.
Summerfield, N.C.
G/F
Ashley Joens, Iowa State
6-1
Sr.
Iowa City, Iowa
G
Haley Jones, Stanford
6-1
Jr.
Santa Cruz, Calif.
C
Ayoka Lee, Kansas State
6-6
Jr.
Byron, Minn.
F
Aneesah Morrow, DePaul
6-1
Fr.
Chicago, Ill.
Pos.
Third Team
Ht.
Yr.
Hometown
F
Cameron Brink, Stanford
6-4
So.
Beaverton, Ore.
G
Destanni Henderson, South Carolina
5-7
Sr.
Fort Myers, Fla.
C
Elizabeth Kitley, Virginia Tech
6-6
Jr.
Summerfield, N.C.
G
Khayla Pointer, LSU
5-7
Gr.
Marietta, Ga.
F
Maddy Siegrist, Villanova
6-1
Jr.
Poughkeepsie, N.Y.
Honorable mention: Shakira Austin, Ole Miss; Kierstan Bell, FGCU; Grace Berger, Indiana; Veronica Burton, Northwestern; Angel Reese, Maryland; Christyn Williams, UConn.
The U.S. Basketball Writers Association was formed in 1956 at the urging of then-NCAA Executive Director Walter Byers. With some 900 members worldwide, it is one of the most influential organizations in college basketball. It has selected a women's All-America team since the 1987-88 season. For more information on the USBWA and its award programs, contact executive director Malcolm Moran at 814-574-1485.