INDIANAPOLIS (USBWA) – The U.S. Basketball Writers Association has released its 2021-22 Men's All-District Teams, based on voting from its national membership of 900-plus. The USBWA has selected All-District teams since the 1956-57 season, its founding year.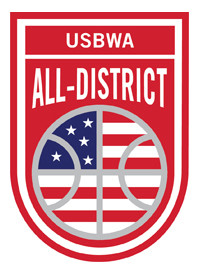 For each of the nine geographic districts, ten players are selected as well as a player and coach of the year. Five schools – Colorado State (David Roddy and coach Niko Medved), Kansas (Ochai Agbaji and coach Bill Self), Villanova (Collin Gillespie and coach Jay Wright), Wake Forest (Alondes Williams and coach Steve Forbes) and Wisconsin (Johnny Davis and coach Greg Gard) – earned both the Player of the Year and Coach of the Year honors.
Twenty-five Division I conferences are represented among the 90 players honored by the USBWA. The Big East and SEC, with 11 all-district players, lead all conferences, followed by the Big Ten with 10. UConn (District I), Duke (District III) and Arizona and Gonzaga (District IX) are the only schools to be represented by three players. Teammates from 12 other schools – Arkansas, Auburn, Baylor, Bryant, Illinois, Kansas, Providence, Purdue, Tennessee, Vermont, Villanova and Wyoming – have also been lauded by the USBWA.
The USBWA will release its 2021-22 men's and women's All-America teams tomorrow at 9 a.m. ET.
Following is the entire district-by-district listing:
DISTRICT I
ME, VT, NH, RI, MA, CT
PLAYER OF THE YEAR
Peter Kiss, Bryant
COACH OF THE YEAR
Ed Cooley, Providence
ALL-DISTRICT TEAM (10)
Jared Bynum, Providence
R.J. Cole, UConn
Ryan Davis, Vermont
Noah Horchler, Providence
Peter Kiss, Bryant
Tyrese Martin, UConn
Charles Pride, Bryant
Adama Sanogo, UConn
Ben Shungu, Vermont
Azar Swain, Yale

DISTRICT II
NY, NJ, DE, DC, PA, WV
PLAYER OF THE YEAR
Collin Gillespie, Villanova
COACH OF THE YEAR
Jay Wright, Villanova
ALL-DISTRICT TEAM (10)
Jalen Adaway, St. Bonaventure
Buddy Boeheim, Syracuse
Julian Champagnie, St. John's
Aaron Estrada, Hofstra
Collin Gillespie, Villanova
Ron Harper Jr., Rutgers
Tyson Jolly, Iona
Justin Moore, Villanova
Jared Rhoden, Seton Hall
Jeenathan Williams, Buffalo

DISTRICT III
VA, NC, SC, MD
PLAYER OF THE YEAR
Alondes Williams, Wake Forest
COACH OF THE YEAR
Steve Forbes. Wake Forest
ALL-DISTRICT TEAM (10)
Keve Aluma, Virginia Tech
Armando Bacot, North Carolina
Paolo Banchero, Duke
Jayden Garner, Virginia
PJ Hall, Clemson
Darius McGhee, Liberty
Wendell Moore Jr., Duke
Dereon Seabron, NC State
Alondes Williams, Wake Forest
Mark Williams, Duke

DISTRICT IV
KY, TN, MS, AL, GA, FL
PLAYER OF THE YEAR
Oscar Tsheibwe, Kentucky
COACH OF THE YEAR
Bruce Pearl, Auburn
ALL-DISTRICT TEAM (10)
Kennedy Chandler, Tennessee
Walker Kessler, Auburn
Iverson Molinar, Mississippi State
Scotty Pippen Jr., Vanderbilt
Jaden Shackelford, Alabama
Jabari Smith, Auburn
Malachi Smith, Chattanooga
Oscar Tshiebwe, Kentucky
Santiago Vescovi, Tennessee
KJ Williams, Murray State

DISTRICT V
OH, IN, IL, MI, MN, WI
PLAYER OF THE YEAR
Johnny Davis, Wisconsin
COACH OF THE YEAR
Greg Gard, Wisconsin
ALL-DISTRICT TEAM (10)
Kofi Cockburn, Illinois
Antoine Davis, Detroit Mercy
Johnny Davis, Wisconsin
Hunter Dickinson, Michigan
Zach Edey, Purdue
Trent Frazier, Illinois
Jaden Ivey, Purdue
Trayce Jackson-Davis, Indiana
E.J. Liddell, Ohio State
Justin Lewis, Marquette

DISTRICT VI
IA, MO, KS, OK, NE, ND, SD
PLAYER OF THE YEAR
Ochai Agbaji, Kansas
COACH OF THE YEAR
Bill Self, Kansas
ALL-DISTRICT TEAM (10)
Max Abmas, Oral Roberts
Ochai Agbaji, Kansas
Christian Braun, Kansas
Izaiah Brockington, Iowa State
AJ Green, UNI
Ryan Hawkins, Creighton
Isiaih Mosley, Missouri State
Keegan Murray, Iowa
Nijel Pack, Kansas State
Baylor Scheierman, South Dakota State

DISTRICT VII
TX, AR, LA
PLAYER OF THE YEAR
JD Notae, Arkansas
COACH OF THE YEAR
Mark Adams, Texas Tech
ALL-DISTRICT TEAM (10)
Timmy Allen, Texas
James Akinjo, Baylor
Kendric Davis, SMU
Tari Eason, LSU
Adam Flagler, Baylor
Ty Gordon, Nicholls
Mike Miles, TCU
JD Notae, Arkansas
Bryson Williams, Texas Tech
Jaylin Williams, Arkansas

DISTRICT VIII
WY, UT, ID, NM, CO, NV, MT
PLAYER OF THE YEAR
David Roddy, Colorado State
COACH OF THE YEAR
Niko Medved, Colorado State
ALL-DISTRICT TEAM (10)
Fardaws Aimaq, Utah Valley
Justin Bean, Utah State
Bryce Hamilton, UNLV
Graham Ike, Wyoming
Abu Kigab, Boise State
Daylen Kountz, Northern Colorado
Hunter Maldonado, Wyoming
David Roddy, Colorado State
Grant Sherfield, Nevada
Jabari Walker, Colorado

DISTRICT IX
CA, OR, WA, HI, AZ, AK
PLAYER OF THE YEAR
Drew Timme, Gonzaga
COACH OF THE YEAR
Tommy Lloyd, Arizona
ALL-DISTRICT TEAM (10)
Terrell Brown Jr., Washington
Chet Holmgren, Gonzaga
Johnny Juzang, UCLA
Christian Koloko, Arizona
Bennedict Mathurin, Arizona
Isaiah Mobley, USC
Andrew Nembhard, Gonzaga
Will Richardson, Oregon
Drew Timme, Gonzaga
Azuolas Tubelis, Arizona

Selections by conference: Big East 11; SEC 11; ACC 10; Big Ten 10; Big 12 9; Pac-12 8; Mountain West 7; West Coast 3; America East 2; Missouri Valley 2; Northeast 2; Summit 2; American Athletic 1; ASUN 1; Atlantic 10 1; Big Sky 1; Colonial 1; Horizon 1; Ivy League 1; Metro Atlantic 1; Mid-American 1; Ohio Valley 1; Southern 1; Southland 1; WAC 1.
The U.S. Basketball Writers Association was formed in 1956 at the urging of then-NCAA Executive Director Walter Byers. Today, it is one of the most influential organizations in college basketball. For more information on the USBWA and its All-District teams, contact executive director Malcolm Moran at 814-574-1485.