INDIANAPOLIS (USBWA) – Bill Behrns, who is in the his 21st season at Loyola University (Chicago), has been named the U.S. Basketball Writers Association's Katha Quinn Award winner for 2022. He will be presented the award at the Final Four in New Orleans.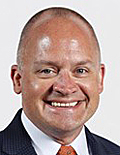 Behrns worked at Loyola from 1999-2013, starting as an assistant Sports Information Director, and again since 2016 as Associate Athletics Director. As Loyola's profile rose to prominence, Behrns handled the increased national attention with aplomb, fielding countless interview requests and coordinating availability to help tell the Ramblers' stories during their stunning 2018 Final Four run. His unmatched efficiency, understanding of journalists' responsibilities, and attention to detail and accuracy have been helpful assists for reporters through the years.
Behrns played a key role in helping bring recognition to Loyola's 1963 national championship team, which competed in the "Game of Change," as it became the first team inducted into the National College Basketball Hall of Fame in Kansas City. With care and sensitivity, Behrns also has helped share with the world one of basketball's most iconic and beloved figures: Sister Jean.
"Bill embodies the working relationship sports information directors should have with the media," said Shannon Ryan, the current USBWA president who previously covered Loyola for the Chicago Tribune. "He represents his university and athletic department with dignity, while also understanding reporters' role and helping us get all the information we need to tell the story. He's a tireless worker and often a one-man show without the resources of some power conference teams' sports info departments, but you'd never know it. Basketball fans know so much more about Loyola – from Sister Jean to Porter Moser to Clayton Custer to Drew Valentine – because Bill understands how to assist reporters in sharing these stories."
From 2014-16, Behrns served as the Senior Associate Athletics Director at the University of Wisconsin-Milwaukee and prior to that worked as the Director of Communications at Intersport. Before joining Loyola, Behrns spent three years as the Assistant Sports Information Director at Illinois-Chicago. After graduating from the University of Dayton in 1994, he served as an intern at the University of Illinois, the University of Dayton and with the Kane County Cougars.
The U.S. Basketball Writers Association was formed in 1956 at the urging of then-NCAA Executive Director Walter Byers. With some 900 members worldwide, it is one of the most influential organizations in college basketball. It has selected an All-America team since the 1956-57 season. For more information on the USBWA and its award programs, contact executive director Malcolm Moran at 814-574-1485.