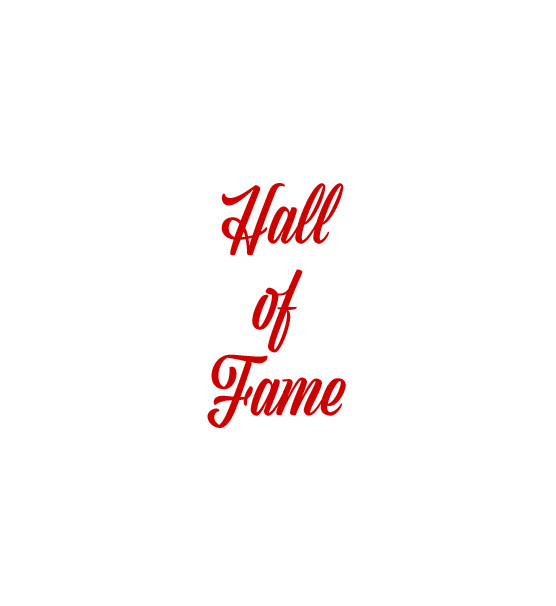 USBWA Hall of Fame
Members of the USBWA who have made outstanding contributions to the organization.
2022 INDUCTEES
VAHE GREGORIAN
CHARLES HALLMAN
JOE JULIANO
TOM KENSLER
MIKE WATERS
BILL BENNER
PAT FORDE
BRIAN MORRISON
DANA O'NEIL
LOREN TATE
JOE MITCH
WENDY PARKER
BILL REYNOLDS
MARK WHICKER
JACK WILKINSON
JOHN AKERS
JACK McCALLUM
BILL RHODEN
DAN WETZEL
LEW FREEDMAN
DAVID JONES
CHARLES PIERCE
KIRK WESSLER
TOM ARCHDEACON
STEVE CARP
DAVID TEEL
BLAIR KERKHOFF: Kerkhoff has been covering college sports for the Kansas City Star since 1989. He started his career 35 years ago at the Roanoke Times & World News under the late Bill Brill, a past president of the USBWA and a member of the USBWA Hall of Fame. Kerkhoff attended his 26th NCAA Final Four in April. Along the way, he's covered some 30 regional finals and semifinals. In addition, he's written five books, including a biography on former Kansas coach Phog Allen.
BOB PILLE: Pille, a long-time USBWA member, began covering sports in high school and later in college at Bradley for the Peoria Journal Star. In 1950, he embarked on a 38-year professional career that included 22 years with the Chicago Sun-Times. He also worked for the Times Herald in Washington D. C., the Cincinnati Post and the Detroit Free Press. Pille was 80 when he passed away in 2006. He never fully recovered from a tragic automobile accident that occurred a year earlier. His collection of sports books and articles is housed in the Department of Communications at Bradley.
ROGER VALDISERRI: Valdiserri helped define the role of sports information director while he was SID at Notre Dame for 22 years. He is considered by many to be the gold standard in the field of media relations. He retired in 1995 as associate athletic director after 33 years in athletic administration at Notre Dame. Valdiserri is a member of the College Sports Information Directors of America Hall of Fame and is a past recipient of the USBWA's Katha Quinn Award for extraordinary service to the media. His publications at Notre Dame earned more than 50 national awards.
MARK BRADLEY: Bradley has been writing for the Journal-Constitution for 31 years (1984 to present). Previously, he worked for the Lexington Herald-Leader for six years from 1978-84. Although his columns today are mostly about pro sports in Atlanta and football in the South, Bradley told USBWA Vice President Pat Forde of Yahoo! Sports that covering college basketball played an integral role in his career as a sportswriter. "When I go to a college basketball game, I kind of feel like this is what I grew up doing," said Bradley, who graduated from Kentucky. "It never feels like this is something unimportant. If I did ever make a reputation as a writer – and I'm still trying to do that – a lot of it has had to do with covering college basketball." Bradley was named best columnist in the highest circulation category by the Associated Press Sports Editors in 1985 and has finished in the top 10 four times.
BRYAN BURWELL: Burwell was enshrined posthumously. He passed away from cancer on Dec. 4, 2014. A past president of the USBWA in 2010-11, Burwell is the first African-American to be elected to the USBWA Hall of Fame. Before joining the Post-Dispatch in 2002, Burwell established a national reputation writing for USA Today, Sports Illustrated, Sporting News, the Detroit News and New York's Newsday and Daily News. In 2007, he was selected by the Associated Press Sports Editors as one of the top 10 columnists in the country. He was also a television and radio personality, appearing on CNN, ESPN's "The Sports Reporters," and HBO's "Real Sports" and "Inside The NFL" and hosting shows on radio stations in St. Louis.
DICK JERARDI: Jerardi served as president of the USBWA in 2008-09. He joined the Philadelphia Daily News in 1985 and since then has covered 26 NCAA tournaments and 21 Final Fours. He was voted Pennsylvania sportswriter of the year in 2001 by the National Association of Sportswriters and Broadcasters. In addition to writing for the Daily News, Jerardi also serves as a color analyst on radio broadcasts of Penn State basketball games.
GEORGE LAPIDES: Lapides is a long-time media member in Memphis, having spent nearly 54 years covering sports, including the University of Memphis and the SEC. He was sports editor and columnist of the Memphis Press-Scimitar from 1967 until the newspaper closed in 1983 during which time he covered every Final Four and several since then for TV and radio stations in Memphis. He also was sports editor at WREG-TV in Memphis. Lapides is considered to be a pioneer among sportswriters making the leap from print to talk radio. Now in its 42nd straight year on the air, his Sportstime show in Memphis is the longest-running sports radio program in the nation.
ROBIN NORWOOD: Norwood served as president of the USBWA in 2004-05, the only woman to ever hold that position. She covered two Olympic Games (Atlanta and Sydney) and 11 Final Fours as national college basketball columnist and reporter from 1986 to 2008 for the Los Angeles Times.
FRANK BILOVSKY: At age 13 in rural Pennsylvania, Bilovsky was smitten by college basketball when Lebanon Valley College from nearby Annville was invited to the 1953 NCAA tournament. The Flying Dutchmen defeated Fordham before falling to Bob Pettit and LSU. Lebanon Valley? How great a story was that? He graduated in 1962, got hired by the late Philadelphia Bulletin a year later and was assigned to cover the Big Five. His prose told the story of those doubleheaders at the Palestra until the Bulletin's demise in 1982.
MIKE LOPRESTI: A national sportswriting landmark is what Lopresti's column has become in USA Today. Lopresti got his journalism start at his hometown newspaper, the Palladium-Item, while a high school student in Richmond, Ind., where he still lives. He worked for the P-I until joining the startup crew for USA Today in 1982. Atlanta marked his 34th Final Four.
LENOX RAWLINGS: Rawlings retired in December after 34 years writing sports columns for the Winston-Salem Journal, where his work was must-read material for anyone remotely interested in the ACC. He previously worked in Raleigh, Greensboro and Atlanta. A graduate of North Carolina, Rawlings never played favorites as he wrote about some of college ball's hottest rivalries, and he never shied from criticizing whoever and whatever deserved rebuke. That approach might have angered a few coaches and more than a few boosters. But Rawlings' way with words disarmed them and his honesty commanded respect. And it was just damn difficult to argue with his demeanor.
The USBWA inducted Lenox Rawlings, Mike Lopresti and Frnnk Bilovsky into its Hall of Fame at the Final Four in Atlanta.
TOM CUSHMAN: Cushman had an illustrious career that began at the Colorado Springs Gazette in 1959 and took him to the Philadelphia Daily News for 15 years and to the San Diego Union-Tribune from 1982-2001 when he retired. He covered 30 Final Fours, 11 Olympics and a host of other major sports events on every continent but Antarctica.
MIKE DeCOURCY: DeCourcy has spent most of his sportswriting career at The Sporting News where he is the magazine's college basketball columnist. He began his career at the Pittsburgh Press (1983-93), then moved to the Memphis Commercial-Appeal (1993-97) and the Cincinnati Enquirer (1997-2000). He also serves as a studio analyst and panelist on the Big Ten Network.
PETER FINNEY: An icon in the sports journalism profession, Finney worked for more than 65 years in New Orleans and was still writing columns for the New Orleans Times-Picayune at 84. He started his career covering prep sports while in high school for the Orleans States. After college, he joined the States-Item and after one year was writing three columns a week and covering college sports. When the States-Item merged with the Times-Picayune, he wrote five columns a week. "Pistol Pete" is among the three books he has written.
BILL CONNORS: An iconic columnist in Oklahoma who passed away in 2000. He spent 47 years at the Tulsa World, where he was the sports editor from 1959-94. The soft-spoken Connors was a native of Canadian, Okla., who became a graduate of Oklahoma State. He was best known for writing columns that were clever, informative and fair to their subjects. Connors was an 11-time winner of Oklahoma's Sportswriter of the Year and was inducted into the Oklahoma Sports Hall of Fame in 1998.
MICKEY FURFARI: Has covered West Virginia athletics for 65 years, through the basketball eras of "Hot Rod" Hundley, Jerry West, Rod Thorn and Fred Schaus. At 87, he is retired after 40 years as a daily sportswriter for the Dominion Post but still writes columns for a syndicate of several West Virginia newspapers. Furfari has covered West Virginia athletics since graduating from the school in 1948. The state's dean of sportswriting was voted West Virginia sportswriter of the year five times. Though he is "retired" on Aug. 1, 1989, and is legally blind, Furfari continues to write a column for a syndicate of West Virginia newspapers. He recently completed the book Mickey's Mountaineer Memories. In the introduction, West called Furfari "a state treasure." Furfari spent 40 years from 1949-89 at the Morgantown Dominion Post as a managing editor, sports editor, Sunday editor and executive sports editor.
ART SPANDER: Began his career as a news writer for United Press International in 1960 and moved to sportswriting for the Santa Monica Outlook in 1963. He went to work for the San Francisco Chronicle in 1965 and was named the lead columnist for the San Francisco Examiner in 1979. Spander was awarded the McCann Award in 1999, earning him a place in the Pro Football Hall of Fame. His golf coverage earned him the Masters Major Achievement Award in 2007, the PGA of America Lifetime Achievement Award in 2009. This year, he won the UCLA Award for Professional Achievement in journalism and the Tournament Golf Journalism Award.
2010 INDUCTEES
WALTER BYERS: Former Executive Director of the NCAA who is credited with the idea to form the U.S. Basketball Writers Association in 1956. Byers was media-friendly and praised for his cooperation and treatment of sportswriters.

SKIP MYSLENSKI: Retired in 2008 after 42 years as a sportswriter. Started at the Rochester Times-Union in 1967, moved on to Sports Illustrated in 1968 and the Philadelphia Inquirer in 1973, and then joined the Chicago Tribune in 1978 where he spent the next 30 years covering college sports. He was named the Tribune's national college basketball writer in 1988.

BUD WITHERS: President of the USBWA in 1992-93, Withers has covered sports for three Northwest newspapers since 1970. He worked at the Eugene Register-Guard from 1970-87 and the Seattle Post-Intelligencer from 1987-99 and has been at the Seattle Times since 1999. He has written books on Gonzaga basketball and basketball coaching legend Ralph Miller and has been named "Sportswriter of the Year" in both Oregon and Washington.
2009 INDUCTEES
PETE AXTHELM: Pete Axthelm wrote for the New York Herald Tribune and Sports Illustrated but was best known for the 20 years he spent at Newsweek, first as sports editor and then as a columnist and contributing editor. He was also a sports television commentator for NBC and later ESPN. He authored "City Game, Basketball in New York," the first book to seriously explore college basketball recruiting. The book covered the glory and tragedy of New York basketball. It combined an account of the championship season of the New York Knicks with a study of those who played in ghetto playgrounds and became neighborhood legends but never played professionally. Axthelm died in 1991 of liver failure at the age of 47.
RICK BOZICH: Rick Bozich is in his 31st year at the Louisville Courier-Journal and Times. He replaced USBWA Hall of Fame member Dick Fenlon as sports columnist at the Times in 1981 and became a Courier-Journal columnist in 1986. He has covered 27 of the last 28 NCAA Final Fours and seven NCAA championship teams at Kentucky, Louisville and Indiana. Bozich served as USBWA president in 2003-04 and has won more than 20 USBWA writing contest awards and six from APSE. He has also been a college basketball correspondent for Sports Illustrated since 1986.
GARY McCANN: Gary McCann is in his 38th year as a sportswriter. Since 1998, he has been sports editor of The Herald. He started his career at the Burlington Times-News in 1971 and moved to the Greensboro News & Record in 1981 before leaving to replace the legendary Bob Hammel as sports editor at the Bloomington, Ind., Herald-Times in 1996. McCann has covered 17 Final Fours and numerous ACC tournaments and has won 10 USBWA writing awards and more than 20 other state and national writing awards.
Nancy Axthelm and grandchildren accepting from Malcolm Moran on behalf of the late Pete Axthelm; Rick Bozich and Pat Forde (bottom left); and Gary McCann and Dick Jerardi (bottom right).
2008 INDUCTEE
STEVE WIEBERG: Steve Wieberg is the 50th member of the USBWA Hall of Fame. He has been at USA Today since being part of the original startup staff in 1982. His primary responsibilities include coverage of college sports, in particular football, basketball and rules governing the NCAA. He has covered every NCAA men's Final Four since 1983 and also covered six Summer and Winter Olympics. He served as president of the USBWA in 1996-97 and has won seven writing contest awards from the USBWA, six from the Associated Press Sports Editors and three from the Football Writers Association. He was named by the Chronicle of Higher Education as one of the "10 Most Powerful People in College Sports" in October 2007 and selected by College Sports magazine as one of the "50 Most Influential People in College Sports" in 1995 and '96.
2007 inductee Frank Boggs (left) was introduced by Bill Hancock (center). USBWA president Tom Shatel assisted in the presentation in Atlanta. (Photo: Bill Mathis, MathisJones Communications)
2007 INDUCTEE
FRANK BOGGS: Frank Boggs wrote sports for the Daily Oklahoman, Topeka Capital-Journal and Dallas Times-Herald in the 1970s and '80s and later was sports editor and columnist for the Daily Oklahoman and Colorado Springs Sun. Boggs was selected Oklahoma Sportswriter of the Year 10 times and is a member of the Oklahoma Journalism Hall of Fame. He was a recipient of the Jake Wade Award in 1981, given annually by CoSIDA to a national sports journalist. CoSIDA also recognized Boggs in 1977 by presenting him with the Backbone Award for displaying good judgment and unusual courage for taking a stand on intercollegiate athletics during the Oklahoma football scandal.
2006 INDUCTEE
MARVIN WEST: The USBWA president in 1983-84, West joined the Knoxville News-Sentinel in 1955 and covered Tennessee until 1979, when he became a columnist and associate sports editor. He was named sports editor in 1980 and continued covering UT and college sports until he was named managing editor in 1983. West then went to Scripps-Howard
to become its first sports editor. He became managing editor of the news service in 1995 and retired in 1998.
2005 inductees Malcolm Moran, Jerry Tipton and Frank Burlison with USBWA President Robyn Norwood.
2005 INDUCTEES
FRANK BURLISON: When inducted, Burlison had covered college basketball for nearly 30 years for the Long Beach Press-Telegram, Orange County Register and Fox Sports. In 1992, Sports Illustrated listed him as one of the country's "10 most influential members of the media" in college basketball.
MALCOLM MORAN: President of the USBWA in 1988-89 when the organization formalized its awards for women and held its first nationally-televised presentation of the player of the year awards. He has reported on college basketball for four newspapers over 30 years – Newsday, The New York Times, Chicago Tribune and USA Today.
JERRY TIPTON: Has covered Kentucky basketball continuously for the Lexington Herald-Leader since 1982 and has been named Kentucky Sportswriter of the Year and Herald-Leader Excellence Award winner. Worked for the Huntington (W. Va.) Herald-Dispatch for eight years before joining the Herald-Leader.
2004 inductee Jerry Radding with fellow Hall of Famer John Feinstein (left) and 2003 inductee Jim O'Brien
2004 INDUCTEE
JERRY RADDING: Became the first New England writer to serve as USBWA president in 1973-74 ... Retired from the Springfield (Mass.) Union News in 1991 after a 41-year career and has been a regular fixture at the NCAA Final Four for nearly four decades ... Was the Naismith Memorial Basketball Hall of Fame's first publicity director.
2003 INDUCTEES
Bill Jauss
BILL JAUSS: Legendary Chicago sportswriter for nearly 50 years with the Chicago Daily News, the Chicago Today and the Chicago Tribune since 1974 ... an original member of the nationally-syndicated TV show called "Sports Writers."
JIM O'BRIEN: Founding editor of Street & Smith's Basketball magazine for over 23 years and author of 12 books about Pittsburgh sports ... had newspaper stints at the Pittsburgh Press, New York Post and Miami News.
2002 INDUCTEES
MEL GREENBERG: considered a pioneer among sportswriters for his national coverage of women's college basketball ... started the first top 20 poll for women's basketball in 1976 ... a member of the Big 5 Hall of Fame in Philadelphia.
BILL MILLSAPS: Was USBWA president in 1985-86 and a sportswriter and columnist for over two decades, including serving 15 years as sports editor at the Richmond Times-Dispatch ... an 11-time winner of the Virginia Sportswriter of the Year award. He currently is vice-president and executive editor of the Times-Dispatch.
Jim O'Connell
JIM O'CONNELL: President of the USBWA in 1997-98 and currently is national college basketball editor for the Associated Press ... Has been on the AP staff since 1978 ... was inducted into the media wing of the Basketball Hall of Fame in 2002, received the Big East Conference Media Award in 2001 and was honored as the NIT National Media Man of the Year in 1997.
ALEXANDER WOLFF: As USBWA president in 1999-2000, Wolff was instrumental in starting a USBWA-sponsored scholarship program for aspiring sports journalism students and also initiated a sportswriting seminar held each year at the NCAA Final Four. He joined Sports Illustrated in 1980 and is the author of six books on basketball.
2001 INDUCTEES
KEN DENLINGER: A veteran of nearly 35 years with the Washington Post ... Denlinger first gained attention for his coverage of Georgetown and Maryland ... Considered a great stylist, he later became a columnist for the Post before recently returning to beat coverage of the Hoyas.
BOB RUSSELL: The first president-elect of the USBWA in 1956 ... During his presidency, Russell covered college basketball and football for the old Chicago Daily News ... Helped draft the organization's original by-laws, working in conjunction with Wayne Duke, who at the time was an assistant director with the NCAA and later became commissioner of the Big 10 Conference.
CHARTER INDUCTEES
WAYNE DUKE
Known by many for his lengthy tenure as Big Ten commissioner ... Duke was, along with former NCAA Director Walter Byers, largely responsible for forming the USBWA in 1956 ... Authored the original USBWA constitution and has maintained membership since the organization's inception.
SMITH BARRIER
A past president of the organization (1970-71) ... Career spanned four decades and included coverage of the Southern Conference (1941-53) and Atlantic Coast Conference (1954-1988) ... Covered the Final Four for 30 years (1957-87) and penned several books on college basketball.
DICK HERBERT
Another past president (1959-60) ... Founded and then edited for 12 years, the organization's newsletter, The Tipoff ... Served as sports editor of the Raleigh News and Observer for 29 years.
RAY MARQUETTE
President in 1962-63, Marquette went on to become the executive director and secretary of the USBWA from 1969-77, when he was killed in a plane crash ... Considered a key man in the organization in the transition from original executive secretary Ed Schneider in the wake of Schneider's retirement in the 1960s.
IRVING MARSH
A past president (1964-65), Marsh is considered to be one of the pioneer college basketball beat writers for the New York Herald Tribune and its successor, the New York World Tribune-Journal ... Took an active role in the promotion and coverage of the National Invitation Tournament in the 1930s.
JAY SIMON
This former USBWA president (1963-64) was sports editor of the Topeka State Journal after World War II and moved to Oklahoma City where he was the top collegiate writer at the Daily Oklahoman ... Later, was the sports information director at Kansas.
LARRY BOECK
Sportswriter for the Louisville Courier-Journal and Times for 25 years before moving into athletic community relations for the University of Louisville ... President of the USBWA in 1966-67 ... Died in 1972 at the age of 52.
BILL BRILL
The USBWA president in 1980-81, Brill began his career with the Roanoke Times and World News in 1956 and served as the paper's executive sports editor and columnist through 1991 ... Now a resident of Durham, N.C., Brill is still a regular contributor to several publications.
DAVID CAWOOD
Former Assistant Executive Director at the NCAA who for nearly 25 years was the media coordinator for the NCAA Final Four ... Now working for Host Communications.
LARRY DONALD
The only two-term president of the USBWA (1986-88), Donald was editor and publisher of nationally-distributed publications, Basketball Times and Eastern Basketball ... Was cited 18 times in the USBWA's Best Writing Contest.
DAVE DORR
This long-time staff writer at the St. Louis Post-Dispatch was USBWA president in 1979-80 ... Covered 17 Final Fours and was for many years a college basketball columnist for The Sporting News.
JIM ENRIGHT
The late Enright was a college basketball writer for the old Chicago Today newspaper and a well-known referee in the Windy City area ... Also served as USBWA president in 1967-68.
JOHN FEINSTEIN
Gained fame for his book on Bobby Knight and the Indiana Hoosiers in 1986 with "A Season on the Brink ... Subsequently, John has written several more best-selling books while continuing to write about college basketball for the Washington Post ... Was president of the USBWA in 1991-92.
DICK FENLON
Veteran columnist and reporter for the Columbus Dispatch, who has actively covered Big Ten and Ohio State ... Prior to that, he worked in Louisville as a columnist for the Louisville Courier-Journal, actively covering Kentucky and Louisville ... Was an NCAA Final Four regular for at least two decades before retiring in 1997.
MAL FLORENCE
A member of the Los Angeles Times sports staff since 1951 ... Was the college beat writer for the Times in the '60s and '70s and covered the UCLA Bruins during their dynasty years.
DAN FOSTER
Sports editor and columnist for the Greenville (S.C.) News, who has covered college basketball (ACC and SEC) for 50 years ... Still covers Clemson and South Carolina on a full-time basis.
MARVIN "SKEETER" FRANCIS
Francis was a longtime assistant commissioner and service bureau director at the Atlantic Coast Conference ... Before joining the ACC in 1969, he served as sports information director at Wake Forest for 15 years.
MARY GARBER
A pioneer female sports writer for the Winston Salem-Journal whose career in sportswriting began in 1946 ... Covered the ACC and Wake Forest before retiring in 1986 ... She has won some 40 writing awards in her career and still works part-time for the Journal sports staff.
J. HERBERT GOOD
Good was president of the organization in 1958-59 ... Staff writer for the Philadelphia Inquirer and Philadelphia Bulletin before his death in August, 1967.
RON GREEN SR.
Has been covering sports in Charlotte, N.C. for 46 years, 35 of which were with the old Charlotte News, the last 10 with the Charlotte Observer ... Has been North Carolina Sports Writer of the Year five times.
STEVE GUBACK
From 1977-83, Guback served as executive director of the organization ... During his tenure, Guback played a large role in developing and acquiring sponsors for the USBWA's Most Courageous Award ... Also was instrumental in getting the NCAA to bring players to an interview area after tournament games.
BOB HAMMEL
Hammel was the sports editor of the Bloomington Herald Telephone for more than 20 years and an employee for more than 30 years ... Has been named the Indiana sportswriter of the year ten times and has covered every Final Four since 1968 ... Also a USBWA past president (1982-83).
BOB HENTZEN
A 14-time winner of the Kansas sportswriter of the year award, Hentzen has regularly covered the Final Four since 1973 after covering his first in 1964 ... Has been sports editor of the Topeka Capital-Journal since 1968 and was president of the USBWA in 1975-76.
DAVE KINDRED
A nationally-known sports columnist, Kindred has worked for the Louisville Courier-Journal, The Washington Post and the Atlanta Journal-Constitution ... Also has been a longtime columnist for the Sporting News ... His first love has always been college basketball ... Authored a still-popular book on basketball in the state of Kentucky.
CURRY KIRKPATRICK
Long-time college basketball writer for Sports Illustrated, Kirkpatrick was a frequent winner in the USBWA's Best Writing contest ... Also served as a college basketball reporter for CBS and most recently is doing television work and magazine writing for ESPN.
DAVE KRIDER
Longtime prep writer from LaPorte, Ind., currently covers high school football and basketball for USA Today ... Was a pioneer in writing nationally about preps ... Work has appeared in Basketball Weekly, Street & Smith and Basketball Times.
HUBERT MIZELL
Veteran sports writer and columnist for the St. Petersburg Times ... Has covered 29 Final Fours.
GARY NUHN
Noted sports columnist for the Dayton Daily News who began covering the University of Dayton and Ohio State basketball in the early 1970s ... Winner of several USBWA Best Writing contests and was USBWA president in 1989-90.
BILLY REED
Longtime college basketball writer for the Louisville Courier-Journal, Lexington Herald-Leader and Sports Illustrated ... Cited numerous times in the USBWA Best Writing contest, Reed also served a term on the Board of Directors.
BOB RYAN
Noted Boston Globe sports columnist who has co-authored books on Larry Bird, Bob Cousy and John Havlicek ... Has been with the Globe since 1968 ... Longtime columnist for Basketball Times.
JERRY TAX
Now retired, Tax was a writer and editor at Sports Illustrated from 1955 to 1981 ... Was instrumental in Sports Illustrated expanding its national coverage to college basketball in the 1950s and 1960s.
CAULTON TUDOR
Long time columnist and staff writer for the Raleigh Times and News Observer ... Caulton's sports writing career covers a 30-year span in Raleigh ... Has covered every ACC Tournament since 1972 and NCAA Final Four since 1974 ... Twice was elected president of the ACC Sports Writers Association.
BOB VETRONE
Vetrone began his sports journalism career in Philadelphia in 1943 when he joined the Philadelphia Bulletin ... Currently an assistant sports information director at the La Salle University ... Vetrone has been involved in sports writing, broadcasting and public relations for nearly 50 years.
DICK WEISS
Nicknamed "Hoops," which says it all ... Currently covers college football and basketball for New York Daily News, but for many years held a similar job at the Philadelphia Daily News ... His byline has appeared in many national publications, including Basketball Times ... Is a past-president of the USBWA.
GORDON S. WHITE JR.
A past president of the USBWA (1969-70), White covered college basketball for The New York Times for nearly three decades ... Joined the Times in 1948 and authored a number of books on college sports during his career.
MAURY WHITE
A charter member of the USBWA, White worked at the Des Moines Register for 41 years ... Also a five-time winner of the Iowa sports writer of the year award.