DALLAS (FWAA) – Washington's Zion Tupuola-Fetui is this week's nominee for the 2023 Capital One Orange Bowl-FWAA Courage Award. Tupuola-Fetui, a senior, made several crucial plays in leading the Huskies to a win Saturday at USC just days after his father passed away.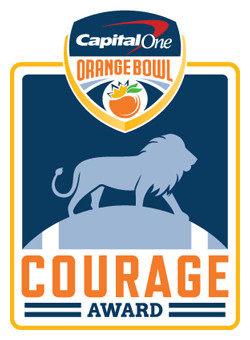 "This week was really hard, but I knew my dad would want me to play," an emotional Tupuola-Fetui told radio reporter Dave Mahler on the field after the game. "He loves this game. He loves U-Dub. And I knew I'd just be doing him wrong if I didn't play. I'm thankful I was able to play good in his memory. That was him playing through me.
"The beginning of the game, I don't even know if I wanted to play, to be honest. I'm here for my brothers, but I'm glad I was able to play a good game."
Tupuola-Fetui's father, Molia Fetui, passed away from an illness one week earlier at the age of 58. Tupuola-Fetui wrote a tribute to his father on the tape on each of his arms for the USC game: One that said "R.I.L" — Rest In Life — and another that said OGHAMO, which was his father's nickname.
The 6-foot-4, 254-pound edge rusher then went out and made one of the biggest plays of the game, strip-sacking Heisman Trophy winner Caleb Williams in the second quarter. Washington recovered the ball and scored three plays later to take the lead. The Huskies went on to win 52-42 to stay undefeated.
An emotional Tupuola-Fetui was embraced on the field by head coach Kalen DeBoer after the game. The Washington coaching staff named Tupuola-Fetui its power defensive player of the week for his four-tackle performance, which included 1.5 sacks.
A sixth-year senior from Pearl City, Hawaii, Tupuola-Fetui has recorded 18 total tackles, 4.5 tackles for loss, 3.5 sacks and one quarterback hurry for the 9-0 Huskies. For his career, Tupuola-Fetui has amassed 77 tackles, 18 TFLs, 16 sacks, two passes defended, five forced fumbles and one fumble recovery.
Tupuola-Fetui has played for three different full-time head coaches in Seattle, and he was named a first-team All-Pac-12 performer and second-team Walter Camp All-American in 2020. He earned honorable mention All-Pac-12 honors in 2022 as well.
The Courage Award was first presented by the Football Writers Association of America (FWAA) in 2002. A select group of writers from the FWAA vote on the winner each year. The requirements for nomination include displaying courage on or off the field, including overcoming an injury or physical handicap, preventing a disaster or living through hardship. The winner of the award will be included in festivities during Capital One Orange Bowl week and receive his trophy at an on-field presentation.
Previous winners of the Capital One Orange Bowl-FWAA Courage Award are Oregon tight end Cam McCormick (2022), the University of Utah football Team (2021), Arkansas State analyst Alex Charlton (2020), Arkansas State coach Blake Anderson (2019), SUNY Cortland linebacker Kyle Richard (2018), Wisconsin safety D'Cota Dixon (2017), Pitt running back James Conner (2016), Miami offensive lineman Hunter Knighton (2015), Duke offensive lineman Laken Tomlinson (2014), San Jose State defensive lineman Anthony Larceval (2013), Clemson wide receiver Daniel Rodriguez (2012), Michigan State offensive lineman Arthur Ray Jr. (2011), Rutgers defensive tackle Eric LeGrand (2010), the University of Connecticut football team (2009), Tulsa's Wilson Holloway (2008), Navy's Zerbin Singleton (2007), Clemson's Ray Ray McElrathbey (2006), the Tulane football team (2005), Memphis' Haracio Colen (2004), San Jose State's Neil Parry (2003) and Toledo's William Bratton (2002).008), Navy's Zerbin Singleton (2007), Clemson's Ray Ray McElrathbey (2006), the Tulane football team (2005), Memphis' Haracio Colen (2004), San Jose State's Neil Parry (2003) and Toledo's William Bratton (2002).
About Orange Bowl
Orange Bowl is a 404-member, primarily-volunteer non-profit sports organization that promotes and serves the South Florida community. With its primary mission since being created in 1935 to bring tourism to South Florida through an annual football game and events, it has also maintained a legacy of charitable contributions and community outreach. Orange Bowl's community outreach is embodied by the four pillars of its Orange Bowl Cares program: Youth Sports, Education, Community Engagement and Legacy Programs. Orange Bowl features a year-round schedule of events culminating with the 2023 Capital One Orange Bowl on Dec. 30. For more information on the 2023 Orange Bowl events, including promotional inquiries and volunteer opportunities through the Ambassador Program, log on to orangebowl.org or follow @OrangeBowl on social media.
Founded in 1941, the Football Writers Association of America consists of journalists, broadcasters, publicists, photographers and key executives in all areas of college football. The FWAA works to govern media access and gameday operations while presenting awards and honors, including an annual All-America team. For more information about the FWAA and its programs and initiatives, contact Executive Director Steve Richardson at 214-870-6516 or tiger@fwaa.com.
To submit a nomination for the Capital One Orange Bowl Courage Award, contact Matt Fortuna at matt.fortuna@gmail.com.