DALLAS (FWAA) – Navy's Xavier McDonald is this week's nominee for the 2023 Capital One Orange Bowl-FWAA Courage Award. McDonald, a senior, has overcome a challenging upbringing in St. Petersburg, Fla., to earn a Service Academy appointment.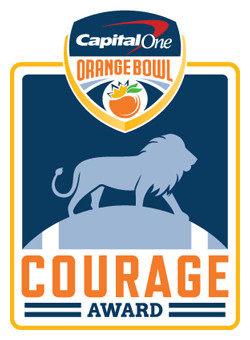 McDonald took care of four younger siblings while growing up, after both of his parents were incarcerated simultaneously.
"Midway through my freshman year, my parents got into trouble with the law. They had bad situations that led to them being incarcerated and separated from me and my brothers," McDonald said. "I had to grow up really early and really fast. I had to learn how to take care of myself and my brothers, too. My parents weren't around, so I had to try to fill their shoes.
"It basically developed me into the person I am now — very mature, very caring. I think about my brothers and others before myself."
McDonald and one brother, Kamron, were placed in one foster home, while siblings Jacob, Joshua and Micah were with a different family.
McDonald worked at a grocery store to help support his siblings, while posting a 3.5 GPA. When Xavier and Kamron were placed in a different foster home, Northeast High coach Jeremy Frioud drove Xavier to school each morning. McDonald moved in with the Compton family when he as a junior. The family's son, Luke, was a freshman on the football team.
When McDonald now returns home to St. Petersburg, he spends time with two families: the Comptons and his biological parents. He sees his mother, Bonnie Martinez, and his four younger siblings, and he sees his father, Clarence McDonald Jr., at church, as both are members of the City on a Hill congregation.
A 5-foot-11, 207-pound striker, McDonald has played in 25 games for Navy, tallying 26 total tackles, 1.5 tackles for loss and one pass defended. He recorded a sack and registered a quarterback hurry last Thursday in the Midshipmen's tight loss at Memphis.
The Courage Award was first presented by the Football Writers Association of America (FWAA) in 2002. A select group of writers from the FWAA vote on the winner each year. The requirements for nomination include displaying courage on or off the field, including overcoming an injury or physical handicap, preventing a disaster or living through hardship. The winner of the award will be included in festivities during Capital One Orange Bowl week and receive his trophy at an on-field presentation.
Previous winners of the Capital One Orange Bowl-FWAA Courage Award are Oregon tight end Cam McCormick (2022), the University of Utah football Team (2021), Arkansas State analyst Alex Charlton (2020), Arkansas State coach Blake Anderson (2019), SUNY Cortland linebacker Kyle Richard (2018), Wisconsin safety D'Cota Dixon (2017), Pitt running back James Conner (2016), Miami offensive lineman Hunter Knighton (2015), Duke offensive lineman Laken Tomlinson (2014), San Jose State defensive lineman Anthony Larceval (2013), Clemson wide receiver Daniel Rodriguez (2012), Michigan State offensive lineman Arthur Ray Jr. (2011), Rutgers defensive tackle Eric LeGrand (2010), the University of Connecticut football team (2009), Tulsa's Wilson Holloway (2008), Navy's Zerbin Singleton (2007), Clemson's Ray Ray McElrathbey (2006), the Tulane football team (2005), Memphis' Haracio Colen (2004), San Jose State's Neil Parry (2003) and Toledo's William Bratton (2002).008), Navy's Zerbin Singleton (2007), Clemson's Ray Ray McElrathbey (2006), the Tulane football team (2005), Memphis' Haracio Colen (2004), San Jose State's Neil Parry (2003) and Toledo's William Bratton (2002).
About Orange Bowl
Orange Bowl is a 404-member, primarily-volunteer non-profit sports organization that promotes and serves the South Florida community. With its primary mission since being created in 1935 to bring tourism to South Florida through an annual football game and events, it has also maintained a legacy of charitable contributions and community outreach. Orange Bowl's community outreach is embodied by the four pillars of its Orange Bowl Cares program: Youth Sports, Education, Community Engagement and Legacy Programs. Orange Bowl features a year-round schedule of events culminating with the 2023 Capital One Orange Bowl on Dec. 30. For more information on the 2023 Orange Bowl events, including promotional inquiries and volunteer opportunities through the Ambassador Program, log on to orangebowl.org or follow @OrangeBowl on social media.
Founded in 1941, the Football Writers Association of America consists of journalists, broadcasters, publicists, photographers and key executives in all areas of college football. The FWAA works to govern media access and gameday operations while presenting awards and honors, including an annual All-America team. For more information about the FWAA and its programs and initiatives, contact Executive Director Steve Richardson at 214-870-6516 or tiger@fwaa.com.
To submit a nomination for the Capital One Orange Bowl Courage Award, contact Matt Fortuna at matt.fortuna@gmail.com.