DALLAS (FWAA) – The Cheez-It National Team of the Week will be presented each Monday during the college football regular season. Each week, the All-America Committee of the Football Writers Association will honor one outstanding team performance.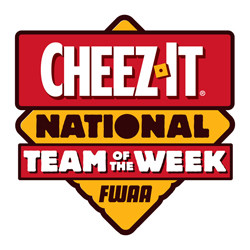 The 2023 season is the 22nd for the program, which features new branding in partnership with Cheez-It, the cheeziest sponsor of college football, and Florida Citrus Sports, the Orlando-based non-profit that organizes the Cheez-It Citrus Bowl.
Once again, the honored team will be presented with a care package of Cheez-It products to help celebrate the big win. In addition, the Big Game USA, the nation's leading manufacturer of custom footballs, will continue to provide a hand-crafted commemorative ball each week.
Since the 2002 season, 284 teams have been honored by the FWAA, including 101 different programs. All Division I schools are eligible to be selected. Michigan State leads all schools with nine all-time selections, followed by TCU with eight. Notre Dame, Oklahoma and Texas A&M have earned the honor seven times. Florida, Iowa State, Kansas State and Stanford are six-time recipients.
For the 2023 season, the Cheez-It National Team of the Week will be announced each Monday, except for the first extended holiday weekend, when the announcement will be made on Tuesday. There will be 13 honored teams this week, running through the regular season and ending Thanksgiving weekend.
ABOUT KELLOGG COMPANY
At Kellogg Company (NYSE: K), our vision is a good and just world where people are not just fed but fulfilled. We are creating better days and a place at the table for everyone through our trusted food brands. Our beloved brands include Pringles®, Cheez-It®, Special K®, Kellogg's Frosted Flakes®, Pop-Tarts®, Kellogg's Corn Flakes®, Rice Krispies®, Eggo®, Mini-Wheats®, Kashi®, RXBAR®, MorningStar Farms® and more. Net sales in 2021 were nearly $14.2 billion, comprised principally of snacks as well as convenience foods like cereal, frozen foods, and noodles. As part of our Kellogg's® Better Days ESG strategy, we're addressing the interconnected issues of wellbeing, climate and food security, creating Better Days for 3 billion people by the end of 2030. Visit KelloggCompany.com.
ABOUT FLORIDA CITRUS SPORTS
Florida Citrus Sports is a not-for-profit event management organization dedicated to positively impacting the Orlando region while enhancing the quality of life in Central Florida through world-class events, including the Cheez-It Citrus Bowl, the Pop-Tarts Bowl, the Florida Blue Florida Classic, the Camping World Kickoff and the FC Series. For more information, visit FloridaCitrusSports.com.
Founded in 1941, the Football Writers Association of America consists of 1,100 men and women who cover college football. The membership includes journalists, broadcasters and publicists, as well as key executives in all the areas that involve the game. The FWAA works to govern areas that include game-day operations, major awards and its annual All-America team. For more information about the FWAA and its award programs, contact Steve Richardson at tiger@fwaa.com.
For more information, follow @CheezIt and @CitrusBowl on your favorite social media platform, and stay tuned to see what absurdly satisfying antics Cheez-It has in store this season.
2023 FWAA All-America Committee
Kirk Bohls, Austin American-Statesman (Chair)
Travis L. Brown, Bryan-College Station Eagle
Ken Capps, Freelance
Angelique Chengelis, Detroit News
Brett Ciancia, Pick Six Previews
Scott Dochterman, The Athletic
Scott Farrell, collegepressbox
Bryan Fischer, FOX Sports
John Hoover, All Sooners
Mike Huguenin, Freelance
Shehan Jeyarajah, CBS Sports
Nate Mink, Syracuse Post-Standard
Ben Portnoy, The State
Tony Siracusa, Last Word on College Football
Phil Steele, Phil Steele Publications
Dusty Thibodeaux, WarhawkReport.com
Ryan Thorburn, Casper (Wyo.) Star-Tribune
John Wagner, County News Review (Minn.)
Jon Wilner, Bay Area News Group