DALLAS (FWAA) – The South Carolina Gamecocks stunned No. 5 Tennessee with touchdowns on all five of their first-half drives, winning the SEC East battle 63-38 and setting records in the process. For its school-record point total against a top-five opponent and its second-highest ever against an SEC foe, South Carolina (7-4) earned the Cheez-It Bowl National Team of the Week honor for games of the weekend of Nov. 19, as selected by the Football Writers Association of America.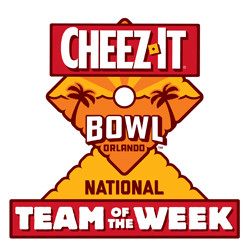 Spencer Rattler won the quarterback battle for South Carolina facing the Vols' Hendon Hooker, who left the game in the fourth quarter with an injury. The Gamecocks had already settled the contest by then, however, behind Rattler's career day throwing for 438 yards and six touchdowns. He entered the game averaging 198 yards per game with nine interceptions and only eight touchdowns.
The 63 points are the most by an unranked team against an AP top-5 opponent in the poll era, and the 25-point winning margin mark the most points by an unranked SEC team against a ranked SEC team ever scored in regulation. The game featured the most points scored by either team in the series and the most points ever allowed by Tennessee in an SEC game.
This is the fifth time for South Carolina to earn this honor from the FWAA and its first since Oct. 12, 2019, when the Gamecocks won at No. 2 Georgia in overtime, beating a top-five team for the first time in six seasons. The others weekly honors came in 2010 and twice in 2005. All Division I FBS and FCS schools are eligible to be selected.
Antwane Wells Jr. caught 11 passes for 177 yards and Josh Vann and and Jaheim Bell each caught two touchdowns for South Carolina on an offense that came into the night 11th in the SEC in total offense. The Gamecocks smashed their 355.2-yard average with 606 total yards and led 35-24 at halftime. Their defense contained Hooker to 247 passing yards and three TDs before his injury.
The win was only South Carolina's seventh-ever against a top-five team. The 63 total points are the most by South Carolina in an SEC game since scoring 65 against Mississippi State in 1995.
South Carolina plays at in-state rival and No. 9 Clemson at noon ET Saturday on ABC. The Tigers have won seven in a row in the series.
This is the 21st season the FWAA will select a national team of the week. Each honored team will receive a custom Cheez-It "care package" along with a hand-crafted game ball made in America by Dallas-based Big Game USA, the nation's leading manufacturer of custom footballs.
The other National Team of the Week nominees for the weekend of Nov. 19 were:
TCU (11-0): The Horned Frogs found a way to win yet again, kicking a 40-yard field goal from Griffin Kell with the clock running to zero to beat Baylor for the fourth straight time in Waco, 29-28. The field goal capped a rally for a 28-20 deficit. TCU is 11-0 for the fourth time in its history and first time since its undefeated 13-0 Rose Bowl season. Max Duggan's 12-yard keeper keyed a nine-play, 46-yard drive without a timeout to set up the winning kick.

USC (10-1): Caleb Williams passed for a career-high 470 yards, Austin Jones rushed for a season-high 120 yards and the No. 7 Trojans clinched a spot in the Pac-12 Championship game with a 48-45 victory over No. 16 UCLA in the Rose Bowl. Williams finished with 503 yards of total offense and USC had a season-high 648 yards overall, taking advantage of four UCLA turnovers.

Vanderbilt (5-6): The Commodores won back-to-back SEC games for the first time since 2018 and snapped a 12-game home SEC losing streak with a 31-24 comeback win over Florida. Mike Wright threw for three scores and Ray Davis added 122 yards on the ground to key Vanderbilt's first win over Florida since 2018. Davis carried 30 times in recording his third straight 100-yard effort.
Founded in 1941, the Football Writers Association of America consists of journalists, broadcasters, publicists, photographers and key executives in all areas of college football. The FWAA works to govern media access and gameday operations while presenting awards and honors, including an annual All-America team. For more information about the FWAA and its programs and initiatives, contact Executive Director Steve Richardson at 214-870-6516 or tiger@fwaa.com.
About the Cheez-It Bowl
The 2022 Cheez-It Bowl takes place Thursday, Dec. 29 at 5:30 p.m. ET at Camping World Stadium in Orlando, Fla. The postseason contest is hosted by Florida Citrus Sports, a Central Florida-based nonprofit, and annually features top teams from the Atlantic Coast and Big 12 Conferences. Cheez-It®, the best-selling cracker brand in the United States, signed on as the game's title sponsor in 2020 as part of its season-long support of college football. Last bowl season, No. 19 Clemson beat Iowa State 20-13 in front of an announced crowd of 39,051, with cornerback Mario Goodrich taking home the Cheez-It Bowl MVP belt.