DALLAS (FWAA) – The Washington Huskies snapped No. 6 Oregon's eight-game win steak as Peyton Henry kicked a 43-yard field goal with 51 seconds left, keeping the Huskies in Pac-12 title contention with a gritty 37-34 win in Eugene, Ore. For beating a ranked Oregon team for the first time in 13 games since 2002 in the divisional rivalry, Washington (8-2) earned the Cheez-It Bowl National Team of the Week honor for games of the weekend of Nov. 12, as selected by the Football Writers Association of America.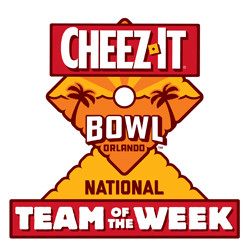 Michael Penix Jr. guided the Huskies to their first win in Eugene since 2016, throwing for 408 yards and two touchdowns, the second one a 62-yarder to Taj Davis that tied it at 34 with 3:07 to go. Penix, the FBS passing leader with 3,640 yards (364.0 pg) to go with 25 touchdowns, now has nine games with at least 300 yards passing; he topped 300 in the Huskies' first eight games and had 298 vs. Oregon State on Nov. 5.
The 408 passing total moved Penix past Jake Browning (3,430 in 2016) for the No. 2 spot in Washington single-season history. Cody Pickett's school record of 4,458 yards in 2002 is in reach. Penix has thrown for 25 touchdowns this season, tied for No. 4 on the UW single-season list.
Washington's other big play came on a 76-yard touchdown pass from Penix to Ja'Lyn Polk that gave the Huskies a 27-24 lead in the third quarter. Henry added three field goals as the Huskies beat a ranked Oregon team for the first time since taking down No. 23 Oregon, 42-12, in 2002. UW was also 0-7 in the series when the Ducks were ranked in the top 10.
This is the fifth time for Washington to earn this honor from the FWAA and its first since Nov. 24, 2018, when it won the Apple Cup to claim the Pac-12's North Division. The others weekly honors came in 2016, '12 and '09. All Division I FBS and FCS schools are eligible to be selected.
This is the 21st season the FWAA will select a national team of the week. Each honored team will receive a custom Cheez-It "care package" along with a hand-crafted game ball made in America by Dallas-based Big Game USA, the nation's leading manufacturer of custom footballs.
Washington, tied for fourth place and one game behind the Pac-12 leaders, hosts Colorado on Saturday. The Pac-12 Network is televising the game at 6 p.m. PT.
The other National Team of the Week nominees for the weekend of Nov. 12 were:
Arizona (4-6): The Wildcats snapped an eight-game road losing streak against ranked teams with a 34-28 upset over No. 9 UCLA in the Rose Bowl. Arizona quarterback Jayden de Laura accounted for three touchdowns and had his fifth 300-yard passing game of the season. It was the Wildcats' first AP Top 25 win since beating No. 19 Oregon in 2018, their first road AP Top 10 win since beating No. 10 Utah in 2015, and their first AP Top 10 road win since defeating No. 2 Oregon in 2014.

UConn (6-5): The Huskies ended a 10-game losing streak against nationally-ranked foes dating back to 2015 with a 36-33 home win over No. 19 Liberty. Freshman quarterback Zion Turner scored the go-ahead touchdown with 5:43 left on a 30-yard pass to Kevens Clercius. It was UConn's third straight win and fourth in a row at home that made it bowl eligible for the first time since the 2015 season, also the last time that UConn won six games.

TCU (10-0): The Horned Frogs clinched a spot in the Big 12 Championship Game with an impressive defensive effort in a 17-10 win at Texas. TCU held the Longhorns to three points offensively and only 199 total yards. Big plays of a 75-yard touchdown run by Kendre Miller and a 31-yard pass from Max Duggan to Quentin Johnson were the difference makers. Since joining the Big 12 in 2012, TCU is 8-3 against Texas with a 5-1 record in Austin.
Founded in 1941, the Football Writers Association of America consists of journalists, broadcasters, publicists, photographers and key executives in all areas of college football. The FWAA works to govern media access and gameday operations while presenting awards and honors, including an annual All-America team. For more information about the FWAA and its programs and initiatives, contact Executive Director Steve Richardson at 214-870-6516 or tiger@fwaa.com.
About the Cheez-It Bowl
The 2022 Cheez-It Bowl takes place Thursday, Dec. 29 at 5:30 p.m. ET at Camping World Stadium in Orlando, Fla. The postseason contest is hosted by Florida Citrus Sports, a Central Florida-based nonprofit, and annually features top teams from the Atlantic Coast and Big 12 Conferences. Cheez-It®, the best-selling cracker brand in the United States, signed on as the game's title sponsor in 2020 as part of its season-long support of college football. Last bowl season, No. 19 Clemson beat Iowa State 20-13 in front of an announced crowd of 39,051, with cornerback Mario Goodrich taking home the Cheez-It Bowl MVP belt.