DALLAS (FWAA) – The Notre Dame Fighting Irish had two 100-yard rushers, held Clemson scoreless in the first half for the first time in three seasons and scored on special teams in dominating the No. 5 Tigers, 35-14, in South Bend. For posting its third straight win this season and its 27th straight regular-season win against Atlantic Coast Conference foes, Notre Dame (6-3) earned the Cheez-It Bowl National Team of the Week honor for games of the weekend of Nov. 5, as selected by the Football Writers Association of America.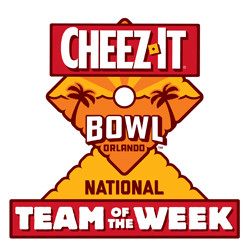 This is the seventh time for Notre Dame to earn this honor from the FWAA and its first since Nov. 7, 2020, when it also beat Clemson in South Bend to end the Tigers' ACC-record 36-game regular-season win streak. That was also the last time the Irish defeated a top-five team. The others weekly honors came in 2017, '12, '06, '04 and '02. All Division I FBS and FCS schools are eligible to be selected.
All three phases of the game excelled in the Irish win. Logan Diggs (114 yards) and Audric Estimé (104) both eclipsed the century mark on the ground, the first time this season for two Irish rushers to top 100 yards. Notre Dame's third straight game with 200-plus yards on the ground – it's 5-0 in such games – came against a Clemson defense giving up only 88 yards per game coming into Saturday as the Irish averaged 5.6 yards per rush.
The Irish shut Clemson out in the first half for the first time this season, the first time since 2019 and for just the third time in the Dabo Sweeney era. Notre Dame racked up seven tackles for loss and four sacks. On the final play of the first half, edge rusher Isaiah Foskey posted his 24th career sack – he's now just 0.5 away from matching Justin Tuck's Notre Dame career record. The Irish already controlled the game, 21-0, early in the fourth quarter when freshman cornerback Benjamin Morrison had a 96-yard pick-six that sent the sellout crowd into a frenzy.

On special teams, the Irish blocked their sixth punt of the season on Clemson's opening drive, setting the modern school record (since 1937) for punt blocks in a season. Prince Kollie picked the block out of the air and ran 17 yards for Notre Dame's first touchdown.
"We wanted to run the ball. Ohio State seems so long ago, but there were points of the game we weren't able to do it," Notre Dame head coach Marcus Freeman said. "At some point tonight if we weren't able to run the ball with efficiency, we were going to have to throw it a little bit more. We threw it when we needed to, but we were running the ball with the efficiency we needed to, to continue to extend the drives. You have to play to your strengths. That can be within a game. Today one of those strengths was playing really good defense and running the ball on offense."
Notre Dame is on the road Saturday for its annual series with Navy. The game is in Baltimore and is at 12 noon ET on ABC.
This is the 21st season the FWAA will select a national team of the week. Each honored team will receive a custom Cheez-It "care package" along with a hand-crafted game ball made in America by Dallas-based Big Game USA, the nation's leading manufacturer of custom footballs.
The other National Team of the Week nominees for the weekend of Nov. 5 were:
Georgia (9-0): Stetson Bennett threw two touchdown passes and ran for another score and Georgia came up with six sacks to win a battle of unbeatens, topping No. 1 Tennessee, 27-13. Georgia contained every bit of a Tennessee offense that led the nation in points (49.4 pg) and total yards (553 pg). It was Georgia's sixth straight win in the series.

Liberty (8-1): The Flames earned the program's first win over an SEC team by stopping a two-point conversion play with 1:11 left to hang on for a 21-19 win at Arkansas. Liberty led 21-0 late in the second quarter before Arkansas rallied. Johnathan Bennett moved to 5-0 as starting quarterback, completing 15-of-25 pass attempts for 224 yards and three touchdowns. Dating back to its previous game against BYU (a 41-14 win), Liberty scored 59 consecutive points before yielding an Arkansas field goal shortly before halftime.

LSU (7-2): The Tigers capitalized on an opportunity as Jayden Daniels hit freshman tight end Mason Taylor with a two-point conversion pass on LSU's first overtime possession to take a 32-31 win over arch-rival Alabama, the Tigers' first home win in the series since 2010. Daniels, who scored LSU's touchdown in overtime on a 25-yard run, passed for 182 yards and ran for 95 yards in the win, giving LSU back-to-back wins over top-10 teams (defeated No. 7 Ole Miss 45-20 on Oct. 22).
Founded in 1941, the Football Writers Association of America consists of journalists, broadcasters, publicists, photographers and key executives in all areas of college football. The FWAA works to govern media access and gameday operations while presenting awards and honors, including an annual All-America team. For more information about the FWAA and its programs and initiatives, contact Executive Director Steve Richardson at 214-870-6516 or tiger@fwaa.com.
About the Cheez-It Bowl
The 2022 Cheez-It Bowl takes place Thursday, Dec. 29 at 5:30 p.m. ET at Camping World Stadium in Orlando, Fla. The postseason contest is hosted by Florida Citrus Sports, a Central Florida-based nonprofit, and annually features top teams from the Atlantic Coast and Big 12 Conferences. Cheez-It®, the best-selling cracker brand in the United States, signed on as the game's title sponsor in 2020 as part of its season-long support of college football. Last bowl season, No. 19 Clemson beat Iowa State 20-13 in front of an announced crowd of 39,051, with cornerback Mario Goodrich taking home the Cheez-It Bowl MVP belt.