DALLAS (FWAA) — Oregon's Cam McCormick is this week's nominee for the 2022 Capital One Orange Bowl-FWAA Courage Award. McCormick, a seventh-year tight end, has overcome multiple season-ending injuries that have caused him to miss the majority of four seasons and has faced several personal struggles on his way to becoming an integral contributor for the No. 8 Ducks.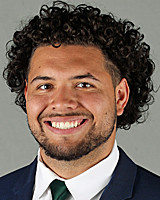 "I put the work in and I do what I'm told, I do what I'm asked and I'll do whatever I need to do," McCormick told OregonLive.com in October. "So when someone says, 'Maybe it's not right for you, maybe it's not best for you,' that just fuels me because I know inside that I really want to do this. I love football. But unfortunate circumstances kept me out of it.
"Getting to the next level is even harder, but if I'm able to get to the next level and get paid so well for being able to play a sport that I've been doing my whole life, I feel like that's a bonus to it because it's like I'm doing something that's fun. I want to get the opportunity to at least say I got the opportunity, then I'm happy with that."
McCormick tore the ACL in his left knee during his senior year at Summit (Ore.) High. As a third-year player at Oregon in 2018, McCormick broke his left fibula and tore his deltoid ligament, injuries that required three surgeries and cost him nearly three years of playing time. In the second game of the 2021, season, McCormick's sixth with the Ducks, he tore his Achilles in his right foot, forcing him to miss the rest of the season.
McCormick was also one of three Oregon players who was hospitalized for rhabdomyolysis following intense workouts amid a coaching change in January of 2017.
The 24-year-old McCormick is estranged from his biological father. He has also overcome an auditory processing challenge to graduate from high school early and earn two degrees at Oregon.
McCormick was close with fellow Ducks tight end Spencer Webb, who died in July during a climbing accident. McCormick was one of two teammates to speak at Webb's celebration of life. He wore Webb's No. 18 jersey during the Ducks' win over Eastern Washington, and he has honored his teammate's memory with a tattoo on his leg.
The 6-foot-5, 260-pound McCormick has nine catches for 64 yards and three touchdowns this season for the Ducks, who improved to 7-1 overall and 5-0 in Pac-12 play Saturday with a 42-24 win at Cal. For his career, McCormick has 17 catches for 167 yards and four touchdowns.
According to OregonLive.com, McCormick has had 377 teammates at Oregon, including 21 tight ends. He has played under four different head coaches and four different position coaches since the start of his Ducks career in 2016.
The Courage Award was first presented by the Football Writers Association of America (FWAA) in 2002. A select group of writers from the FWAA vote on the winner each year. The requirements for nomination include displaying courage on or off the field, including overcoming an injury or physical handicap, preventing a disaster or living through hardship. The winner of the award will be included in festivities during Capital One Orange Bowl week and receive his trophy at an on-field presentation.
Previous winners of the Capital One Orange Bowl-FWAA Courage Award are the University of Utah football Team (2021), Arkansas State analyst Alex Charlton (2020), Arkansas State coach Blake Anderson (2019), SUNY Cortland linebacker Kyle Richard (2018), Wisconsin safety D'Cota Dixon (2017), Pitt running back James Conner (2016), Miami offensive lineman Hunter Knighton (2015), Duke offensive lineman Laken Tomlinson (2014), San Jose State defensive lineman Anthony Larceval (2013), Clemson wide receiver Daniel Rodriguez (2012), Michigan State offensive lineman Arthur Ray Jr. (2011), Rutgers defensive tackle Eric LeGrand (2010), the University of Connecticut football team (2009), Tulsa's Wilson Holloway (2008), Navy's Zerbin Singleton (2007), Clemson's Ray Ray McElrathbey (2006), the Tulane football team (2005), Memphis' Haracio Colen (2004), San Jose State's Neil Parry (2003) and Toledo's William Bratton (2002).
About Orange Bowl
Orange Bowl is a 391-member, primarily-volunteer non-profit sports organization that promotes and serves the South Florida community. With its primary mission since being created in 1935 to bring tourism to South Florida through an annual football game and events, it has also maintained a legacy of charitable contributions and community outreach. Orange Bowl's community outreach is embodied by the four pillars of its Orange Bowl Cares program: Youth Sports, Education, Community Engagement and Legacy Programs. Orange Bowl features a year-round schedule of events culminating with the 2022 Capital One Orange Bowl on Dec. 30. For more information on the 2022 Orange Bowl events, including promotional inquiries and volunteer opportunities through the Ambassador Program presented by Panera Bread, log on to orangebowl.org or follow @OrangeBowl on social media.
Founded in 1941, the Football Writers Association of America consists of journalists, broadcasters, publicists, photographers and key executives in all areas of college football. The FWAA works to govern media access and gameday operations while presenting awards and honors, including an annual All-America team. For more information about the FWAA and its programs and initiatives, contact Executive Director Steve Richardson at 214-870-6516 or tiger@fwaa.com.
To submit a nomination for the Capital One Orange Bowl Courage Award, contact Matt Fortuna at mfortuna@theathletic.com.