DALLAS (FWAA) – The Tennessee Volunteers kicked a last-second field goal to dramatically end a too-long losing streak Saturday in a game-for-the-ages, a 52-49 win over Alabama. Chase McGrath's 40-yarder that spun through the soon-to-be-torn-down uprights as time expired ended a 15-game losing streak to the Crimson Tide. For the resilient effort in front of its capacity crowd, Tennessee (6-0) earned the Cheez-It Bowl National Team of the Week honor for games of the weekend of Oct. 15, as selected by the Football Writers Association of America.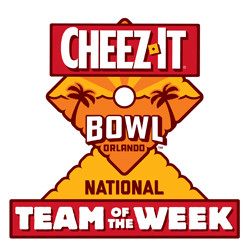 The Volunteers made a remarkable effort to even try a field goal to win it in regulation. Alabama had just missed its own 50-yard field goal try, leaving Tennessee at its own 32 with 15 seconds left. Hendon Hooker hit Ramel Keyton for 18 yards and Bru McCoy for a 27 yards on the next two plays to set up McGrath's final kick that triggered a wild celebration.
This is the third time for Tennessee to earn this honor from the FWAA and its first since 2016, the other in 2006. All Division I FBS and FCS schools are eligible to be selected.
Hooker will forever be noted at Tennessee for those two clutch passes on the final drive, but his five touchdown passes will officially leave his name in the Vols' record book, tied with Heath Shuler for most consecutive games with a touchdown pass at 18. Hooker completed 21-of-30 passes for a career high of 385 yards, most of it to wide receiver Jalin Hyatt.
Hyatt also enjoyed a school-record day within the teams' combined 1,133 total yards, catching all five of Hooker's scoring tosses from 36, 11, 60, 78 and 13 yards en route to a career-high 207-yard night on only six receptions. The five scores set the school single-game record for receiving touchdowns and tied the Southeastern Conference record; and also tied the Tennessee record for total touchdowns in a game that stood since 1929.
"Tonight was for our players, for our former players, for our donors; it is for our fans (too). I know how much this has meant to the people of Tennessee and Vol nation, and (I am) so excited that we came out with the win, for everybody involved," Vols head coach Josh Heupel said after the game. "I think it just speaks to the mentality, the growth, and the progress of the individuals inside of our locker room and collectively as a team. The growth inside of our program from the time we got here, the ability to be resilient; it was not pretty in the second half, there were a lot of things that we did not do at the level that we are capable of, but the kids continued to reset and go play and believe and ultimately find a way when it ticks zero to be on the right side of the scoreboard."
Tennessee now has four wins over ranked opponents this season, the first time it's done that since 1998. The 52 points marked the most the Vols have ever scored against Alabama and also stand out as the most points the Crimson Tide has surrendered since giving up 54 to Sewanee in 1907.
The Volunteers host UT-Martin at Noon ET Saturday on the SEC Network.
This is the 21st season the FWAA will select a national team of the week. Each honored team will receive a custom Cheez-It "care package" along with a hand-crafted game ball made in America by Dallas-based Big Game USA, the nation's leading manufacturer of custom footballs.
The other National Team of the Week nominees for the weekend of Oct. 15 were:
Stanford (2-4): Tanner McKee passed for 288 yards, Casey Filkins scored a touchdown and Joshua Karty kicked three field goals as Stanford ended an 11-game losing streak against FBS opponents, beating Notre Dame 16-14 in South Bend. The Cardinal's last win over an FBS opponent came against then-No. 3 Oregon, 31-24 in overtime on Oct. 2, 2021.

Utah (5-2): The Utes completed a two-point conversion with less than a minute left, taking down No. 7 USC in front of the largest crowd in Rice-Eccles Stadium history, 43-42. Utah ran up 562 yards of offense and a season-high 424 passing yards to go with 30 first downs, averaging 7.4 yards per play. The Utes have won consecutive games over USC for the first time since 1915-16, the first two games between the schools. It is Utah's second straight home win over a top-10 AP-ranked team (beat No. 4 Oregon on Nov. 20, 2021) and its 12th straight at home.
Founded in 1941, the Football Writers Association of America consists of journalists, broadcasters, publicists, photographers and key executives in all areas of college football. The FWAA works to govern media access and gameday operations while presenting awards and honors, including an annual All-America team. For more information about the FWAA and its programs and initiatives, contact Executive Director Steve Richardson at 214-870-6516 or tiger@fwaa.com.
About the Cheez-It Bowl
The 2022 Cheez-It Bowl takes place Thursday, Dec. 29 at 5:30 p.m. ET at Camping World Stadium in Orlando, Fla. The postseason contest is hosted by Florida Citrus Sports, a Central Florida-based nonprofit, and annually features top teams from the Atlantic Coast and Big 12 Conferences. Cheez-It®, the best-selling cracker brand in the United States, signed on as the game's title sponsor in 2020 as part of its season-long support of college football. Last bowl season, No. 19 Clemson beat Iowa State 20-13 in front of an announced crowd of 39,051, with cornerback Mario Goodrich taking home the Cheez-It Bowl MVP belt.