DALLAS (FWAA) – The Eastern Michigan Eagles jumped ahead with a fast start and ran past Arizona State, 30-21, in Tempe, Ariz., with running back Samson Evans gaining 257 yards in an historic night. For handing Arizona State its first home non-conference loss since 2017 and becoming the first Mid-American Conference team to beat a Pac-12 Conference team in the regular season, the Eagles (2-1) earned the Cheez-It Bowl National Team of the Week honor for games of the weekend of Sept. 17, as selected by the Football Writers Association of America.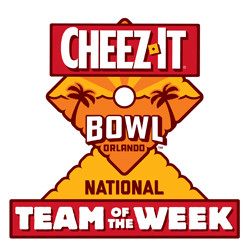 This is the first time for Eastern Michigan to earn team of the week honors and the first for a Mid-American Conference school since Buffalo on Nov. 28, 2020. The Eagles become only the sixth MAC school to win the award since it debuted in 2002. All Division I FBS and FCS schools are eligible to be selected.
Evans recorded the first 100-yard rushing effort of his career but far exceeded that benchmark, taking 35 carries for 257 yards and a touchdown on the night. His previous best was 89 yards set earlier this season against Eastern Kentucky. The 257 yards are tied for the third-best rushing mark at EMU and the most since Bronson Hill ran for 257 against Ohio in 2013.
The Eagles are no stranger to showing early-season prowess and its success came from a handful of new stars. EMU jumped out to a 3-0 lead when Jesus Gomez hit his first career field goal attempt from 27 yards out. Sophomore quarterback Austin Smith came off the bench in the second quarter and on his second possession led a 13-play, 75-yard scoring drive that he extended with a 20-yard run on a third-down play. He threw for 60 yards – the first passing yards of his career – and later threw for a touchdown along with 62 rushing yards. EMU scored on five of its first six possessions.
Overall, the victory marked the fourth time in head coach Chris Creighton's tenure for the Eagles to defeat a Power 5 opponent. The only coach in the Mid-American Conference with multiple wins over a Power 5 team, Creighton's EMU teams have also taken down Illinois (2019), Purdue (2018) and Rutgers (2017) in recent years.
"I don't think I've ever played or coached football at 2:30 in the morning before," Creighton said after the game, noting the time difference from back home. "But it sure was an awesome first time. Obviously super, super proud of our football program. Part of the message was when you get the play such a prestigious school and prestigious conference with phenomenal coaches and super talented players, just reminded our guys that logos and what other people think are not what truly defines you. People aren't inheritably better than other people or what not. I'm proud that our guys believed in themselves and wanted to play at a high level and coming out victorious is a big deal for us."
This is the 21st season the FWAA will select a national team of the week. Each honored team will receive a custom Cheez-It "care package" along with a hand-crafted game ball made in America by Dallas-based Big Game USA, the nation's leading manufacturer of custom footballs.
EMU returns home Saturday to face Buffalo in its MAC opener at Noon ET in a game broadcast by CBS Sports Network.
The other National Team of the Week nominees for the weekend of Sept. 17 were:
Kansas (3-0): The Jayhawks moved to 3-0 for the first time since 2009 with a 48-30 win over Houston. Kansas overcame an early 14-point deficit by scoring touchdowns on six of its next seven drives, the lone exception being a drive ended by halftime. Junior quarterback Jalon Daniels led the Jayhawks, throwing for 158 yards and three touchdowns while rushing for a career-high 123 yards and two scores.

Washington (3-0): The Huskies beat No. 11 Michigan State, 39-28, as Michael Penix Jr. threw for 397 yards and four touchdowns at Husky Stadium as Kalen DeBoer's program rebuild appears ahead of schedule. Penix completed 24 of 40 passes and just missed posting the eighth 400-yard passing game in Washington history. Ja'Lynn Polk had six catches for a career-high 153 yards and three TDs. It was Washington's first win over a ranked Power 5 non-conference opponent at home since beating Michigan to open the 2001 season.
Founded in 1941, the Football Writers Association of America consists of journalists, broadcasters, publicists, photographers and key executives in all areas of college football. The FWAA works to govern media access and gameday operations while presenting awards and honors, including an annual All-America team. For more information about the FWAA and its programs and initiatives, contact Executive Director Steve Richardson at 214-870-6516 or tiger@fwaa.com.
About the Cheez-It Bowl
The 2022 Cheez-It Bowl takes place Thursday, Dec. 29 at 5:30 p.m. ET at Camping World Stadium in Orlando, Fla. The postseason contest is hosted by Florida Citrus Sports, a Central Florida-based nonprofit, and annually features top teams from the Atlantic Coast and Big 12 Conferences. Cheez-It®, the best-selling cracker brand in the United States, signed on as the game's title sponsor in 2020 as part of its season-long support of college football. Last bowl season, No. 19 Clemson beat Iowa State 20-13 in front of an announced crowd of 39,051, with cornerback Mario Goodrich taking home the Cheez-It Bowl MVP belt.