DALLAS (FWAA) – The Florida Gators overcame four deficits and used an explosive night from quarterback Anthony Richardson to win their home opener 29-26 over No. 7 Utah, the defending Pac-12 champion, in front of a packed house at Florida Field. For giving new head coach Billy Napier a win in his debut in The Swamp, Florida earned the Cheez-It Bowl National Team of the Week honor for games of the weekend of Sept. 3, as selected by the Football Writers Association of America.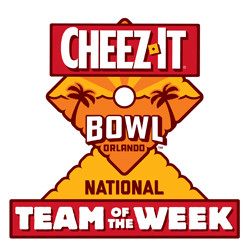 Richardson ran for a career-best three touchdowns, including the game-winning 2-yard scamper with 1:25 left that gave Florida its last lead after six lead changes. The Gainesville, Fla. product is the first FBS quarterback to rush for three touchdowns in a game this season and one of only five Florida quarterbacks to rush for three scores in a game since 1996. Richardson's 168 passing yards set a career-high to go with 106 yards on the ground.
"This group's got fight in them," Napier said after the game. "I think I've said that publicly. That's one thing about our team. They compete. I've got to slow them down sometimes. ... They've got a little bit different edge about them."
This is the 21st season the FWAA has selected a national team of the week. Each honored team receives a custom Cheez-It "care package" and a hand-crafted game ball made in America by Dallas-based Big Game USA, the nation's leading manufacturer of custom footballs. This is Florida's sixth team of the week honor and its first since Oct. 3, 2015. All Division I FBS and FCS schools are eligible to be selected.
Saturday marked the Gators' first season-opening win over a ranked team in 53 years by converting on 7-of-12 third downs and extending two other drives with fourth-down conversions. The defense contained Utah behind Brenton Cox Jr.'s career-best 10 tackles and held off the Utes when linebacker Amari Burney intercepted Utah Cameron Rising's pass in the end zone in the final seconds.
Florida opens SEC play Saturday, hosting East Division rival Kentucky at 7 p.m. ET on ESPN.
The other National Team of the Week nominee for the weekend of Sept. 3 was:
Arizona (1-0): The Wildcats spoiled the opening of San Diego State's Snapdragon Stadium with a 38-20 win behind Jayden de Laura's four touchdown passes. The win avenged Arizona's 39-14 loss to the Aztecs in its home opener last year as De Laura, a transfer from Washington State, completed 22 of 35 passes for 299 yards, most of its to fellow transfer Jacob Cowing, who opened his Wildcats career with eight receptions for 152 yards after transferring from UTEP.
Founded in 1941, the Football Writers Association of America consists of journalists, broadcasters, publicists, photographers and key executives in all areas of college football. The FWAA works to govern media access and gameday operations while presenting awards and honors, including an annual All-America team. For more information about the FWAA and its programs and initiatives, contact Executive Director Steve Richardson at 214-870-6516 or tiger@fwaa.com.
About the Cheez-It Bowl
The 2022 Cheez-It Bowl takes place Thursday, Dec. 29 at 5:30 p.m. ET at Camping World Stadium in Orlando, Fla. The postseason contest is hosted by Florida Citrus Sports, a Central Florida-based nonprofit, and annually features top teams from the Atlantic Coast and Big 12 Conferences. Cheez-It®, the best-selling cracker brand in the United States, signed on as the game's title sponsor in 2020 as part of its season-long support of college football. Last bowl season, No. 19 Clemson beat Iowa State 20-13 in front of an announced crowd of 39,051, with cornerback Mario Goodrich taking home the Cheez-It Bowl MVP belt.