DALLAS (FWAA) With their dramatic 50-48 win over No. 14 TCU, the Baylor Bears (1-0) are the Tostitos Fiesta Bowl National Team of the Week for games through the extended opening weekend of Sept. 3.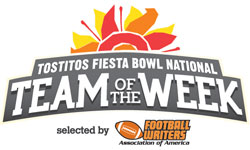 Quarterback Robert Griffin III threw a career-high five touchdown passes on 21-for-27 passing and helped the Bears gain a 47-23 advantage going into the fourth quarter. TCU stormed back to take a 48-47 lead before Griffin engineered the 60-yard game-winning drive, catching a key 15-yard pass on third-and-10. Aaron Jones' 37-yard field goal with 1:04 to play put Baylor back in the lead, and an interception with 10 seconds left sealed the upset.
The win was Baylor's first over a ranked opponent since defeating No. 16 Texas A&M in overtime on Oct. 30, 2004, and earned the Bears revenge after losing 45-10 at TCU last season.
"Our guys kept fighting," said Baylor coach Art Briles after the game. "I never saw any doubt, even in the fourth quarter when we had some strange things happen."
Other Tostitos Fiesta Bowl National Team of the Week nominees for the weekend of Sept. 3 included:
LSU (1-0): The Tigers won the weekend's premier matchup of top-five teams, 40-27 over No. 3 Oregon in Arlington, Texas. LSU's defense and special teams each forced two turnovers as the Tigers scored 20 points off those takeaways, including returning a fumble for a touchdown.
USF (1-0): The Bulls forced five turnovers, including a 96-yard fumble returned for a touchdown and an interception in their own end zone, that helped preserve a 23-20 win at No. 16 Notre Dame.
UTSA (1-0): The Roadrunners won their program's inaugural game, rolling by Northeastern State (Okla.), 31-3. Quarterback Eric Soza threw for 237 yards and ran for 102 more, accounting for three touchdowns before an NCAA start-up program record crowd of 56,743 at the Alamodome.
The Football Writers Association of America has named a national team of the week since the 2002 season. This is the seventh season that the award has been sponsored by the Tostitos Fiesta Bowl.
Members of the FWAA All-America Committee decide the weekly honor. Each remaining Monday during the 2011 college football regular season, the FWAA will name the Tostitos Fiesta Bowl National Team of the Week.
Founded in 1971, the Tostitos Fiesta Bowl has hosted seven games that have decided the college football national championship, including four Bowl Championship Series title games. This season, the Tostitos Fiesta Bowl will be played on Jan. 2, 2012, at University of Phoenix Stadium in Glendale, Ariz., and the Insight Bowl will be played on Dec. 30, 2011, at Sun Devil Stadium in Tempe, Ariz.
For more information on the Tostitos Fiesta Bowl National Team of the Week, go to footballwriters.com or fiestabowl.org.