DALLAS (FWAA) With their 21-17 win over No. 13 Iowa, the Northwestern Wildcats (7-3) are the Tostitos Fiesta Bowl National Team of the Week for games of the weekend of Nov. 13.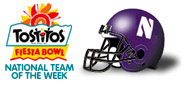 The Wildcats rallied from a 17-7 deficit behind Dan Persa's two fourth-quarter touchdown passes that ended scoring drives of 85 and 91 yards. On the day, Persa was 32-for-43 for a career-high 318 yards. His 20-yard touchdown pass to Demetrius Fields with 1:22 remaining completed the comeback. On the play, however, he ruptured his Achilles tendon, which will sideline him for the rest of the season.
Northwestern has now claimed National Team of the Week honors for the second straight year with an upset of Iowa.
"When it's a one-score game, we feel like we're going to win all those games," Northwestern head coach Pat Fitzgerald said. "The guys are saying 'Cat Time.' It's just an attitude about our program in close games, we find a way to win."
Other Tostitos Fiesta Bowl National Team of the Week nominees for the weekend of Nov. 13 included:
Auburn (11-0): Cam Newton passed for 148 yards and two touchdowns and ran for 151 yards and another pair of scores as Auburn rallied from a 21-7 first-quarter deficit to defeat Georgia, 49-31, and win the SEC West title.
Oklahoma State (9-1): Brandon Weeden passed for 409 yards and Kendall Hunter had two rushing touchdowns as Oklahoma State ended a 12-year losing streak to Texas with a 33-16 victory in Austin.
South Carolina (7-3): Marcus Lattimore ran 40 times for a career-high 212 yards and three touchdowns as the Gamecocks blasted Florida, 36-14, to win their first SEC Eastern Division crown.
Washington State (2-9): Jeff Tuel passed for 157 yards and rushed for 79 as Washington State snapped a 16-game Pac-10 losing streak with a 31-14 win at Oregon State.
The Football Writers Association of America has named a national team of the week since the 2002 season. This is the seventh season that the award has been sponsored by the Tostitos Fiesta Bowl.
Members of the FWAA All-America Committee decide the weekly honor. Each remaining Monday during the 2010 college football regular season, the FWAA will name the Tostitos Fiesta Bowl National Team of the Week.
Founded in 1971, the Tostitos Fiesta Bowl has hosted six games that have decided the college football national championship, including three Bowl Championship Series title games. This season, the Tostitos Fiesta Bowl will host the Tostitos BCS National Championship Game on Jan. 10, 2011 at University of Phoenix Stadium in Glendale, Ariz. The Tostitos Fiesta Bowl will be played on Jan. 1, 2011 in Glendale and the Insight Bowl will be played on Dec. 28, 2010 at Sun Devil Stadium in Tempe, Ariz.
For more information on the Tostitos Fiesta Bowl National Team of the Week, go to footballwriters.com or fiestabowl.org.