DALLAS (FWAA) With their 47-7 win over No. 5 Utah, the TCU Horned Frogs (10-0) are the Tostitos Fiesta Bowl National Team of the Week for games of the weekend of Nov. 6.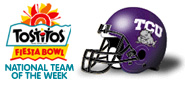 Andy Dalton completed 21 of 26 passes for a career-high 355 yards and three touchdowns as the Horned Frogs roared out to a 23-0 halftime lead. On the day, TCU outgained Utah 558-199 and held the ball for more than 39 minutes. The previously-unbeaten Utes did not cross midfield until the fourth quarter.
For the second straight season, TCU is 10-0 and, in going 6-0 in Mountain West Conference play, the Horned Frogs have outscored those opponents, 236-23. The win was TCU's 15th straight in conference play and snapped Utah's 21-game home conference winning streak.
"I think everybody understands what kind of a team Utah has, and for us to do it the way we did it today says a lot about what we've done as a program and what we do," said TCU head coach Garry Patterson after the game. "We wanted to be peaking at the end of the year and I think we have an opportunity to do that."
Other Tostitos Fiesta Bowl National Team of the Week nominees for the weekend of Nov. 6 included:
LSU (8-1): The Tigers scored 14 unanswered points to rally from a 14-10 second-half deficit and knock off No. 6 Alabama, 24-21, in Baton Rouge.
The Football Writers Association of America has named a national team of the week since the 2002 season. This is the seventh season that the award has been sponsored by the Tostitos Fiesta Bowl.
Members of the FWAA All-America Committee decide the weekly honor. Each remaining Monday during the 2010 college football regular season, the FWAA will name the Tostitos Fiesta Bowl National Team of the Week.
Founded in 1971, the Tostitos Fiesta Bowl has hosted six games that have decided the college football national championship, including three Bowl Championship Series title games. This season, the Tostitos Fiesta Bowl will host the Tostitos BCS National Championship Game on Jan. 10, 2011 at University of Phoenix Stadium in Glendale, Ariz. The Tostitos Fiesta Bowl will be played on Jan. 1, 2011 in Glendale and the Insight Bowl will be played on Dec. 28, 2010 at Sun Devil Stadium in Tempe, Ariz.
For more information on the Tostitos Fiesta Bowl National Team of the Week, go to footballwriters.com or fiestabowl.org.