DALLAS (FWAA) With their 17-10 win at No. 4 Iowa, the Northwestern Wildcats (6-4) are the Tostitos Fiesta Bowl National Team of the Week for games of the weekend of Nov. 7, as chosen by the board of the Football Writers Association of America.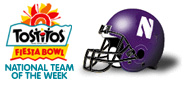 Trailing 10-0, the Wildcats forced four second-quarter turnovers to ignite the rally. Corey Wooten sacked Iowa's Rick Stanzi and forced a fumble that was recovered for a touchdown by Marshall Thomas to put Northwestern on the board. Stanzi was injured on the play and did not return to the game.
On Iowa's next possession, a Quentin Davie interception led to the go-ahead score. Drake Dunsmore caught a 4-yard touchdown pass to cap the drive and give the Wildcats a lead they would not relinquish. The win was Northwestern's third straight in Iowa City and ended Iowa's 13-game winning streak.
"We fully expected if we could put together 60 minutes of Wildcat football together in all three phases we'd have an opportunity to compete," Northwestern head coach Pat Fitzgerald said after the game. "And, to our young men's credit, we did."
Other Tostitos Fiesta Bowl Bowl National Team of the Week nominees for the weekend of Nov. 7 included:
Navy (7-3): Ricky Dobbs threw a touchdown pass and ran for another as the Midshipmen upset No. 19 Notre Dame, 23-21, in South Bend. The win secured a Texas Bowl berth for the Midshipmen.
Stanford (6-3): Toby Gerhart ran for a school-record 223 yards and three touchdowns as the Cardinal stunned No. 7 Oregon, 51-42.
The FWAA has named a national team of the week since the 2002 season. This is the sixth season that the award has been sponsored by the Tostitos Fiesta Bowl.
Members of the FWAA board of directors and All-America committee decide the weekly honor. Each Monday during the 2009 college football season, the FWAA will name the Tostitos Bowl National Team of the Week through Dec. 7.
Since 1971, the Tostitos Fiesta Bowl has hosted six games that have decided the college football national championship, including three Bowl Championship Series title games. This season the Tostitos Fiesta Bowl game will be played on Jan. 4, 2010 at University of Phoenix Stadium in Glendale, Ariz., and the Insight Bowl will be played on Dec. 31, 2009 at Sun Devil Stadium in Tempe, Ariz.
For more information on the Tostitos Fiesta Bowl National Team of the Week, go to footballwriters.com or fiestabowl.org.