DALLAS (FWAA) With their 13-3 win at No. 4 LSU, the Florida Gators (5-0) are the Tostitos Fiesta Bowl National Team of the Week for games of the weekend of Oct. 10, as chosen by the board of the Football Writers Association of America.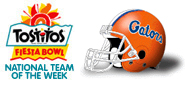 The Florida defense held LSU to 162 total yards as the Gators extended their winning streak to 15 games. The win also ended LSU's 32-game home Saturday night winning streak in front of a record crowd of 93,129.
Quarterback Tim Tebow, returning from a concussion suffered on Sept. 26, threw for 134 yards and a touchdown and provided another 41 yards on the ground as the Gators retained their No. 1 national ranking.
"I am very proud of our team and our offense," Tebow said after the game. "We played hard, and we played for four quarters. We just had so much confidence at the end that we knew we were going to get a shot and put this thing
away."
Other Tostitos Fiesta Bowl Bowl National Team of the Week nominees for the weekend of Oct. 10 included:
Nebraska (4-1): The Huskers rallied from a 12-0 deficit with 27 fourth-quarter points to win at Missouri, 27-12, in a driving rainstorm.
The FWAA has named a national team of the week since the 2002 season. This is the sixth season that the award has been sponsored by the Tostitos Fiesta Bowl.
Members of the FWAA board of directors and All-America committee decide the weekly honor. Each Monday during the 2009 college football season, the FWAA will name the Tostitos Bowl National Team of the Week through Dec. 7.
Since 1971, the Tostitos Fiesta Bowl has hosted six games that have decided the college football national championship, including three Bowl Championship Series title games. This season the Tostitos Fiesta Bowl game will be played on Jan. 4, 2010 at University of Phoenix Stadium in Glendale, Ariz., and the Insight Bowl will be played on Dec. 31, 2009 at Sun Devil Stadium in Tempe, Ariz.
For more information on the Tostitos Fiesta Bowl National Team of the Week, go to footballwriters.com or fiestabowl.org.