DALLAS (FWAA) With their 17-7 win at Florida State, the USF Bulls (4-0) are the Tostitos Fiesta Bowl National Team of the Week for games of the weekend of Sept. 26.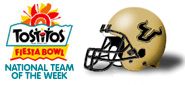 Redshirt freshman quarterback B.J. Daniels, making his first career start, accounted for 341 of USF's 368 yards of offense. Daniels threw a pair of scoring passes, including a 77-yarder to Sterling Griffin that gave the Bulls a 14-0 lead at halftime.
Although this was the first meeting between USF and Florida State, the Bulls have now won seven straight games vs. teams from Florida. The win also extended USF's non-conference regular-season winning streak to 15 games.
"It changes history," USF head coach Jim Leavitt said after the game. "You have to beat them to get talked about. Now I can say we should be talked about."
Other Tostitos Fiesta Bowl Bowl National Team of the Week nominees for the weekend of Sept. 26 included:
Iowa (4-0): The Hawkeyes used four second-half turnovers to rally from a 10-0 deficit and beat Penn State in State College, 21-10.
Oregon (3-1): Jeremiah Masoli completed 21-of-25 passes for 253 yards and three touchdowns as the Ducks routed No. 6 California, 42-3.
The FWAA has named a national team of the week since the 2002 season. This is the sixth season that the award has been sponsored by the Tostitos Fiesta Bowl.
Members of the FWAA board of directors and All-America committee decide the weekly honor. Each Monday during the 2009 college football season, the FWAA will name the Tostitos Bowl National Team of the Week through Dec. 7.
Since 1971, the Tostitos Fiesta Bowl has hosted six games that have decided the college football national championship, including three Bowl Championship Series title games. This season the Tostitos Fiesta Bowl game will be played on Jan. 4, 2010 at University of Phoenix Stadium in Glendale, Ariz., and the Insight Bowl will be played on Dec. 31, 2009 at Sun Devil Stadium in Tempe, Ariz.
For more information on the Tostitos Fiesta Bowl National Team of the Week, go to footballwriters.com or fiestabowl.org.