DALLAS (FWAA) With their 45-35 win at Oklahoma State, the Houston Cougars (2-0) are the Tostitos Fiesta Bowl National Team of the Week for games of the weekend of Sept. 12.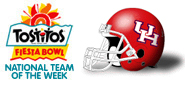 Case Keenum threw for 366 yards and three touchdowns as the Cougars registered their first win over a Top 5 team since Nov. 10, 1984 at Texas.
The Cougars jumped out to a 24-7 halftime lead before No. 5 Oklahoma State rallied to take a 35-31 lead in the fourth quarter. With 6:42 left in the game, Keenum hit Bryce Beall for a 6-yard score on fourth down and the Cougars sealed the upset when Jamal Robinson returned an interception 26 yards for a touchdown.
"For us, as a program, this is a big win. It legitimizes our university. It legitimizes our program," head coach Kevin Sumlin said after the game. "There's no doubt that one win does not make a season. We got a whole bunch of football to go, but I think anytime that you can go on the road and win and beat a top 10 team, it really helps your confidence as a program and it helps your pride as a university."
Other Tostitos Fiesta Bowl Bowl National Team of the Week nominees for the weekend of Sept. 12 included:
Central Michigan (1-1): Andrew Aguila hit a 42-yard field goal with three seconds left to give the Chippewas a 29-27 upset win over Michigan State in East Lansing.
SMU (2-0): The Mustangs defeated UAB, 35-33, in Birmingham to go 2-0 for the first time since 1996. The win also snapped a 17-game Conference USA losing streak and a 15-game road losing streak.
Louisiana-Lafayette (2-0): Tyler Albrecht's 48-yard field goal with 32 seconds left gave the Ragin' Cajuns a 17-15 win over Kansas State, their first over a BCS conference school since 1996.
USC (2-0): Stafon Johnson capped an 86-yard drive with a 2-yard run with 1:05 to play as the Trojans came back to beat Ohio State, 18-15, in Columbus.
The FWAA has named a national team of the week since the 2002 season. This is the sixth season that the award has been sponsored by the Tostitos Fiesta Bowl.
Members of the FWAA board of directors and All-America committee decide the weekly honor. Each Monday during the 2009 college football season, the FWAA will name the Tostitos Bowl National Team of the Week through Dec. 7.
Since 1971, the Tostitos Fiesta Bowl has hosted six games that have decided the college football national championship, including three Bowl Championship Series title games. This season the Tostitos Fiesta Bowl game will be played on Jan. 4, 2010 at University of Phoenix Stadium in Glendale, Ariz., and the Insight Bowl will be played on Dec. 31, 2009 at Sun Devil Stadium in Tempe, Ariz.
For more information on the Tostitos Fiesta Bowl National Team of the Week, go to footballwriters.com or fiestabowl.org.