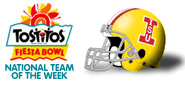 Senior Bret Culbertson tied a school record with five field goals, including the game-winner from 28 yards with one second left to provide the margin of victory.
"This win is for the Iowa State fans and our players," Iowa State head coach Gene Chizik said after his first career win. "I am real excited for all of the players on this team. This team took a lot of criticism the last couple of games and they believed in each other today."
The win was the seventh over in-state rival Iowa in the last ten years for the Cyclones.
Other Tostitos Fiesta Bowl Bowl National Team of the Week nominees for the weekend of Sept. 15 included:
Duke (1-2): Thaddeus Lewis completed 19 of 23 passes for 246 yards and three touchdowns as the Blue Devils ended the nation's longest losing streak at 22 with a 20-14 win at Northwestern.
Kentucky (3-0): Andre Woodson threw a 57-yard touchdown pass to Steve Johnson with 28 seconds left as the Wildcats shocked Louisville, 40-34, giving them their first victory over a top 10 team in three decades.
Utah (1-2): Tommy Grady threw three touchdowns passes and Darrell Mack ran for 107 yards as the Utes romped past UCLA, 44-6.
The FWAA has named a national team of the week since the 2002 season. This is the third season that the award has been sponsored by the Tostitos Fiesta Bowl.
Select members of the FWAA board of directors decide the weekly honor. Each Monday during the 2007 college football season, the FWAA will name the Tostitos Bowl National Team of the Week through Nov. 26.
Since 1971, the Tostitos Fiesta Bowl has hosted six games that have decided the college football national championship, including three Bowl Championship Series title games. Last season, the Tostitos Fiesta Bowl presented three post-season games, including the Insight Bowl and the BCS title game. This season the game will be played on Jan. 2, 2008 at University of Phoenix Stadium in Glendale, Ariz.
For more information on the Tostitos Fiesta Bowl National Team of the Week, go to www.footballwriters.com or www.fiestabowl.org.