DALLAS (FWAA) With their 30-22 win over Florida, the
South Carolina Gamecocks are the Tostitos Fiesta Bowl National
Team of the Week, as selected by the pollsters of the FWAA's
Grantland Rice Super 16 Poll for games of the weekend of Nov. 12.
South Carolina is the first team to win the award twice in one season
since Miami in 2002.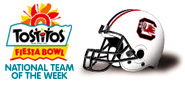 Mike
Davis and Daccus Turman each ran for a pair of touchdowns as the
Gamecocks (7-3) ended a 14-game losing streak to Florida that dated back
to 1939. The win was also South Carolina's fifth straight in SEC play, a
school record.
"I love the Gators, I always will," said coach Steve Spurrier after
the game. "But I am with South Carolina now. I'm just proud of the guys,
proud of the way they played," he added.
The other Tostitos Fiesta Bowl Bowl National Team of the Week nominee
for the weekend of Nov. 12:
LSU (8-1): JaMarcus Russell hit wideout Dwayne Bowe with
an 11-yard touchdown pass in overtime as the Tigers handed Alabama its
first loss of the season, 16-13.
The FWAA has named a national team of the week since the 2002 season.
This is the first season that the award has been sponsored by the Tostitos
Fiesta Bowl.
The 16 pollsters of the Grantland Rice Super 16 Poll decide the weekly
honor. Each Monday during the 2005 college football season, the FWAA will
name the Tostitos Bowl National Team of the Week through Nov. 28.
The Grantland Rice Super 16 Poll will be released each Monday
afternoon from Oct. 10 through Dec. 5 and then following the BCS championship
game in the Rose Bowl. The top-ranked team in the final poll will be awarded
the Grantland Rice Trophy as the FWAA's national champion. The FWAA has
awarded the trophy each season since 1954. USC is the two-time defending
FWAA national champion and was ranked No. 1 in the initial 2005 poll.
Since 1971, the Tostitos Fiesta Bowl and Tempe, Ariz., have hosted
five games that have decided the college football national championship,
including two Bowl Championship Series title games. The 2006 game will be
played on Jan. 2 and will be the final game played at Sun Devil Stadium.
The Tostitos Fiesta Bowl, along with the BCS Championship Game, will move
to the new Multi-Purpose Stadium in Glendale, Ariz., beginning in 2007.
For more information on the Tostitos Fiesta Bowl National Team of the
Week, go to
www.footballwriters.com
or www.tostitosfiestabowl.com.