DALLAS (FWAA) With their 27-7 win at Virginia Tech, the
Miami Hurricanes are the Tostitos Fiesta Bowl National
Team of the Week, as selected by the pollsters of the FWAA's
Grantland Rice Super 16 Poll for games of the weekend of Nov. 5.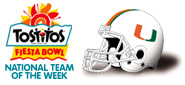 The
Hurricanes forced six turnovers with three of them leading to 17 points
as the Virginia Tech offense was stifled all evening. The Hokies were
limited to just 167 yards of total offense and 13 first downs. For the
Miami offense, Charlie Jones ran for 97 yards and a touchdown and Kyle
Wright completed 13-of-22 passes for 146 yards and a score.
"We played with a chip on our shoulder," Wright said after the game.
"I've been saying it for the whole week down there, if we come out and
play they way we should, I didn't think they could play with us."
The other Tostitos Fiesta Bowl Bowl National Team of the Week nominee
for the weekend of Nov. 5:
Arizona (3-6): The Wildcats scored the game's first 28
points and rolled up 519 yards of offense in upsetting previously
unbeaten UCLA, 52-17.



· Kansas (5-4): The Jayhawks ended a 36-game losing streak to
Nebraska with a 40-15 win. The Kansas defense held the Huskers to just
eight first downs and 135 yards of total offense.
The FWAA has named a national team of the week since the 2002 season.
This is the first season that the award has been sponsored by the Tostitos
Fiesta Bowl.
The 16 pollsters of the Grantland Rice Super 16 Poll decide the weekly
honor. Each Monday during the 2005 college football season, the FWAA will
name the Tostitos Bowl National Team of the Week through Nov. 28.
The Grantland Rice Super 16 Poll will be released each Monday
afternoon from Oct. 10 through Dec. 5 and then following the BCS championship
game in the Rose Bowl. The top-ranked team in the final poll will be awarded
the Grantland Rice Trophy as the FWAA's national champion. The FWAA has
awarded the trophy each season since 1954. USC is the two-time defending
FWAA national champion and was ranked No. 1 in the initial 2005 poll.
Since 1971, the Tostitos Fiesta Bowl and Tempe, Ariz., have hosted
five games that have decided the college football national championship,
including two Bowl Championship Series title games. The 2006 game will be
played on Jan. 2 and will be the final game played at Sun Devil Stadium.
The Tostitos Fiesta Bowl, along with the BCS Championship Game, will move
to the new Multi-Purpose Stadium in Glendale, Ariz., beginning in 2007.
For more information on the Tostitos Fiesta Bowl National Team of the
Week, go to
www.footballwriters.com
or www.tostitosfiestabowl.com.