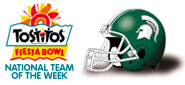 Jason
Teague scored on a 19-yard run in the Spartans' first tie-breaking
possession after Notre Dame had rallied from a 38-17 deficit to force
overtime and took the lead on its initial extra possession with a field
goal. The win was Michigan State's fifth straight at Notre Dame. Purdue
is the only other school to accomplish that feat.
Michigan State quarterback Drew Stanton threw for 327 yards and three
scores and ran for another to offset the performance of his counterpart
Brady Quinn. Notre Dame's signal-caller threw for 487 yards and a school
record-tying five touchdowns.
"We wanted to show that this program is back in the right direction,"
Stanton said. "There's no better way to do that than a rivalry game at
Notre Dame."
Other Tostitos Fiesta Bowl Bowl National Team of the Week nominees
for the weekend of Sept. 17 included:
Florida (3-0): In coach Urban Meyer's SEC debut, the
Gators ended a two-game Florida Field losing streak to Tennessee,
16-7.
Louisville (2-0): Quarterback Brian Brohm threw for 366
yards and five touchdowns in the Cardinals' 63-27 romp over Oregon
State.
UC-Davis (1-2): The Division I-AA Aggies rallied from 17-0
down to stun Stanford, 20-17, when Blaise Smith caught a 3-yard
touchdown pass with 8 seconds left.
Vanderbilt (3-0): The Commodores are 3-0 for the first
time since 1984 and 2-0 in SEC for the first time since 1956 after
beating Ole Miss, 31-23
The FWAA has named a national team of the week since the 2002 season.
This is the first season that the award has been sponsored by the Tostitos
Fiesta Bowl.
The 16 pollsters of the Grantland Rice Super 16 Poll decide the weekly
honor. Each Monday during the 2005 college football season, the FWAA will
name the Tostitos Bowl National Team of the Week through Nov. 28.
The Grantland Rice Super 16 Poll will resume this season on Oct.
10. The top-ranked team in the final poll will be awarded the Grantland
Rice Trophy as the FWAA's national champion. The FWAA has awarded the trophy
each season since 1954. USC is the two-time defending FWAA national champion
and is ranked No. 1 in the initial 2005 poll.
Since 1971, the Tostitos Fiesta Bowl and Tempe, Ariz., have hosted
five games that have decided the college football national championship,
including two Bowl Championship Series title games. The 2006 game will be
played on Jan. 2 and will be the final game played at Sun Devil Stadium.
The Tostitos Fiesta Bowl, along with the BCS Championship Game, will move
to the new Multi-Purpose Stadium in Glendale, Ariz., beginning in 2007.
For more information on the Tostitos Fiesta Bowl National Team of the
Week, go to
www.footballwriters.com
or www.tostitosfiestabowl.com.