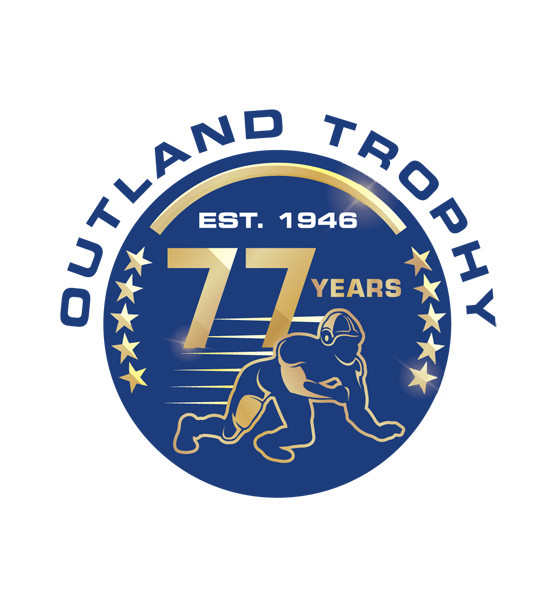 FWAA Outland Trophy
Presented to the Nation's Best Interior Lineman
The Outland Trophy winner is chosen from three finalists who are a part of the annual FWAA All-America Team. The FWAA All-America Committee, after voting input from the entire membership, selects a 26-man first team and eventually the three Outland finalists. Committee members, then by individual ballot, select the winner. Only interior linemen on offense or defense are eligible for the award; ends are not eligible.
The Outland Trophy is the third-oldest major college football award. Created in 1946 when Dr. John Outland presented the FWAA with a financial contribution to initiate the award, the Outland Trophy has been given to the best interior lineman in college football ever since. Dr. Outland, an All-American at the University of Pennsylvania in the late 1890s, eventually took up practice in Kansas City, Mo. An avid outdoorsman, Dr. Outland believed linemen did not get the credit they deserved and wanted an award to recognize them.
The Outland Trophy is a member of the National College Football Awards Association (NCFAA), which encompasses college football's most prestigious awards. The NCFAA's 25 awards have honored more than 800 recipients since 1935. Visit NCFAA.org for more information.
ALL-TIME OUTLAND TROPHY WINNERS
1946 George Connor, Notre Dame
1947 Joe Steffy, Army
1948 Bill Fischer, Notre Dame
1949 Ed Bagdon, Michigan State
1950 Bob Gain, Kentucky
1951 Jim Weatherall, Oklahoma
1952 Dick Modzelewski, Maryland
1953 J.D. Roberts, Oklahoma
1954 Bud Brooks, Arkansas
1955 Calvin Jones, Iowa
1956 Jim Parker, Ohio State
1957 Alex Karras, Iowa
1958 Zeke Smith, Auburn
1959 Mike McGee, Duke
1960 Tom Brown, Minnesota
1961 Merlin Olsen, Utah State
1962 Bobby Bell, Minnesota
1963 Scott Appleton, Texas
1964 Steve DeLong, Tennessee
1965 Tommy Nobis, Texas
1966 Loyd Phillips, Arkansas
1967 Ron Yary, USC
1968 Bill Stanfill, Georgia
1969 Mike Reid, Penn State
1970 Jim Stillwagon, Ohio State
1971 Larry Jacobson, Nebraska
1972 Rich Glover, Nebraska
1973 John Hicks, Ohio State
1974 Randy White, Maryland
1975 Lee Roy Selmon, Oklahoma
1976 Ross Browner, Notre Dame
1977 Brad Shearer, Texas
1978 Greg Roberts, Oklahoma
1979 Jim Ritcher, N.C. State
1980 Mark May, Pitt
1981 Dave Rimington, Nebraska
1982 Dave Rimington, Nebraska
1983 Dean Steinkuhler, Nebraska
1984 Bruce Smith, Virginia Tech
1985 Mike Ruth, Boston College
1986 Jason Buck, BYU
1987 Chad Hennings, Air Force
1988 Tracy Rocker, Auburn
1989 Mohammed Elewonibi, BYU
1990 Russell Maryland, Miami
1991 Steve Emtman, Washington
1992 Will Shields, Nebraska
1993 Rob Waldrop, Arizona
1994 Zach Wiegert, Nebraska
1995 Jonathan Ogden, UCLA
1996 Orlando Pace, Ohio State
1997 Aaron Taylor, Nebraska
1998 Kris Farris, UCLA
1999 Chris Samuels, Alabama
2000 John Henderson, Tennessee
2001 Bryant McKinnie, Miami
2002 Rien Long, Washington State
2003 Robert Gallery, Iowa
2004 Jammal Brown, Oklahoma
2005 Greg Eslinger, Minnesota
2006 Joe Thomas, Wisconsin
2007 Glenn Dorsey, LSU
2008 Andre Smith, Alabama
2009 Ndamukong Suh, Nebraska
2010 Gabe Carimi, Wisconsin
2011 Barrett Jones, Alabama
2012 Luke Joeckel, Texas A&M
2013 Aaron Donald, Pitt
2014 Brandon Scherff, Iowa
2015 Joshua Garnett, Stanford
2016 Cam Robinson, Alabama
2017 Ed Oliver, Houston
2018 Quinnen Williams, Alabama
2019 Penei Sewell, Oregon
2020 Alex Leatherwood, Alabama
2021 Jordan Davis, Georgia