Griffin wins Oscar Robertson Trophy
The U.S. Basketball Writers Association has named Oklahoma sophomore Blake Griffin the winner of the prestigious Oscar Robertson Award, adding to his long list of accomplishments this season.
Griffin
Griffin, a 6-foot-10 forward, also was named the Big 12 player of the year and was a unanimous first-team all-Big 12 choice. He led the Big 12 in scoring (22.1) and the nation in rebounding (14.1) and set a Big 12 record by finishing 13 games with at least 20 points and 15 rebounds.
Griffin also posted the first 40-20 game in Big 12 history, scoring 40 points and grabbing 23 rebounds in a Valentine's Day game against Texas Tech. That was one of his school-record 22 double-doubles during the regular season.
In his next game, Griffin's streak of eight consecutive double-doubles was interrupted when he suffered a concussion against Texas. Griffin sat out one more game, against Kansas, and came back to score 20 points and grab 18 rebounds in his next game, again against Texas Tech. If there were any concerns about his health, Griffin quickly answered them by diving over the scorer's table in pursuit of a loose ball.
Griffin also overcame injury twice as a freshman. The medial collateral ligament in his left knee was strained in a Jan. 14 game against Kansas. He missed just one game and came back to score 17 points and grab 15 rebounds against Baylor.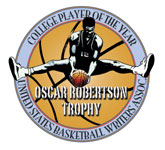 About six weeks later, cartilage was torn in Griffin's right knee during a March 1 game against Texas A &M. Griffin underwent arthroscopic surgery the next day but was back again after missing just one game, this time scoring 14 points and grabbing eight rebounds against Missouri.
Home-schooled until the seventh grade, Griffin won four state titles and was twice named Oklahoma state player of the year while playing at Oklahoma Christian School, coached by his father Tommy. Griffin also played two seasons in both college and high school with his older brother, Taylor.
Griffin and Sam Bradford, Oklahoma's Heisman Trophy winner, are the first national award winners in basketball and football in the same academic year.