ST. LOUIS (USBWA) – The U.S. Basketball Writers Association has selected 20 outstanding players for its 2012 Oscar Robertson Trophy Midseason Watch List. Members of the association's board of directors chose the players to be included on the list as contenders for the Oscar Robertson Trophy, to be presented to the national player of the year by its namesake in New Orleans at the USBWA's College Basketball Awards Breakfast on March 30.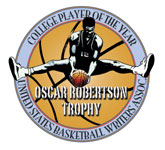 Three North Carolina teammates and a pair of Kentucky freshman headline the list. The Tar Heel trio of Harrison Barnes, John Henson and Tyler Zeller join Wildcat first-year phenoms Anthony Davis and Michael Kidd-Gilchrist. The list also includes Indiana's Cody Zeller, Tyler's younger brother.
Three Oscar Robertson National Players of the Week from this season are featured as well: Damian Lillard from Weber State, Doug McDermott from Creighton and Thomas Robinson of Kansas. Last season's Wayman Tisdale Award winner as the National Freshman of the Year, Jared Sullinger of Ohio State, is also among the players to watch down the stretch.
Overall, the list is balanced by class with five seniors, six juniors, six sophomores and three freshmen appearing. The Atlantic Coast Conference and Southeastern Conference each boast four players on the list to lead all conferences, while a total of nine conferences are represented.
Following is the complete watch list:
2012 OSCAR ROBERTSON TROPHY MIDSEASON WATCH LIST
Pos.
No.
Player, School
Ht.
Wt.
Yr.
Hometown
F
40
Harrison Barnes, North Carolina
6-8
215
So.
Ames, Iowa
G
3
Isaiah Canaan, Murray State
6-0
193
Jr.
Biloxi, Miss.
F
23
Anthony Davis, Kentucky
6-10
220
Fr.
Chicago, Ill.
G
12
Marcus Denmon, Missouri
6-3
185
Sr.
Kansas City, Mo.
F
23
Draymond Green, Michigan State
6-7
230
Sr.
Saginaw, Mich.
F
31
John Henson, North Carolina
6-11
220
Jr.
Tampa, Fla.
G
23
John Jenkins, Vanderbilt
6-4
220
Jr.
Hendersonville, Tenn.
F
5
Kevin Jones, West Virginia
6-8
260
Sr.
Mount Vernon, N.Y.
F
14
Michael Kidd-Gilchrist, Kentucky
6-7
232
Fr.
Somerdale, N.J.
G/F
3
Jeremy Lamb, Connecticut
6-5
180
So.
Norcross, Ga.
F
1
Perry Jones III, Baylor
6-11
235
So.
Duncanville, Texas
G
1
Damian Lillard, Weber State
6-3
195
Jr.
Oakland, Calif.
F
3
Doug McDermott, Creighton
6-7
220
So.
Ames, Iowa
F
43
Mike Moser, UNLV
6-8
210
So.
Portland, Ore.
F
23
Arnett Moultrie, Mississippi State
6-11
249
Jr.
Memphis, Tenn.
F
0
Thomas Robinson, Kansas
6-10
230
Jr.
Washington, D.C.
F
23
Mike Scott, Virginia
6-8
237
Sr.
Chesapeake, Va.
F
0
Jared Sullinger, Ohio State
6-9
280
So.
Columbus, Ohio
F
40
Cody Zeller, Indiana
6-11
230
Fr.
Washington, Ind.
C
44
Tyler Zeller, North Carolina
7-0
250
Sr.
Washington, Ind.
By conference: ACC (4); SEC (4); Big Ten (3); Big 12 (3); Big East (2); Big Sky (1); Missouri Valley (1); Mountain West (1); Ohio Valley (1).
By class: Seniors (5); Juniors (6); Sophomores (6); Freshmen (3)
While these standout players are the leading contenders to be named to the USBWA's All-America Team and as finalists for the Oscar Robertson Trophy, all Division I players remain eligible for postseason honors from the USBWA. The association will announce its 2012 All-America Team in mid-March. At that time, finalists will also be chosen for the player of the year. Once finalists are announced, the entire USBWA membership will vote for the winner of the Oscar Robertson Trophy.
Since the 1958-59 season, the USBWA has named a National Player of the Year. In 1998, the award was named in honor of the University of Cincinnati Hall of Famer and two-time USBWA Player of the Year Oscar Robertson. It is the nation's oldest award and the only one named after a former player.
Tickets for the USBWA's College Basketball Awards Breakfast are $75 and $750 for a table of ten. They can be purchased online at the association's official website, usbwa.com, or by calling 504-324-4242.
The U.S. Basketball Writers Association was formed in 1956 at the urging of then-NCAA Executive Director Walter Byers. With some 900 members worldwide, it is one of the most influential organizations in college basketball. It has selected an All-America team since the 1956-57 season. For more information on the USBWA and the Oscar Robertson Trophy, contact executive director Joe Mitch at 314-444-4300.