ST. LOUIS (USBWA) – The U.S. Basketball Writers Association has named ten finalists for the 2006 Oscar Robertson Trophy, given to the national college player of the year.
Three players are repeat finalists for the award, including Duke teammates J.J. Redick and Shelden Williams. Illinois' Dee Brown is also a finalist for the second straight season.
Seven more players have been selected as finalists for the award that has been presented since the 1958-59 season. Following is the complete list of 2006 Oscar Robertson Trophy finalists:
2006 OSCAR ROBERTSON TROPHY FINALISTS
Player, School
Pos.
Ht.
Wt.
Cl.
Hometown
Maurice Ager, Michigan State
G
6-5
202
Sr.
Detroit, Mich.
Dee Brown, Illinois
G
6-0
185
Sr.
Maywood, Ill.
Rodney Carney, Memphis
F
6-7
205
Sr.
Indianapolis, Ind.
Randy Foye, Villanova
G
6-4
205
Sr.
Newark, N.J.
Mike Gansey, West Virginia
F
6-4
205
Sr.
Olmsted Falls, Ohio
Paul Millsap, Louisiana Tech
F
6-8
245
Jr.
Grambling, La.
Adam Morrison, Gonzaga
F
6-8
205
Jr.
Spokane, Wash.
J.J. Redick, Duke
G
6-4
190
Sr.
Roanoke, Va.
P.J. Tucker, Texas
F
6-5
225
Jr.
Raleigh, N.C.
Shelden Williams, Duke
F
6-9
250
Sr.
Forest Park, Okla.
Last year, world-renowned St. Louis sculptor Harry Weber was commissioned to produce an 18-inch bronze sculpture of Oscar Robertson in his famous spread-eagle pose.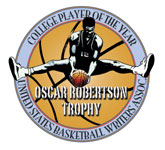 The winner will be selected by a vote of the USBWA membership and a replica of the statue will be awarded to the player of the year at the USBWA's second annual awards breakfast at Conseco Fieldhouse in Indianapolis on Friday, March 31.
The Henry Iba Award will also be presented to the national college coach of the year at the breakfast. The Iba Award is named after legendary Oklahoma A&M and U.S. Olympic team coach Henry Iba, who led A&M to back-to-back national championships in 1945 and '46.
In addition to presenting the player and coach of the year awards, the USBWA will honor the 1981 and '76 Indiana Hoosiers on the 25th and 30th anniversaries, respectively, of each team's national championship. The 1976 Hoosiers were also the last NCAA Division l team to go undefeated, finishing the season 32-0.
Tickets for the breakfast, scheduled to start at 8 a.m., are $100 each and are available at the Conseco Fieldhouse box office (317-917-2727) or at www.usbwa.com.
A portion of the proceeds will be donated to the National Kidney Foundation, Oscar Robertson's charity of choice. Oscar donated a kidney several years ago to his daughter who was suffering from a life-threatening kidney disease.
Related links:
• Oscar Robertson Trophy
• Oscar Robertson official site (www.thebigo.com)
• National Kidney Foundation