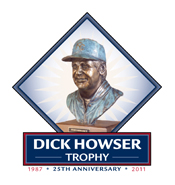 DALLAS (NCBWA) – The beginning of the 2011 college baseball season marks the advent of the 25th anniversary of the Dick Howser Trophy, given annually to college baseball's national player of the year. Over the past 25 years, college baseball's brightest stars have been recognized for the outstanding achievements and characteristics reminiscent of the award's namesake.
The Dick Howser Trophy, given in memory of the former Florida State University All-America shortstop and major league player and manager, who died of brain cancer in 1987, is regarded by many as college baseball's most prestigious award. Criteria for consideration of the trophy include performance on the field, leadership, moral character and courage, qualities that were exemplified by Dick Howser's life.
A Florida native, Howser was twice an All-America shortstop at Florida State (1957-58), then coached the Seminoles in 1979, after a career as a major league player and coach. After one year in the college ranks, Howser returned to the majors to manage the New York Yankees and Kansas City Royals and won the World Series with the Royals in 1985. The baseball stadium on the Florida State campus is named for Howser.
The 25th anniversary of the Dick Howser Trophy presented by Easton Foundations will be made even more special by the awarding of this year's honor at TD Ameritrade Stadium in downtown Omaha, the new home of the College World Series. The award will be presented on Tuesday, June 21 at 10 a.m. CT, prior to the fourth day of the 2011 CWS.
"The Dick Howser Trophy was founded shortly after his death by a few friends of Dick's in the St. Petersburg Area that played, coached and worked with him," said David Feaster of the Howser Trophy Committee. "All knew him personally and were aware of him as a tremendous player, coach and friend. The award was initially awarded at the Governors Baseball Dinner held each spring in St. Petersburg to welcome Spring Training to Fla. and as time progressed, we moved the presentation to Omaha, the center of college baseball, during the World Series. I have been involved with the award for over 20 years and have loved every minute of my involvement. I have had the opportunity to meet some great college players as well as some great young men. I am so proud of the Character quality we have in our award, which makes it unique. I am also proud of our selection process by the NCBWA which is the most democratic of any award and provides a true national scope."
"The Dick Howser trophy is now 25 years old and growing stronger, added Feaster. It is a true testimony to Dick Howser's ability as a player, coach and gentlemen. I am proud to be associated with it."
"The sport of baseball provided our Dad the opportunity to become a champion," said Howser's daughters Jana Howser and Jill Reingold. "Each base symbolizes one of four attributes of how Dad is remembered. They became the four cornerstones of the Dick Howser Trophy: courage, character, leadership and performance."
"All of the Howser Trophy winners have been identified not only for their outstanding baseball and academic performances, but also for the mark they left as teammates and leaders at their colleges and universities. Their achievements are extraordinary," they added.
In addition, a special 25th Anniversary logo and special advertisements have been developed to celebrate a quarter century of outstanding performances on and off the diamond.
The award is voted on by members of the National Collegiate Baseball Writers Association (NCBWA) and presented in association with the College Baseball Foundation in Lubbock, Texas.
"The Dick Howser Trophy and National Collegiate Baseball Writers Association have had a wonderful 14-season union," said Bo Carter, NCBWA Executive Director. "The NCBWA is pleased and honored to be the voting body for this prestigious award, which represents the spirit of one of the true giants in college baseball."
The Howser Trophy was created in 1987, shortly after Howser's death. Previous winners of the Howser Trophy are Mike Fiore, Miami, 1987; Robin Ventura, Oklahoma State, 1988; Scott Bryant, Texas, 1989; Alex Fernandez, Miami-Dade Community College South, 1990; Frank Rodriguez, Howard College (Texas), 1991; Brooks Kieschnick, Texas, 1992 and 1993; Jason Varitek, Georgia Tech, 1994; Todd Helton, Tennessee, 1995; Kris Benson, Clemson, 1996; J. D. Drew, Florida State, 1997; Eddy Furniss, LSU, 1998; Jason Jennings, Baylor, 1999; Mark Teixeira, Georgia Tech, 2000; Mark Prior, P, USC, 2001, Khalil Greene, SS, Clemson, 2002; Rickey Weeks, 2B, Southern U., 2003; Jered Weaver, P, Long Beach State, 2004; Alex Gordon, 3B, Nebraska, 2005; Brad Lincoln, P/DH, Houston, 2006; David Price, P, Vanderbilt, 2007; Buster Posey, C, Florida State, 2008 and Stephen Strasburg, P, San Diego State, 2009; Anthony Rendon, 3B, Rice, 2010.
The NCBWA, founded in 1962, presents the Dick Howser Trophy to the nation's top player. It also selects All-America Teams for all divisions, a Division I Freshman All-American team, Division I and III Players of the Week, Division I District Players of the Year and Division III Players of the Year. For more information on the NCBWA and its award programs, contact Bo Carter at 214-418-6132 or bo.carter@ncbwa.com.
•
Select quotes by past Dick Howser Trophy winners:
"The Howser Trophy is a prestigious honor that I was happy just to be considered for. To be associated with the list of previous winners is amazing. The experience of that awards ceremony is a favorite memory that will be with me my whole life. I want to work that much harder now this season to maybe have that experience again." — Anthony Rendon, Rice (2010)
"As a former student and baseball player at Florida State University, the honor of winning the Dick Howser Award was very special to me. Although I never had a chance to know Dick Howser, through stories about him from his family members, former players, and coaches, I quickly realized how humbling it was to be recognized with such an award. This award not only recognizes the year's best collegiate baseball player, it also gives us insight to who Dick Howser was as a person and baseball man. In doing so, we are all able to see how this great game of baseball should be played and respected." — Buster Posey, Florida State (2008)
"To be put in that elite group of players that received the Howser Trophy is something I will never forget. I feel very privileged and honored to be a part of that award and I will remember it for the rest of my life." — Brad Lincoln, Houston (2006)
"Playing baseball comes to an end for us all. But the traits for which the Dick Howser Trophy stands, courage, character, leadership and teamwork, will serve you well throughout your lives." — Eddy Furniss, LSU (1998)
"Being the recipient of the Dick Howser Trophy was the ultimate highlight of my amateur career. Although I never had the pleasure to meet him personally, I am very blessed to be associated with such an outstanding individual as Dick Howser was. Performance, character, leadership, and courage, are values that I strive to live up to in all that I do. To this day, I still cherish the significance of the award and share it with all that enter my home. I look forward to sharing this honor with others, and what it stands for, for the rest of my life." — Kris Benson, Clemson (1996)
"Winning the Dick Howser Trophy was an incredible honor for me. Having the privilege of receiving it twice was truly amazing. Baseball is a team sport and I was surrounded by the best teammates and an incredible coach. It was because of them I was able to go out and perform. I love what this trophy stands for. Performance, character, leadership and courage. I tried to exhibit these not only between the white lines but outside them as well. I am truly blessed to be a part of this prestigious award." — Brooks Kieschnick, Texas (1992 and 1993)
"It is with sincere gratitude that I offer my appreciation to all of those affiliated with The Dick Howser Trophy, It has been my pleasure and a true honor."
"The game of baseball, particularly at the collegiate level, has realized steady and sustained growth over the past several decades. As witnessed by increased media coverage and the soon-to-be unveiled new College World Series stadium in Omaha, the college game continues to grow in popularity. Accordingly, the prestige and recognition of this award have grown in similar fashion."
"Just as I was honored and humbled as a junior at the University of Miami, today I would like to thank all those that made that day possible. From my family and friends, to my teammates and coaches, I greatly appreciate your kindness and generosity." — Mike Fiore, Miami, Fla. (1987)