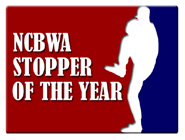 NATIONAL SAVES LEADERS
(Through games of June 3)
23, Tyler Rogers, Austin Peay
21, Jimmie Sherfy, Oregon
20, David Berg, UCLA
19, Michael Lorenzen, Cal St. Fullerton
18, Hugh Adams, Fla. Atlantic
17, Sutter McLoughlin, Sacramento St.
17, Jonathan Holder, Mississippi St.
17, Tyler Webb, South Carolina
17, Trace Dempsey, Ohio St.
17, Travis Stout, Jacksonville St.
COMPLETE LEADERS

About the NCBWA Stopper of the Year Award
The National Collegiate Baseball Writers Association introduced the Stopper of the Year award in the 2005 season to honor the nation's top relief pitcher. Each year, the NCBWA announces a preseason watch list and then updates the list in midseason. Before the NCAA regionals, the association picks up to five finalists for the award. The regular-season national saves leader is automatically chosen as a finalist. The winner of the award is announced just prior to the start of the NCAA Super Regionals.

2013 NCBWA Stopper of the Year key dates:
• Thurs., Feb. 7: Preseason Watch List
• Tues., April 23: Midseason Watch List
• Wed., June 5: Stopper of the Year finalists announced
• Sat., June 15: NCBWA Stopper of the Year announced (Omaha, Neb.)

2013 Winner: David Berg, UCLA
Berg, the 2013 Pac-12 Pitcher of the Year, has posted a record of 7-0 with 21 saves while currently leading the nation in ERA with a 0.88 mark. Berg's 21 saves are also a new UCLA single-season record and rank tied for second in all of Division I baseball, two shy of tying the single-season NCAA Division I record. The right-hander has helped UCLA post a current 44-17 overall record and a 21-9 record in the Pac-12 Conference.
UCLA's David Berg
2012 Winner: Stefan Lopez, Southeastern Louisiana
Lopez set Southeastern Louisiana's single-season saves record in with 20 and holds the school record for career saves with 30. This season, he went 2-1 with an 0.61 ERA in 28 appearances. He pitched 29.1 innings and allowed just two earned runs on 19 hits with five walks and 42 strikeouts.
• Preseason Watch List | Midseason Watch List | Finalists
Southeastern Louisiana's Stefan Lopez
2011 Winner: Corey Knebel, Texas
The freshman from Georgetown, Texas, set the Texas freshmen record with 19 saves and was 3-2 with a 1.13 ERA and 61 strikeouts in 55.2 innings. He allowed just 28 hits and seven earned runs, while holding opponents to a .151 batting average. With two saves in Super Regional play, he has posted the most saves of any pitcher in the nation this season. In addition, he has made 38 appearances, the most in the Big 12.
• Preseason Watch List | Midseason Watch List | Finalists
Texas' Corel Knebel
2010 Winner: Chance Ruffin, Texas
The junior from Austin, Texas, ranked second in the nation with a microscopic 1.11 ERA, which was the Longhorns' lowest single-season ERA since 1982 and fifth best all-time. He compiled a 6-1 record and 14 saves and fanned 97 batters in just 64.2 innings. Ruffin led the nation and finished second on Texas' single-season list with 13.50 strikeouts per nine innings. He also became the first Texas player to record 10 or more wins in a season (2009) and 10 or more saves in a season (2010).
• Preseason Watch List | Midseason Watch List | Finalists
Texas' Chance Ruffin
2009 Winner: Addison Reed, San Diego State
The sophomore from Rancho Cucamonga, Calif., recorded a nation-leading 20 saves in 20 opportunities this season. He finished the season with a microscopic 0.65 earned run average and 38 strikeouts over his 27.2 innings of work. Reed has allowed only seven walks, with two of those being intentional passes. Only one of the 20 hits he allowed in 2009 went for extra bases (a double vs. Nevada on Feb. 26). His save total is a new San Diego State and Mountain West Conference season record, breaking the old mark record of 17 set by Royce Ring during the 2002 season.
• Preseason Watch List | Midseason Watch List | Finalists
San Diego State's Addison Reed
2008 Winner: Joshua Fields, Georgia
The senior right-hander from Hull, Ga., tallied 16 saves and a 2-2 record with a 2.27 earned run average in 30 relief appearances. The 2008 Southeastern Conference Pitcher of the Year registered 56 strikeouts and held opposing hitters to a .112 average while preventing any of the 13 runners he inherited from scoring. Twelve of his 16 saves in 2008 came against conference competition.
• Preseason Watch List | Midseason Watch List | Finalists
Georgia's Joshua Fields
2007 Winner: Luke Prihoda, Sam Houston State
The senior right-hander from Weimar, Texas, compiled a 7-3 record with a national-best 18 saves in 19 chances, while posting a 1.62 ERA in 35 appearances. The Southland Conference Pitcher of the Year and Southland Tournament Most Valuable Player, Prihoda struck out 65 and walked 11 in 72.2 innings of work and allowed just five of 35 inherited runners to score.
• Preseason Watch List | Midseason Watch List | Finalists
Sam Houston State's Luke Prihoda was the third winner of the NCBWA Stopper of the Year Award
2006 Winner: Don Czyz, Kansas
Czyz led the NCAA with in the regular season 19 saves and finished the 2006 season with a 6-0 record and a 1.56 ERA while striking out 60 batters in 63.1 innings. Czyz was the highest Jayhawk taken in the draft since Brandon O'Neal was selected by the Anaheim Angels in the sixth round of the 2000 draft.
• Preseason Watch List | Midseason Watch List | Finalists
Kansas' Don Czyz
2005 Winner: J. Brent Cox, Texas
In the regular season, Cox was 7-2 with a 1.69 ERA in 64.0 innings. He had 71 strikeouts against 16 walks in 34 appearances this season. He held opponents to a .205 batting average and had combined for five shutouts. Opponents had 47 hits, but scored only 14 runs (12 earned). Take away six earned runs in an 8-7 win over Stanford on Feb. 19 and he allowed only eight runs with six earned.
• Preseason Watch List | Midseason Watch List | Finalists
Texas' J. Brent Cox