HOOVER, Ala. (FWAA) – The Football Writers Association of America will partner with Florida-based Chris Doering Mortgage for the sponsorship of its 2021 Freshman All-America Team. Included in the sponsorship, legendary coach Steve Spurrier will become the namesake of the FWAA's First-Year Coach Award.
Spurrier, a one-time head football coach at Duke, Florida (his alma mater) and South Carolina, and Doering, now a color analyst for the SEC Network, have been closely associated for nearly three decades.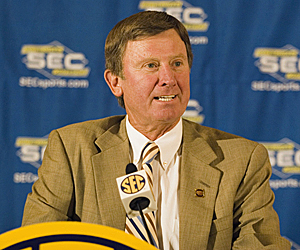 Steve Spurrier (Photo: Icon SportsWire)
Doering was a star wide receiver at Florida on three straight SEC title teams (1993-95) coached by Spurrier. Doering, actually a UF walk-on, would later go on to play in the National Football League for six seasons.
"Presenting this award in Coach Spurrier's name is a no-brainer for me and for Chris Doering Mortgage," Doering said. "Coach is on the Mount Rushmore of SEC coaches as the man who changed the way football was played in this conference. He was an amazing coach who changed the trajectory of my life as well as countless other players.
"The First-Year Coach of the Year Award is perfect for Coach Spurrier because not only is he the all-time winningest coach at two different SEC schools, but he was able to win immediately at Duke, Florida and South Carolina despite not recruiting the majority of those rosters, illustrating how adept he was at connecting with his players and getting them to believe in themselves. I am humbled by the opportunity to honor Coach Spurrier for all that he has meant to college football, the SEC and to so many players like myself."
This will be the 21st straight season in which the FWAA has named a Freshman All-America Team and the 20th consecutive year a First-Year Coach.
"The FWAA is proud to partner with my ESPN colleague Chris Doering, and we're thrilled to have Spurrier – one of the sport's most colorful coaching personalities and success stories – as the namesake of the first-year coach award," said FWAA President Heather Dinich. "They're a terrific combination to help us honor the players who are only beginning to make their mark on the sport, and the coaches like Spurrier who overcome obstacles to find success during their first season with a program."
Spurrier was the 1966 Heisman Trophy winner at Florida (as the Gators quarterback) and a 1986 College Football Hall of Fame inductee as a player. But Spurrier's performance has been just as impressive as a college head coach (228-89-2), especially at Florida where he won six SEC titles and the 1996 consensus national title. He was a seven-time SEC Coach of the Year honoree (twice at South Carolina, five times at Florida.) He also was ACC Coach of the Year twice at Duke in the 1980s.
FWAA Past President Mike Griffith (2007), now of Cox Enterprises, started the FWAA Freshman All-America Team in 2001 and has navigated the award through several different sponsors during the past two decades.
"Steve Spurrier is the ideal namesake for this (coaching) award, a game-changer and program maker at each of his collegiate head coaching stops," Griffith said. "Spurrier provided his players a winning edge strategically and psychologically with his creativity and confidence, a truly unique legend of the game."
Spurrier has roots with the FWAA's First-Year Coach Award. He was chosen as the FWAA's First-Year Coach in 2005 following his first season at South Carolina. Spurrier compiled a 7-5 record in his initial season with the Gamecocks, including a berth in the Independence Bowl. Spurrier coached at South Carolina through the 2015 season.
"Coach Spurrier brought a passing game to the Southeastern Conference that had never been seen to that point," said Mark Richt, the former head coach at Georgia and Miami (Fla.). "He was a winner everywhere he went, and he did it his way. I always enjoyed watching his offense, and I would steal ideas from him quite often. Also, you never had to guess what he was thinking as he was more than happy to tell you what he thought. I enjoyed competing with him very much."
Added former Tennessee Coach Phillip Fulmer: "Steve Spurrier changed the SEC. His freewheeling wide-open passing attack made all of us adjust to his style. But at the core, he could usually run the football well, and made the play-action pass a big part of his way to play offense. Most of his teams also played good defense."
Besides Spurrier, previous recipients of the FWAA's First-Year Coach Award have included Notre Dame's Tyrone Willingham (2002), Boise State's Chris Peterson (2006), Oregon's Chip Kelly (2009), Florida State's Jimbo Fisher (2010), Ohio State's Urban Meyer (2012), Auburn's Gus Malzahn (2013), Oklahoma's Lincoln Riley (2017), UCF's Josh Heupel (2018), Ohio State's Ryan Day (2019) and Colorado's Karl Dorrell (2020).
The announcement of the first Chris Doering Mortgage/FWAA Freshman All-America Team and Steve Spurrier First-Year Coach Award presented by Chris Doering Mortgage will occur in mid-January during a virtual event.
Doering and Spurrier are planning a February dinner to honor both the 2021 Chris Doering Mortgage/FWAA All-America Team and Steve Spurrier First-Year Coach. The site of the dinner in the state of Florida will be announced at a future time.
The Football Writers Association of America, a non-profit organization founded in 1941, consists of more than 1,300 men and women across North America who cover college football for a living. The membership includes journalists, broadcasters and publicists, as well as key executives in all the areas that involve the game. The FWAA works to govern areas that include game-day operations, major awards, a national poll and its annual All-America teams. For more information about the FWAA and its award programs, contact Executive Director Steve Richardson at tiger@fwaa.com or 214-870-6516.