DALLAS (FWAA) – Grace Raynor of The Athletic has been named the recipient of the second Edward Aschoff Rising Star Award, which is presented by the Football Writers Association of America and named after the beloved ESPN college football reporter who died on Christmas Eve in 2019 on his 34th birthday from previously undetected Stage 4 non-Hodgkin's lymphoma in his lungs.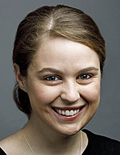 Grace Raynor
Raynor, 27, a 2015 North Carolina graduate, covers the Clemson Tigers for The Athletic and begins her fifth season overall reporting on the Tigers this fall, third for The Athletic. She is the second writer from The Athletic to win the award after David Ubben, who was the first recipient in 2020 as a beat reporter for the Tennessee Volunteers.
"For the second year we had numerous nominations of outstanding, talented young journalists who have shown so much promise and are at the head of their class, but Grace won over our panel in convincing fashion," said 2021 FWAA President Heather Dinich. "Upon learning she won, Grace promised me she would pay it forward and always help younger journalists along the way, truly capturing the spirit of the award - and our friend Ed."
In honor of Aschoff, a bright light in the sports journalism industry, the FWAA decided to annually recognize one promising journalist no older than 34, who has not only the talent and work ethic it takes to succeed in this business, but also the passion to make it better. Aschoff, a 2008 graduate of the University of Florida, loved people, and even as his career at ESPN escalated, he still guided and befriended younger journalists along the way.
"Unfortunately, I never met Ed, but I feel like I've gotten to know him through my friends and colleagues who were lucky enough to spend time with him," Raynor said. "In every story I've ever heard about him, I've learned that in addition to being an incredible reporter, Ed was a model for us about how to treat people. I've heard so many stories about his kindness, his big smile, the way he made people feel and how he'd do anything to help a young reporter coming up in our industry.
"I am deeply honored to receive this recognition in this way and hope I can make Ed proud. I would love to show the same generosity to others he seemed to so willingly share." Originally from Morganton, N.C., Raynor graduated from UNC's journalism school after working for The Daily Tar Heel for four years. She also interned with The Fayetteville Observer and MLB.com twice, the latter through the Association for Women in Sports Media (AWSM). After her second MLB.com internship, she freelanced before getting her first job at The Post and Courier in Charleston, S.C.
Raynor covered general assignment sports for The Post and Courier before moving to the Upstate of South Carolina to begin covering Clemson in 2017. She has covered Clemson for The Athletic since February of 2019. When not writing or in a press box, Grace likes to hike, do yoga and cook.
"Grace Raynor of The Athletic covered college football's most eventful beat last season, and she did so exceptionally," said David Teel of the Richmond Times-Dispatch in his nomination of her for this award. "No, Clemson didn't win the national championship, or even reach the title game. But Trevor Lawrence was the face of the sport, not only leading the #LetUsPlay movement but also giving voice to an on-campus social justice initiative that led the university to rename an administrative building and the honors college. Oh, and Lawrence missed two games with COVID.
"Grace chronicled it all, on and off the field, with flair and a big-picture lens, just as she has the Clemson beat since joining The Post and Courier, and then The Athletic."
Raynor's stories:
• Dabo Swinney and Clemson broke into college football's exclusive club of blue bloods through an aligned vision
• Whatever the situation, Clemson's Darien Rencher finds the right words
• Behind the scenes of Clemson's biggest recruiting weekend
• Trevor Lawrence and the artist: Two brothers, two remarkable talents
Remembering Ed Aschoff
Aschoff moved to Los Angeles in 2017 to begin a more expanded national role that included television coverage. Over three seasons, he reported from campuses across the country for ESPN.com, SportsCenter, SEC Network and ESPN Radio, and he worked as a television and radio sideline reporter during college football games.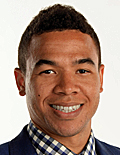 Edward Aschoff
During the 2015 college football season, Aschoff and ESPN.com colleague Adam Rittenberg were winners in the FWAA's Annual Best Writing Contest for their enterprise piece, "The racial impact of Eric Striker." Contest judge Michael Weinreb called it, "An eye-opening, surprisingly frank and timely examination about how college football is affected by issues of race and identity."
Aschoff inspired us through his storytelling, brightened our lives with his gregarious personality, and uplifted our spirits with his energy. The FWAA hopes to honor his memory and his commitment to aspiring journalists with this award.
"Edward epitomized everything you want in a sports journalist: He knew how to build relationships, to gain trust, to break stories but also to tell stories," said ESPN.com's Andrea Adelson. "And he did it all with a flair that made you want to watch his television pieces or read his written stories right away. His dogged determination and relentless work ethic allowed him to rise to the top at ESPN, and all his exemplary qualities serve as a model for young journalists everywhere about what truly can be achieved if you go after what you want." The University of Florida's College of Journalism and Communications has established the Edward Aschoff Memorial Fund, which will provide support for students involved in sports journalism.
"Edward was one of our stars – not just because he was so talented as a journalist and storyteller, but also because of everything he did to help people around him. He always had a good word of advice for young journalists, he was always willing to give back, and he always made people smile," said Ted Spiker, chair of the department of journalism at the University of Florida who taught Edward in several classes at UF.
Jordan McPherson, a student reporter at Florida from 2013-17 who is now covering the Miami Marlins for the Miami Herald, said Aschoff helped him on several occasions. "He was a pro's pro and touched my life with just a few brief interactions that he didn't have to make," McPherson said. "His positivity was infectious, his ability to mentor through simple conversation was second to none. He will be missed, but always be remembered."
Founded in 1941, the Football Writers Association of America consists of journalists, broadcasters, publicists, photographers and key executives in all areas of college football. The FWAA works to govern media access and gameday operations while presenting awards and honors, including an annual All-America team. For more information about the FWAA and its programs and initiatives, contact Executive Director Steve Richardson at 214-870-6516 or tiger@fwaa.com.