DALLAS (FWAA) – David Ubben of The Athletic has been named the recipient of the first annual Edward Aschoff Rising Star Award, which is presented by the Football Writers Association of America and named after the beloved ESPN college football reporter who died this past Christmas Eve on his 34th birthday from previously undetected Stage 4 non-Hodgkin's lymphoma in his lungs.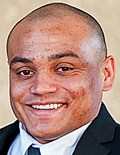 David Ubben
In honor of Aschoff, a bright light in the sports journalism industry, the FWAA decided to annually recognize one promising journalist no older than 34, who has not only the talent and work ethic it takes to succeed in this business, but also the passion to make it better. Aschoff, a 2008 graduate of the University of Florida, loved people, and even as his career at ESPN escalated, he still guided and befriended younger journalists along the way.
Ubben, a 2009 University of Missouri graduate, covers the University of Tennessee Volunteers football team.
"David Ubben's growth as a reporter and writer, plus his passion for college football that was shared by our friend Ed, embodied everything we were looking for," said ESPN.com's Heather Dinich, FWAA first vice president and chairman of the five-person Selection Committee. "There were so many amazing, talented candidates to choose from, which was a challenge for us, but a great sign for the future of our industry."
"Ed was my friend and colleague," Ubben said. "We had a lot in common, but he was much cooler than I am and infinitely more well-dressed. Watching him climb the ladder at ESPN was so thrilling and seeing him live out his dreams in this business made me so happy for him. Anyone who knew him would say the same. Nobody deserved it more. Winning an award named for him is such an honor, and I want to do work the rest of my career he'd be proud of. I miss his random texts checking in on me. I miss his jokes. I miss his innate ability to always take his work seriously and never take himself seriously. I miss wasting time with him in the press box before games we were both blessed enough to be covering. I miss his work. It's badly needed in college football today.
"Thank you to whoever nominated me and thank you to the panel that voted to select me. Rising star only begins to describe Ed. Like he did, I want to pass down what I've learned, make this profession better and do what I can to make sure there are plenty of other Ed Aschoffs writing about college football in the decades to come."
Ubben, the FWAA's second vice-president, has covered Tennessee football for The Athletic since May of 2018. After graduating from Missouri in 2009 he was the Oklahoma Sooners beat writer for The Oklahoman before leaving to write about Big 12 football at ESPN.com for three and half years. He then spent another two years at Fox Sports Southwest writing columns about Big 12 sports and serving as a television analyst for the network. In 2015, Ubben was a freelancer and wrote for a variety of outlets including Sports on Earth and The Athletic, while also launching his own podcast.
In 2018, he took a job as the college insider and editor at Dave Campbell's Texas Football before moving from Dallas to Knoxville later that year to join The Athletic full-time. He lives there now with his wife and their golden retriever puppy. Ubben also serves as an adjunct lecturer for The School of Journalism and Electronic Media at the University of Tennessee.
"In two years on the notoriously access-restrictive Tennessee beat, David has already separated himself from everybody else, taking a unique and refreshing approach to churn out off-the-beaten path features, critical analysis and informative background stories about a program that has had an uneven run on and off the field during his time covering the Volunteers," said fellow staffer at The Athletic, Matt Fortuna.
Fortuna added: "Embodying the spirit of his former ESPN.com colleague Edward, David attacks every day with enthusiasm, never letting the pushback from the Vols or their fanbase drag him down' , the way it often does with so many in our business (myself included). He has made many of us re-think the traditional way we have gone about beat writing, especially with the way he always goes the extra mile. And he has proven himself to be more than capable of stepping outside of the day-to-day comfort zone of his beat, as evidenced by his national features."
Here are four of Ubben's stories:
• Feature on UT assistant Brian Niedermeyer, in which Ubben traveled all the way to Alaska to profile an assistant who was forbidden from talking on the record
• Feature on UT receiver Grant Frerking, who is also the CEO of a million dollar company
• All-access with Chattanooga, which provided readers with a behind-the-scenes account of how to scheme for UT
• Re-visiting what was almost the Pac-16, which threatened to turn college sports as we know it on its head
Remembering Ed Aschoff
Aschoff moved to Los Angeles in 2017 to begin a more expanded national role that included television coverage. Over the past three seasons, he reported from campuses across the country for ESPN.com, SportsCenter, SEC Network and ESPN Radio, and he worked as a television and radio sideline reporter during college football games.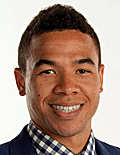 Edward Aschoff
During the 2015 college football season, Aschoff and ESPN.com colleague Adam Rittenberg were winners in the FWAA's annual best writing contest for their enterprise piece, "The racial impact of Eric Striker." Contest judge Michael Weinreb called it, "An eye-opening, surprisingly frank and timely examination about how college football is affected by issues of race and identity."
Aschoff inspired us through his storytelling, brightened our lives with his gregarious personality, and uplifted our spirits with his energy. The FWAA hopes to honor his memory and his commitment to aspiring journalists with this award.
"Edward epitomized everything you want in a sports journalist: He knew how to build relationships, to gain trust, to break stories but also to tell stories," said ESPN.com's Andrea Adelson. "And he did it all with a flair that made you want to watch his television pieces or read his written stories right away. His dogged determination and relentless work ethic allowed him to rise to the top at ESPN, and all his exemplary qualities serve as a model for young journalists everywhere about what truly can be achieved if you go after what you want."
The University of Florida's College of Journalism and Communications has established the Edward Aschoff Memorial Fund, which will provide support for students involved in sports journalism.
"Edward was one of our stars – not just because he was so talented as a journalist and storyteller, but also because of everything he did to help people around him. He always had a good word of advice for young journalists, he was always willing to give back, and he always made people smile," said Ted Spiker, chair of the department of journalism at the University of Florida who taught Edward in several classes at UF.
Jordan McPherson, a student reporter at Florida from 2013-17 who is now covering the Miami Marlins for the Miami Herald, said Aschoff helped him on several occasions.
"He was a pro's pro and touched my life with just a few brief interactions that he didn't have to make," McPherson said. "His positivity was infectious, his ability to mentor through simple conversation was second to none. He will be missed, but always be remembered."
Founded in 1941, the Football Writers Association of America consists of 1,300 men and women who cover college football. The membership includes journalists, broadcasters and publicists, as well as key executives in all the areas that involve the game. The FWAA works to govern areas that include game-day operations, major awards and its annual All-America team. For more information about the FWAA and its award programs, contact Steve Richardson at tiger@fwaa.com.
Related links:
• Give to the Edward Aschoff Memorial Fund at the University of Florida
• Feb. 13: FWAA creates new award in memory of Edward Aschoff