DALLAS (FWAA) — The Football Writers Association of America announced its 2016 Outland Trophy Watch List on Friday, with 70 standout interior linemen from all 10 FBS conferences represented.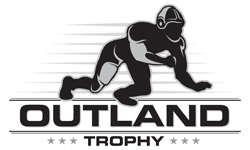 The SEC (12) led all conferences, followed by the Big Ten (11), ACC (10), Pac-12 (10), Big 12 (6), American Athletic (4), Conference USA (4), Independents (4), Mountain West (4), Mid-American (3) and Sun Belt (2).
The list includes 22 offensive tackles, 20 offensive guards, 17 defensive tackles and 11 centers. It can be trimmed or enlarged during the regular season as players emerge or drop out of play.
The Outland Trophy winner is chosen from three finalists who are a part of the annual FWAA All-America Team. The FWAA All-America Committee, after voting input from the entire membership, selects a 26-man first team and eventually the three Outland finalists. Committee members, then by individual ballot, select the winner. Only interior linemen on offense or defense are eligible for the award; ends are not eligible.
2016 OUTLAND TROPHY PRESEASON WATCH LIST (70)
Montravius Adams, Auburn, DT
Lowell Lotulelei, Utah, DT
Brian Allen, Michigan State, C
Erik Magnuson, Michigan, OT
Zach Banner, USC, OT
Damien Mama, USC, G
Adam Bisnowaty, Pittsburgh, OT
Conor McDermott, UCLA, OT
Chris Borrayo, California, G
Malik McDowell, Michigan State, DT
J.T. Boyd East Carolina, C
Mike McGlinchey, Notre Dame, OT
Orlando Brown, Oklahoma, OT
Taylor Moton, Western Michigan, OT
Mason Cole, Michigan, C
Storm Norton, Toledo, OT
Parker Collins, Appalachian State, G
Larry Ogunjobi, Charlotte, DT
Austin Corbett, Nevada, OT
Tyler Orlosky, West Virginia, C
Tyrell Crosby, Oregon, OT
Ethan Pocic, LSU, C
Tyrone Crowder, Clemson, G
Billy Price, Ohio State, G
Dion Dawkins, Temple, OT
Greg Pyke, Georgia, G
J.J. Dielman, Utah, OT
Jake Replogle, Purdue, DT
Pat Elflein, Ohio State, G
Cam Robinson, Alabama, OT
Dan Feeney, Indiana, G
Chase Roullier, Wyoming, G
Kyle Fuller, Baylor, C
Nico Siragusa, San Diego State, G
Antonio Garcia, Troy, OT
Dan Skipper, Arkansas, OT
Will Geary, Kansas State, DT
Tashon Smallwood, Arizona State, DT
Avery Gennesy, Texas A&M, OT
Tanzel Smart, Tulane, DT
Davon Godchaux, LSU, DT
Braden Smith, Auburn, G
Jay Guillermo, Clemson, C
Chris Taylor, Tulane, G
Darius Hamilton, Rutgers, DT
Vincent Taylor, Oklahoma State, DT
Jon Heck, North Carolina, OT
Wyatt Teller, Virginia Tech, G
Treyvon Hester, Toledo, DT
Cameron Tom, Southern Miss, C
Daniel Isidora, Miami, G
Jon Toth, Kentucky, C
Martez Ivey, Florida, G
Travis Tuiloma, BYU, DT
Roderick Johnson, Florida State, OT
Clint Van Horn, Marshall, OT
Dorian Johnson, Pittsburgh, G
Eddie Vanderdoes, UCLA, DT
Jaleel Johnson, Iowa, DT
Dan Voltz, Wisconsin, C
Jarron Jones, Notre Dame, DT
Carlos Watkins, Clemson, DT
Alex Kozan, Auburn, G
Chad Wheeler, USC, OT
Forrest Lamp, Western Kentucky, OT
Dylan Wiesman, Tennessee, G
Ului Lapuaho, BYU, G
Connor Williams, Texas, OT
Nick Linder, Miami, C
Fred Zerblis, Colorado State, G
By conference: SEC 12, Big Ten 11, ACC 10, Pac-12 10, Big 12 6, American Athletic 4, Conference USA 4, Independents 4, Mountain West 4, Mid-American 3, Sun Belt 2.
By position: Offensive Tackles 22, Offensive Guards 20, Centers 11, Defensive Tackles 17.
Tackles, guards and centers are eligible for consideration
Candidates may be added or removed during the season
The list will be trimmed to six or seven semifinalists on Thurs., Nov. 17. Five days later, three Outland Trophy finalists will be named by the FWAA. The winner of the 71st Outland Trophy – named after the late John Outland, an All-America lineman at Penn at the turn of the 20th century – will be announced on live on ESPN on The Home Depot College Football Awards on Thurs., Dec. 8. For the second straight year, the show will air from the National Football Foundation's College Football Hall of Fame in Atlanta.
The Outland Trophy presentation banquet, sponsored by the Greater Omaha Sports Committee, will be held on Jan. 11, 2017, in Omaha, Neb. This year, Oklahoma's Greg Roberts, the 1978 Outland Trophy winner, will be honored and presented an Outland Trophy, which was not given in the era in which he won the award. In addition, former Oklahoma coach Barry Switzer, will receive the Tom Osborne Legacy Award at the same banquet.
The Outland Trophy is a member of the National College Football Awards Association (NCFAA) which encompasses the most prestigious awards in college football. The 22 awards boast over 722 years of tradition-selection excellence. Visit www.ncfaa.org to learn more about our story.
The members of the NCFAA are unveiling their preseason watch lists over a 12-day period this month. Seventeen of the association's 22 awards select a preseason watch list and the NCFAA has spearheaded a coordinated effort to promote each award's preseason candidates. Following is the complete 2016 preseason watch list calendar:
Tues., July 5: Bednarik Award / Maxwell Award
Wed., July 6: Mackey Award / Rimington Trophy
Thurs., July 7: Lou Groza Award / Ray Guy Award
Fri., July 8: Bronko Nagurski Trophy / Outland Trophy
Mon., July 11: Jim Thorpe Award
Tues., July 12: Butkus Award / Rotary Lombardi Award
Wed., July 13: Biletnikoff Award / Wuerffel Trophy
Thurs., July 14: Davey O'Brien Award / Doak Walker Award
Fri., July 15: Walter Camp Award / Paul Hornung Award
The Football Writers Association of America, founded in 1941, consists of 1,400 men and women who cover college football. The membership includes journalists, broadcasters and publicists, as well as key executives in all the areas that involve the game. The FWAA works to govern areas that include game-day operations, major awards and its annual All-America team. For more information about the FWAA and its award programs, contact Steve Richardson at tiger@fwaa.com.