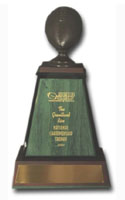 The Grantland
Rice Trophy
DALLAS (FWAA) – The Alabama Crimson Tide is the favorite to win an unprecedented third straight FWAA national championship – and a fourth in five years – following a preseason vote by selected FWAA members in the Grantland Rice Super 16 Poll.
Alabama successfully defended its national title last season and won its seventh Grantland Rice Trophy – the most of any team in college football. Alabama has won FWAA titles in 1965, 1978, 1979, 1992, 2009, 2011 and 2012. The Tide return a strong nucleus of players and are the favorites to win the rugged Southeastern Conference.
In the preseason poll, the Crimson Tide is followed by Ohio State, the only other team to receive first-place votes. Oregon, Stanford and Georgia round out the Top 5.
Half of the Top 12 teams in the poll are from the Southeastern Conference, starting with the top-ranked Crimson Tide and followed by No. 5 Georgia, No. 6 South Carolina, No. 8 Texas A&M, No. 10 Florida and No. 12 LSU. An SEC team has claimed the last seven Grantland Rice Trophies since Texas won in 2005.
2013 PRESEASON GRANTLAND RICE POLL
Rank
School [1st]
Conference
Pts.
W-L
Opening Game
1.
Alabama [18]
SEC
317
13-1
Aug. 31 vs. Virginia Tech (Atlanta)
2.
Ohio State [2]
Big Ten
287
12-0
Aug. 31 vs. Buffalo
3.
Oregon
Pac-12
252
12-1
Aug. 31 vs. Nicholls
4.
Stanford
Pac-12
247
12-2
Sept. 7 vs. San Jose State
5.
Georgia
SEC
231
12-2
Aug. 31 vs. at Clemson
6.
South Carolina
SEC
209
11-2
Aug. 29 vs. North Carolina
7.
Clemson
ACC
174
11-2
Aug. 31 vs. Georgia
8.
Texas A&M
SEC
167
11-2
Aug. 31 vs. Rice
9.
Louisville
American
156
11-2
Sept. 1 vs. Ohio
10.
Florida
SEC
127
11-2
Aug. 31 vs. Toledo
11.
Florida State
ACC
94
12-2
Sept. 2 at Pittsburgh
12.
LSU
SEC
93
10-3
Aug. 31 vs. TCU (Arlington)
13.
Oklahoma State
Big 12
90
8-5
Aug. 31 vs. Miss. St. (Houston)
14.
Notre Dame
Independent
87
12-1
Aug. 31 vs. Temple
15.
Texas
Big 12
68
9-4
Aug. 31 vs. New Mexico State
16.
Michigan
Big Ten
24
8-5
Aug. 31 vs. Central Michigan
Records are from the 2012 season
The 2013 Grantland Rice Trophy will be awarded by a vote of selected board members and past presidents of the association after the Vizio BCS National Championship. It will be presented to the FWAA's national champion the morning after the BCS title game in Pasadena.
The Grantland Rice Trophy, given to college football's national champion since 1954, is named in memory of the legendary sportswriter. It was the first national championship award presented after college football's postseason.
While the FWAA will not conduct a weekly poll this season, it will present the Tostitos Fiesta Bowl National Team of the Week each Monday, as selected by a panel of FWAA members. This marks the 12th season the FWAA will present a national team of the week. Each week, the winner will be announced exclusively on SiriusXM Radio's "College Sports Nation."
The Football Writers Association of America, a non-profit organization founded in 1941, consists of more than 1,200 men and women who cover college football. The membership includes journalists, broadcasters and publicists, as well as key executives in all the areas that involve the game. The FWAA works to govern areas that include gameday operations, major awards and its annual All-America team. For more information about the FWAA and its award programs, contact Steve Richardson at tiger@fwaa.com or 972-713-6198.