CHARLOTTE, N.C. (FWAA) – Pittsburgh tackle Aaron Donald claimed the Bronko Nagurski Trophy on Monday night in Charlotte, winning the Football Writers Association of America's national defensive player of the year award.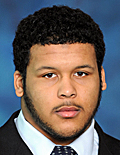 Donald
Donald, an agile 6-foot, 285-pound senior from Pittsburgh, Pa., leads the country in tackles-for-loss during the Panthers first year of competition in the Atlantic Coast Conference. The ACC Defensive Player of the Year averages 2.2 tackles-for-loss per game. He is also tied for 10th in forced fumbles and tied for 13th in sacks. Of his 54 tackles this season, nearly half (26.5) have been behind the line of scrimmage. In the heart of ACC country, Donald, accepted the award during a banquet at the Westin Hotel that was sponsored by the Charlotte Touchdown Club.
"It is truly a blessing," Donald told a full house at the banquet. "All of the hard work did pay off. I am truly honored." His father, Archie, celebrated his 48th birthday in the audience and called the Nagurski Trophy "the best birthday present ever."
The four other Nagurski finalists were cornerback Darqueze Dennard of Michigan State, cornerback Lamarcus Joyner of Florida State, linebacker C.J. Mosley of Alabama end Michael Sam of Missouri.
Further adding to the ACC theme, Georgia Tech's Hall of Fame defensive back Randy Rhino, a former standout high school player in Charlotte, accepted the Legends Award, which was presented by Florida East Coast Railway. Each year, the FWAA honors a past winner from one its All-America teams. Rhino was a member of the 1972 FWAA All-America Team.

Donald became Pittsburgh's first defensive player to win a national individual award since Hugh Green in 1980. He has been one of the most disruptive defensive tackles in recent history. Compared to former Nebraska defensive tackle Ndamukong Suh, who won Nagurski, Outland, Bednarik and Outland awards in 2009, Donald's tackles-for-loss total this season is already better than Suh's (20.5 in 14 games).
Additionally, Donald had several key performances during the season.
• Donald made the decisive play in Pitt's 17-16 win at Syracuse, blocking an extra point and making the team bowl-eligible.
• In a game against, North Carolina, Donald registered three tackles for losses, forced a fumble, broke up one pass, and made five quarterback hurries.
• Against Duke, he tackled the quarterback and running back and brought them down at the same time on an option read play.
• In a game against Georgia Tech, he registered six tackles for loss.
But Donald picked Pittsburgh's 28-21 defeat of Notre Dame as his favorite game of the season. "I would have to say Notre Dame because of the atmosphere," Donald said. "And the fact I was able to experience that with my teammates. It was amazing."
"He's gifted," said Pittsburgh Coach Paul Chryst. "He has great strength and quickness. But the intangibles, the way he competes, the way he studies the game and approaches it. ... He has a knack to just make plays. He has truly played his best football his senior year. And that is the greatest thing anybody can do – play your best football your senior year."
The FWAA's national defensive player of the year award, given out since 1993, is named after Nagurski, who dominated college football at Minnesota as a bruising fullback and defensive tackle from 1927 through 1929. He could have been an All-America at any position and was the best player wherever the coaches put him.
Nagurski led Minnesota to the Big Ten title in 1927 and a three-year 18-4-2 record. He went on to lead the fabled Chicago Bears to three NFL titles. During one game at Wrigley Field, he once broke a defensive player's shoulder, knocked another out and ran into a brick wall and actually cracked it during a game-winning touchdown run.
The Charlotte Touchdown Club is a non-profit organization founded in 1990 for the purpose of promoting high school, collegiate, and professional football in the Charlotte, N.C. region. The club's activities and services focus community attention on the outstanding citizenship, scholarship, sportsmanship, and leadership of area athletes and coaches. For more information, contact John Rocco (704-347-2918 or jrocco@touchdownclub.com). The official website of the Charlotte Touchdown Club is www.touchdownclub.com.
The Football Writers Association of America, a non-profit organization founded in 1941, consists of more than 1,200 men and women who cover college football. The membership includes journalists, broadcasters and publicists, as well as key executives in all the areas that involve the game. The FWAA works to govern areas that include gameday operations, major awards and its annual All-America team. For more information about the FWAA and its award programs, contact Steve Richardson at tiger@fwaa.com or 972-713-6198.
The Bronko Nagurski Trophy is a member of the National College Football Awards Association (NCFAA). The NCFAA encompasses the most prestigious awards in college football. The 21 awards boast 678 years of tradition-selection excellence. Visit ncfaa.org to learn more about our story.