DALLAS (FWAA) – The 2012 Bronko Nagurski Trophy Watch List features the best and brightest of the upcoming season's defensive players.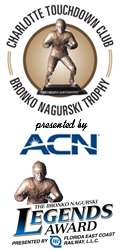 One of 84 players on the list most likely will receive the Bronko Nagurski Trophy that is awarded annually to the nation's best defensive player by the Football Writers Association of America and the Charlotte Touchdown Club. Every NCAA Division I Bowl Subdivision conference and independents BYU and Notre Dame are represented on the list that is led by 30 standout linebackers.
Players may be added or deleted from the Bronko Nagurski Watch List during the season. For the 12th consecutive season, the FWAA will choose a Bronko Nagurski National Defensive Player of the Week. If a recipient is not on the Watch List, he will be added. The FWAA and the Charlotte Touchdown Club will announce five finalists for the Bronko Nagurski Trophy on Nov. 15.
The Bronko Nagurski Trophy winner is chosen from five finalists who are part of the FWAA All-America Team. The FWAA All-America Committee, after voting input from the entire membership, selects the 25-man team and eventually the Bronko Nagurski finalists. Committee members, then by individual ballot, select the winner, the best defensive player in America.
The annual Bronko Nagurski Trophy Banquet presented by ACN will be Dec. 3 at the Westin Hotel in Charlotte, N.C. Besides the 2012 winner being announced, the banquet will also celebrate the recipient of the Bronko Nagurski Legends Award presented by Florida East Coast Railway. Nebraska's Larry Jacobson, an end from the FWAA's 1971 All-American team, will be honored. Notre Dame head coach Brian Kelly will be the keynote speaker at the banquet.
2012 BRONKO NAGURSKI TROPHY PRESEASON WATCH LIST (84)
Johnny Adams, Michigan State, CB
Kapron Lewis-Moore, Notre Dame, DE
Ricardo Allen, Purdue, CB
Rob Lohr, Vanderbilt, DT
David Amerson, N.C. State, CB
Travis Long, Washington State, LB
Dion Bailey, USC, LB
Star Lotulelei, Utah, DT
Johnthan Banks, Mississippi State, CB
Khalil Mack, Buffalo, LB
Chris Borland, Wisconsin, LB
Trent Mackey, Tulane, LB
John Boyett, Oregon, S
Nigel Malone, Kansas State, CB
Travis Brown, Fresno State, LB
Stansly Maponga, TCU, DE
Jonathan Brown, Illinois, LB
Tyrann Mathieu, LSU, CB
Arthur Brown, Kansas State, LB
Dexter McCoil, Tulsa, S
Brodrick Brown, Oklahoma State, CB
T.J. McDonald, USC, S
Michael Buchanan, Illinois, DE
Leon McFadden, San Diego State, CB
Max Bullough, Michigan State, LB
Dee Milliner, Alabama, CB
Carrington Byndom, Texas, CB
Barkevious Mingo, LSU, DE
Jadeveon Clowney, South Carolina, DE
Sam Montgomery, LSU, DE
Jamie Collins, Southern Miss, LB
C.J. Mosley, Alabama, LB
Matt Elam, Florida, S
Roosevelt Nix, Kent State, DT
Sharrif Floyd, Florida, DT
Alex Okafor, Texas, DE
Kyle Fuller, Virginia Tech, CB
Kevin Pierre-Louis, Boston College, LB
William Gholston, Michigan State, DE
Sean Porter, Texas A&M, LB
Khaseem Greene, Rutgers, LB
Jordan Poyer, Oregon State, CB
Steve Greer, Virginia, LB
Kevin Reddick, North Carolina, LB
Johnathan Hankins, Ohio State, DT
Eric Reid, LSU, S
Gerald Hodges, Penn State, LB
Xavier Rhodes, Florida State, CB
Jarred Holley, Pittsburgh, S
Nickell Robey, USC, CB
Demontre Hurst, Oklahoma, CB
Kawann Short, Purdue, DT
Micah Hyde, Iowa, CB
John Simon, Ohio State, DE
Andrew Jackson, Western Kentucky, LB
Shayne Skov, Stanford, LB
Jackson Jeffcoat, Texas, DE
Hakeem Smith, Louisville, S
Tony Jefferson, Oklahoma, S
Devin Taylor, South Carolina, DE
Brandon Jenkins, Florida State, DE
Bruce Taylor, Virginia Tech, LB
John Jenkins, Georgia, DT
Mike Taylor, Wisconsin, LB
Nico Johnson, Alabama, LB
Manti Te'o, Notre Dame, LB
Travis Johnson, San Jose State, DE
Chase Thomas, Stanford, LB
Jarvis Jones, Georgia, LB
Kenny Vaccaro, Texas, S
Dion Jordan, Oregon, DE
Kyle Van Noy, BYU, LB
Lamarcus Joyner, Florida State, S
Joe Vellano, Maryland, DT
A.J. Klein, Iowa State, LB
Bjoern Werner, Florida State, DE
Jake Knott, Iowa State, LB
Jesse Williams, Alabama, DT
Jordan Kovacs, Michigan, S
Trevardo Williams, Connecticut, DE
Corey Lemonier, Auburn, DE
Dwayne Woods, Bowling Green, LB
Robert Lester, Alabama, S
Tom Wort, Oklahoma, LB
By conference: SEC (19), Big Ten (14), Big 12 (13), ACC (11), Pac-12 (10), Big East (4), Conference USA (3), Independents (3), MAC (3), Mountain West (2), Sun Belt (1), WAC (1).
Players may be added or deleted from the list before or during the season
The Football Writers Association of America, a non-profit organization founded in 1941, consists of more than 1,200 men and women who cover college football for a living. The membership includes journalists, broadcasters and publicists, as well as key executives in all the areas that involve the game. The FWAA works to govern areas that include gameday operations, major awards and its annual All-America team. For more information about the FWAA and its award programs, contact Steve Richardson at tiger@fwaa.com or 972-713-6198.
The Charlotte Touchdown Club is a non-profit organization founded in 1990 for the purpose of promoting high school, collegiate, and professional football in the Charlotte, N.C. region. The club's activities and services focus community attention on the outstanding citizenship, scholarship, sportsmanship, and leadership of area athletes and coaches. For more information, contact John Rocco (704-347-2918 or jrocco@touchdownclub.com). The official website of the Charlotte Touchdown Club is www.touchdownclub.com.
The Bronko Nagurski Trophy is a member of the National College Football Awards Association (NCFAA). The NCFAA was founded in 1997 as a coalition of the major collegiate football awards to protect, preserve and enhance the integrity, influence and prestige of the game's predominant awards. The NCFAA encourages professionalism and the highest standards for the administration of its member awards and the selection of their candidates and recipients. For more information, visit the association's official website, ncfaa.org.
The members of the NCFAA are unveiling their preseason watch lists over a 12-day period this month. Fifteen of the association's 21 awards select a preseason watch list and the NCFAA has spearheaded a coordinated effort to promote each award's preseason candidates. Following is the complete 2012 preseason watch list calendar:
July 9: Maxwell Award/Bednarik Award
July 10: Mackey Award/Riminigton Trophy
July 11: Lou Groza Award/Ray Guy Award
July 12: Bronko Nagurski Trophy/Outland Trophy
July 13: Jim Thorpe Award
July 16: Butkus Award/Rotary Lombardi Award
July 17: Biletnikoff Award
July 18: Davey O'Brien Award
July 19: Doak Walker Award
July 20: Walter Camp Award