NEW ORLEANS (FWAA) – Following their 21-0 win over LSU in the Allstate BCS National Championship Game, the Alabama Crimson Tide (12-1) was presented the 2011 Grantland Rice Trophy by the Football Writers Association of America. FWAA president Lenn Robbins of the New York Post made the presentation to head coach Nick Saban at a morning news conference.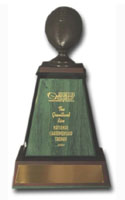 A panel of veteran FWAA members selected Alabama as the association's national champion after the Crimson Tide held LSU to 92 total yards of offense, committed only one penalty and didn't allow LSU to cross midfield until late in the championship game.
Earlier, previously unbeaten LSU had defeated Alabama, 9-6, in overtime in Tuscaloosa on Nov. 5 as part of its run to the Southeastern Conference championship. That forced the Crimson Tide to make the BCS title game as an at-large team and set up the rare postseason rematch. But the second meeting was all Alabama behind its stellar defense, five field goals from Jeremy Shelley and the passing of quarterback AJ McCarron.

"It was tougher losing a game," Saban said after the game. "And I think that demonstrates the character of the people in that locker room to come back from that game and finish the season like they did."

No matter who won last night's BCS title game, the SEC was going to continue its dominance. This marks the sixth straight season the SEC has won the Grantland Rice Trophy. Auburn won it last season, with Alabama (2009), Florida (2008), LSU (2007) and Florida (2006) claiming titles in the four previous seasons.

Alabama now has won a record six FWAA national titles, the most of any school. Its previous titles have come in 1965 (along with Michigan State), 1978, 1979, 1992 and 2009. Saban also was Alabama's head coach in 2009.
The Grantland Rice Trophy has been presented by the Football Writers Association of America to college football's national champion since 1954. Named for the legendary sportswriter, the Grantland Rice Trophy was the first national championship award to be presented after the college football postseason.
Although the FWAA does not conduct a final poll at the end of the season, it will conduct a 2012 preseason poll during the summer when the entire membership will vote. The poll will be released in late August before the beginning of the upcoming season.
The Football Writers Association of America, a non-profit organization founded in 1941, consists of more than 1,200 men and women who cover college football for a living. The membership includes journalists, broadcasters and publicists, as well as key executives in all the areas that involve the game. The FWAA works to govern areas that include gameday operations, major awards and its annual All-America team. For more information about the FWAA and its award programs, contact Steve Richardson at tiger@fwaa.com or 972-713-6198.
Related link:
• All-time Grantland Rice Trophy winners