CHARLOTTE, N.C. (FWAA) – The Charlotte Touchdown Club, in conjunction with the Football Writers Association of America, officially announces Mark Richt, head football coach at the University of Georgia, as keynote speaker for the 2011 Bronko Nagurski Awards Banquet, presented by ACN and scheduled for Monday, Dec. 12 at the Westin Hotel.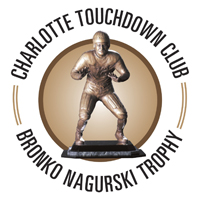 "It's a tremendous honor to be named keynote speaker for this year's Bronko Nagurski Awards Banquet presentation. Like the University of Georgia, the name Bronko Nagurski represents excellence both on and off the football field," said Coach Mark Richt. "I am also very proud to be associated with The Charlotte Touchdown Club which does such a fantastic job promoting collegiate football in the Charlotte, N.C., region."
Coach Richt is a 1982 University of Miami graduate, where he spent most of his playing career backing up Hall of Fame quarterback Jim Kelly. Richt started his coaching career in 1985 as a volunteer quarterbacks coach for the Florida State Seminoles (FSU), serving under Bobby Bowden. Richt left the Seminoles to join East Carolina University as their offensive coordinator in 1989. After one year at East Carolina, Richt returned to Florida State to serve as the Seminoles' quarterbacks coach and was promoted to Florida State's offensive coordinator in 1994.
Coach Richt was hired as head football coach of the Georgia Bulldogs before the 2001 season, replacing Jim Donnan. After ten seasons, Richt has accumulated a 96-34 record, two SEC championships (2002, 2005) and three SEC Eastern Division titles. Richt was named SEC Coach of the Year in both 2002 and 2005.
Coach Richt is only one of nine head coaches in Division I-A history to record 60 or more wins in his first six seasons and is only one of five head coaches in SEC history to record four straight ten-win seasons (2002-05). In bowl games during Coach Richt's tenure, his record is 7-2, with three Sugar Bowl appearances and two Sugar Bowl victories.
The Bronko Nagurski Trophy is presented annually by the Charlotte Touchdown Club and Football Writers Association of America to the nation's most outstanding NCAA defensive football player. The Charlotte Touchdown Club also honors local college and high school football players and over the last decade has raised more than $1,250,000 for student athletic scholarships throughout the Charlotte Metro Area.
The Charlotte Touchdown Club is a 501(c)(3) non-profit organization founded in 1991 for the purpose of promoting high school, collegiate, and professional football in the Charlotte, North Carolina, region. The Club's activities and services focus community attention on the outstanding Citizenship, Scholarship, Sportsmanship, and Leadership of area athletes and coaches.
The Bronko Nagurski Trophy award finalists will be announced mid-November, with the award presented on December 12th at the Bronko Nagurski Trophy Awards Banquet in Charlotte, N.C. All net proceeds benefit the Touchdown Club Scholarship Fund. For reservations, call 704-347-1918.
The Football Writers Association of America, a non-profit organization founded in 1941, consists of more than 1,200 men and women who cover college football for a living. The membership includes journalists, broadcasters and publicists, as well as key executives in all the areas that involve the game. The FWAA works to govern areas that include gameday operations, major awards and its annual All-America team. For more information about the FWAA and its award programs, contact Steve Richardson at tiger@fwaa.com or 972-713-6198.
The Bronko Nagurski Trophy is a member of the National College Football Awards Association (NCFAA). The NCFAA was founded in 1997 as a coalition of the major collegiate football awards to protect, preserve and enhance the integrity, influence and prestige of the game's predominant awards. The NCFAA encourages professionalism and the highest standards for the administration of its member awards and the selection of their candidates and recipients. For more information, visit the association's official Web site, ncfaa.org.