DALLAS (FWAA) – With their 31-18 win over No. 1 Ohio State, the Wisconsin Badgers (6-1) are the Tostitos Fiesta Bowl National Team of the Week for games of the weekend of Oct. 16.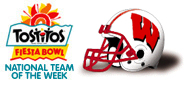 David Gilreath returned the game's opening kickoff 97 yards for a touchdown as the 18th-ranked Badgers raced out to a 21-0 lead just 1:45 into the second quarter. John Clay added a pair of touchdown runs and, with 104 yards on the day, became the first player to eclipse the 100-yard rushing mark vs. Ohio State in 29 games.
After Ohio State rallied to get within 21-18, the Badgers sealed the win with 10 fourth-quarter points. A 10-play, 73-yard drive was capped by James White's 12-yard touchdown run before Philip Welch's 43-yard field goal closed out the scoring. The win was Wisconsin's first over a No. 1 team since the Badgers upset Michigan in 1981.
"You just felt the anticipation and the excitement," Wisconsin head coach Bret Bielema said after the game. "But there was also calmness in our preparation."
Other Tostitos Fiesta Bowl National Team of the Week nominees for the weekend of Oct. 16 included:
• Kentucky (4-3): Mart Hartline threw for a career-high 349 yards and four touchdowns as the Wildcats rallied with 21 second-half points to stun No. 10 South Carolina, 31-28, in Lexington.
• Texas (4-2): Quarterback Garrett Gilbert ran for two touchdowns and the Longhorns held Nebraska's Taylor Martinez to 21 yards rushing in a 20-13 win over the No. 5 Huskers in Lincoln.
The Football Writers Association of America has named a national team of the week since the 2002 season. This is the seventh season that the award has been sponsored by the Tostitos Fiesta Bowl.
Members of the FWAA All-America Committee decide the weekly honor. Each remaining Monday during the 2010 college football regular season, the FWAA will name the Tostitos Fiesta Bowl National Team of the Week.
Founded in 1971, the Tostitos Fiesta Bowl has hosted six games that have decided the college football national championship, including three Bowl Championship Series title games. This season, the Tostitos Fiesta Bowl will host the Tostitos BCS National Championship Game on Jan. 10, 2011 at University of Phoenix Stadium in Glendale, Ariz. The Tostitos Fiesta Bowl will be played on Jan. 1, 2011 in Glendale and the Insight Bowl will be played on Dec. 28, 2010 at Sun Devil Stadium in Tempe, Ariz.
For more information on the Tostitos Fiesta Bowl National Team of the Week, go to footballwriters.com or fiestabowl.org.
2010 FWAA ALL-AMERICA COMMITTEE
Desmond Conner
Hartford Courant
Big East
Robert Gagliardi
Wyoming Tribune-Eagle
Mountain West
Cory Giger
Altoona Mirror
Big Ten
Kate Hairopoulos
The Dallas Morning News
Conference USA
Jorge Milian
Palm Beach Post
ACC
Ted Miller
espn.com
Pacific-10
Brian Murphy
Idaho Statesman
WAC
Joshua Parrott
Lafayette Daily Advertiser
Sun Belt
Randy Rosetta
Baton Rouge Advocate
SEC
John Sahly
DeKalb Daily Chronicle
MAC
Phil Steele
Phil Steele Publications
Independents
Jake Trotter
The Oklahoman
Big 12