DALLAS (FWAA) – With their 34-27 win over No. 9 Iowa, the Arizona Wildcats (3-0) are the Tostitos Fiesta Bowl National Team of the Week for games of the weekend of Sept. 18.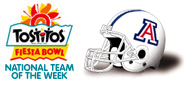 The Wildcats jumped out to a 27-7 halftime lead with help from a blocked punt, an 85-yard interception return for a touchdown by Trevin Wade and a 100-yard kickoff return for a score by Travis Cobb.
After Iowa rallied in the second half to tie the score at 27, Nick Foles capped a 72-yard scoring drive with a 4-yard touchdown pass to William Wright with just under four minutes to play. On the night, Foles was 28-for-39 with a pair of touchdown passes.
"This win was great in a lot of different ways," Arizona head coach Mike Stoops said after the game. "We got to see the character of the players develop before our eyes. I'm really proud that everyone managed to compete, and when they were challenged, they challenged right back."
Other Tostitos Fiesta Bowl National Team of the Week nominees for the weekend of Sept. 18 included:
• Nebraska (3-0): The Huskers hammered Washington, 56-21, in Seattle with 533 yards of total offense, including 383 on the ground. Three Nebraska players ran for over 100 yards, led by quarterback Taylor Martinez (137 yards and three touchdowns on 19 carries).
• Temple (3-0): In Philadelphia, the Owls upset Connecticut, 30-16, to open the season 3-0 for the first time since 1979. Bernard Pierce ran for 169 yards and scored three touchdowns as the Owls set a school record with their eighth straight home win.
The Football Writers Association of America has named a national team of the week since the 2002 season. This is the seventh season that the award has been sponsored by the Tostitos Fiesta Bowl.
Members of the FWAA All-America Committee decide the weekly honor. Each remaining Monday during the 2010 college football regular season, the FWAA will name the Tostitos Fiesta Bowl National Team of the Week.
Founded in 1971, the Tostitos Fiesta Bowl has hosted six games that have decided the college football national championship, including three Bowl Championship Series title games. This season, the Tostitos Fiesta Bowl will host the Tostitos BCS National Championship Game on Jan. 10, 2011 at University of Phoenix Stadium in Glendale, Ariz. The Tostitos Fiesta Bowl will be played on Jan. 1, 2011 in Glendale and the Insight Bowl will be played on Dec. 28, 2010 at Sun Devil Stadium in Tempe, Ariz.
For more information on the Tostitos Fiesta Bowl National Team of the Week, go to footballwriters.com or fiestabowl.org.
2010 FWAA ALL-AMERICA COMMITTEE
Desmond Conner
Hartford Courant
Big East
Robert Gagliardi
Wyoming Tribune-Eagle
Mountain West
Cory Giger
Altoona Mirror
Big Ten
Kate Hairopoulos
The Dallas Morning News
Conference USA
Jorge Milian
Palm Beach Post
ACC
Ted Miller
espn.com
Pacific-10
Brian Murphy
Idaho Statesman
WAC
Joshua Parrott
Lafayette Daily Advertiser
Sun Belt
Randy Rosetta
Baton Rouge Advocate
SEC
John Sahly
DeKalb Daily Chronicle
MAC
Phil Steele
Phil Steele Publications
Independents
Jake Trotter
The Oklahoman
Big 12