DALLAS (FWAA) – The Football Writers Association of America is considering whether or not to vacate USC's 2004 national championship and its Grantland Rice Trophy. The FWAA Executive Board is considering various alternatives and will not make any decisions until USC's appeals have been exhausted through the NCAA process.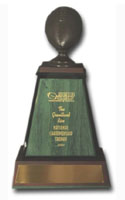 "We are weighing alternatives before we make our final decision and after USC's appeal is denied or upheld," said Tim Griffin, the FWAA's 2010-11 president.
The FWAA will not have further comment until a later date.
The Trojans claimed a second straight Grantland Rice Trophy by completing the 2004 season with a 13-0 record , including a 55-19 win over Oklahoma in the FedEx Orange Bowl. But as part of NCAA sanctions announced today, USC's wins from that season have been vacated, including the victory over Oklahoma.
The Grantland Rice Trophy has been presented by the Football Writers Association of America to college football's national champion since 1954. Named for the legendary sportswriter, the Grantland Rice Trophy was the first national championship award to be presented after the college football postseason.
The Football Writers Association of America, a non-profit organization founded in 1941, consists of more than 1,100 men and women across North America who cover college football for a living. The membership includes journalists, broadcasters and publicists, as well as key executives in all the areas that involve the game. The FWAA works to govern areas that include game day operations, major awards, a national poll and its annual All-America team.
For more information FWAA and its member and awards programs, contact Executive Director Steve Richardson (tiger@fwaa.com or 972-713-6198).